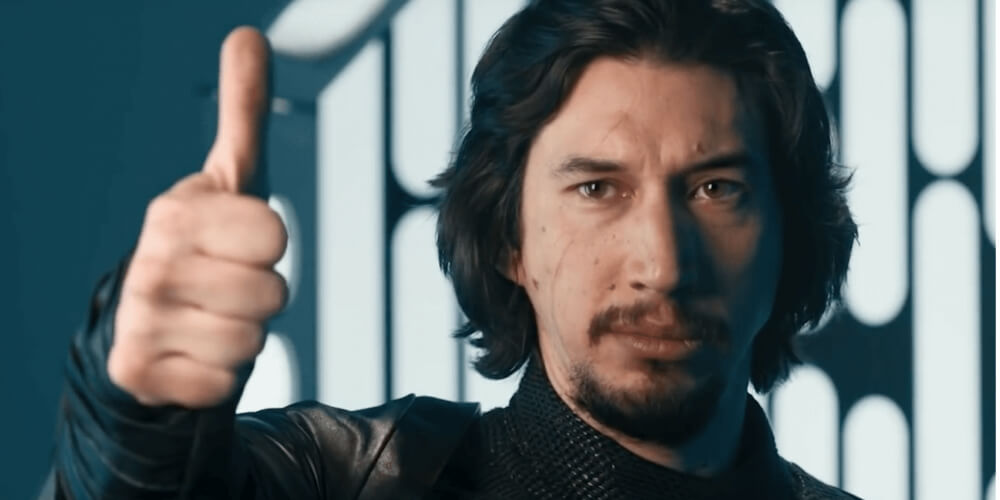 Supreme Leader Kylo Ren, played by Adam Driver, appeared for another parody "Undercover Boss" segment on Saturday Night Live this past weekend, and it was nothing short of hilarious.
The first time Kylo Ren appeared on SNL was on the mock skit "Undercover Boss: Starkiller Base" back in January 2016. In the skit, Kylo went undercover in the First Order as Matt, a radar technician, in order to "have some real talk with some real folks." Really, all "Matt" did was hype up Kylo Ren, get yelled at by his "boss," and not so subtly use his Force abilities. The skit ends with Kylo promoting an officer, then killing him for touching his arm in appreciation.
On Saturday SNL aired the "Undercover Boss: Special Edition" skit "Where Are They Now: Kylo Ren." The skit is full of silly jokes and Kylo deadpan saying "okay boomer" at the most awkward moments. It starts with a quick recap of The Force Awakens and The Last Jedi, then transitions to Kylo's latest undercover disguise: Randy, an intern. Like the last skit, Kylo is out of his element, doing menial jobs like, office work and taking care of droids. Perhaps the best part is when "Randy" talks to a female intern who's crying at an intern party.
She says she was told women aren't allowed to be TIE Fighter pilots unless Kylo Ren were to specifically allow it. The scene then cuts to the intern finding a TIE pilot helmet in the intern's office, with a note welcoming her to the team. "Randy" comes in and says she could maybe be a great pilot like Kylo Ren one day. However, when she says she wants to fly like Luke Skywalker, Kylo impales her with a lightsaber, saying, "Then you can die like him too, okay boomer?"
You can watch the whole skit here: