Paul Bettany Reveals "Avengers: Endgame" Scrapped Post-Credit Scene Originally Setting Up "WandaVision"
Paul Bettany talks about the scrapped post-credits scene they filmed for "Avengers: Endgame" teasing his return in "WandaVision". The scene was ultimately cut from the final film, leading Bettany to believe he was done with the character all together.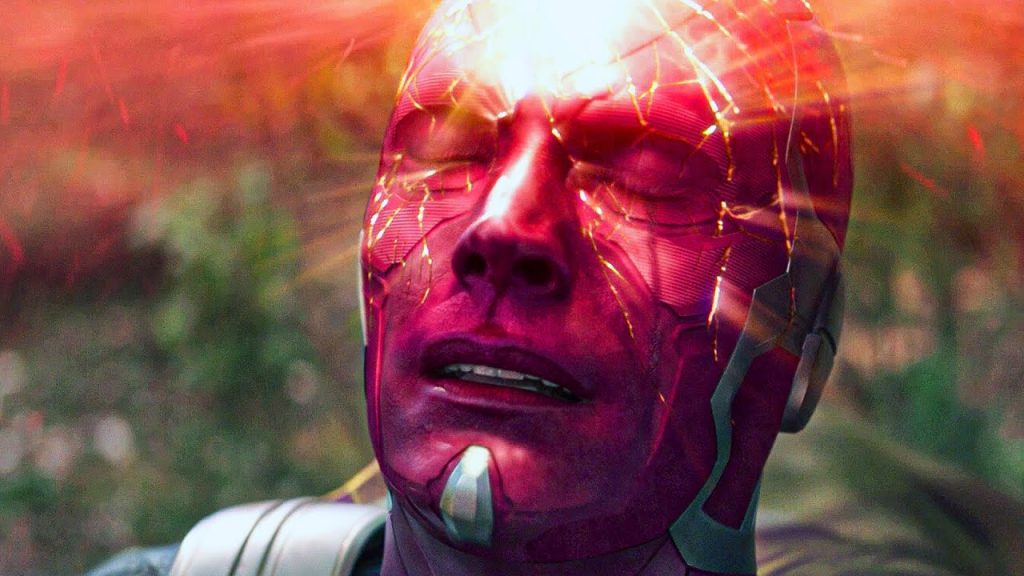 Paul Bettany revealed that he originally was going to be in a post-credits sequence at the end of Avengers: Endgame. The film, which earned nearly $2.8B at the worldwide box office, did not have a single ends-credits scene. Bettany went into some detail on what this scene would have included and how it was an initial tease for what ended up becoming WandaVision:
"At one point I was going to be in a tag, where you opened a sort of body bag drawer and there was the Vision," Bettany told Elizabeth Olsen (Wanda Maximoff) in an "Ask Each Other Anything" session hosted by IMDb.
"Kevin kind of talked to me and said, 'I've got to pull the shots.' I was like, 'Ugh!' Because I really wanted that profit participation (laughs)."
Before WandaVision was announced, most fans assumed Vision wasn't coming back after dying (twice) in Avengers: IW. The first time was by Wanda herself, in an attempt to keep the Infinity Stones from the mad titan Thanos (Josh Brolin). The Scarlet Witch herself destroyed the stone that was implanted in Visions head, killing him, and ultimately ruining Thanos master plan. This grand gesture of love and humanity ended up being for nothing but wasted efforts after Thanos uses the Time Stone to reverse the death and acquire the Mind Stone to finally complete his Infinity Gauntlet at the end of the movie.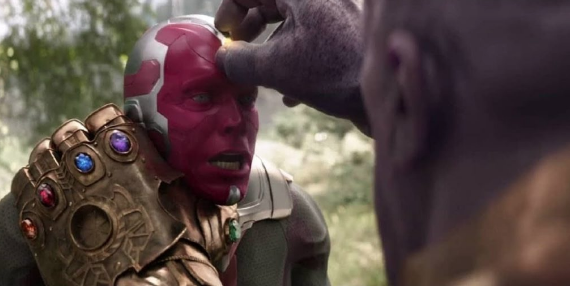 Bettany, one of the longest running Marvel Cinematic Universe cast members to date, got his start in Jon Favreau directed Iron Man (2008), the very first film in the MCU. Originally providing the voice of J.A.R.V.I.S the A.I. Tony Stark (Iron Man) utilizes while wearing his suit of armor. The A.I. ultimately becomes an actual physical being in Avengers: Age of Ultron. This move from voice over to actual hero on screen was a shock to Bettany back in 2013 when it was first pitched to him. Surprisingly, it was also a shock when he found out he wasn't being fired when he was called into Kevin Feige's office to discuss WandaVision:
"So my contract was up, and I got a call from Kevin Feige saying, 'Can you come into the office?' And when the boss calls you up and says to come by the office when your contract is up, you know what that means," the actor previously told THR. "So I looked at [wife] Jennifer [Connelly], and I was like, 'I'm outta here."
WandaVision premiered last week on Disney+, marking the first of a long list of MCU television series set to make their debut on streaming platform in the months to come. The first two episodes of WandaVision were reminiscent of 50/60's classics like The Dick Van Dyke Show, I Love Lucy, and Bewitched. The series cast includes Bettany, Olsen, Kathryn Hahn, Teynoah Parris, Kat Dennings and Randall Park, even though the lattter have yet to even appear in the show as of yet.
Most viewers can tell the show is building up to something huge, but the slow burn may be a little too much for fans who were expecting a lot more action. If you have not yet watched WandaVision, or can't make heads or tails of it, checkout the trailer below for some clues on where this concept is headed, and how it will play a major role in the greater MCU.
Don't forget that the show is directly linked to setting up Dr. Strange in the Multiverse of Madness in which Elizabeth Olsen's Scarlet Witch will have a sizable role alongside Benedict Cumberbatch's Dr. Strange. Sam Raimi (Spiderman 1-3, The Evil Dead) is directing the sequel that is set to release on March 25, 2022.
Have you caught the first two episodes of WandaVision? What do you think of the homages to classic sitcoms of the 1950/60/s? Are you getting bored or do you realize that this is only the beginning? Let us know in the comments below or hop over to the official TCN Twitter account and let us know how you really feel.