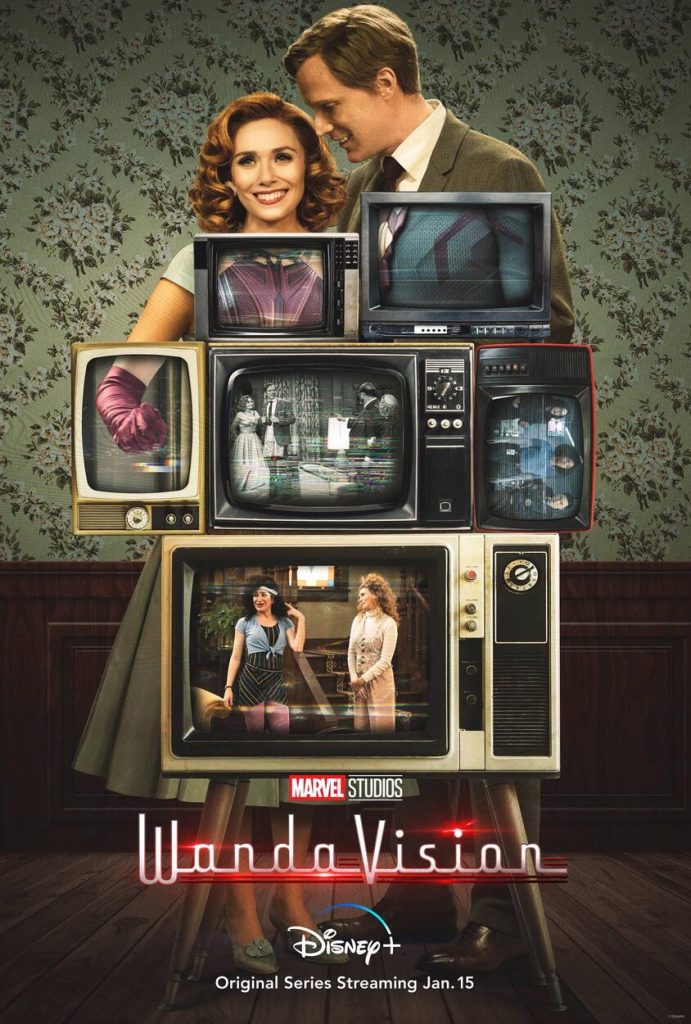 The official episode count of WandaVision, the first Marvel series to premiere on Disney+ has finally been confirmed. The series was last reported to likely have a six episode season, or possibly move up to eight episodes like the wildly popular Disney+ show The Mandalorian. It has now been confirmed by Marvel Studios themselves that the series will have a nine-episode season. With the upcoming series being described as half comedy-sitcom, half classic Marvel Cinematic Universe spectacle, there's a lot to be excited for.
With most of the plot being successfully kept under wraps, the show is scheduled to premiere on January 15th. Following The Mandalorian's lead, by releasing just one episode a week until it finishes up on March 12th, a week before the premiere of The Falcon and The Winter Soldier.
"WandaVision, the first Marvel Studios series created exclusively for Disney+, stars Elizabeth Olsen as Wanda Maximoff, Paul Bettany as Vision, Kathryn Hahn as Agnes, and Teyonah Parris as Monica Rambeau, who was introduced to audiences in Captain Marvel…Kat Dennings will reprise her role as Darcy from Thor and Thor: The Dark World, and Randall Park will reprise his role as Jimmy Woo from Ant-Man and The Wasp."
Quoted from the Marvel press release Monday, the series looks to be the first of several high concept, high budget MCU shows coming to Disney+ in the very near future. Besides The Falcon and The Winter Soldier, we can also expect Loki, Hawkeye, Ms. Marvel, and the animated What If…? mini-series to all premiere at some point throughout 2021. Along this beefy slate of television shows, we are also being treated four feature-length MCU films including Shang-Chi and The Legend Of The Ten Rings, Spiderman 3 (untitled), Eternals, and the delayed Black Widow solo outing.
With very little known about that actual storyline, this can be a exciting surprise for the fans, potentially reigniting some hype around future MCU projects that took a sharp hit in 2020 due to the ongoing COVID-19 pandemic. Marvel also released a new one minute teaser trailer (below) for the show, really showcasing the weirdness surrounding everything thats happening around them.
Director Matt Shakman (Madmen, Game of Thrones) helmed the series with Jac Schaeffer (Black Widow, Timer) as head writer. Christopher Beck (Frozen, Ant-Man) acts as lead composer of the series, with theme music performed by Kristen Anderson-Lopez and Robert Lopez in certain episodes.
Are you excited for this wacky and seemingly batshit take on Wanda and Vision's relationship? Let us know how you feel about the upcoming series and the MCU 2021 slate as a whole in the comments below, or connect on our official TCN Twitter.
Source: Comicbook & Murphy's Multiverse