Tim Allen to Reprise "Home Improvement" Role for "Last Man Standing" Crossover
Tim "The Tool Man" Taylor lives! The ninth and final season of the Fox hit "Last Man Standing" will do a crossover of sorts in its second episode involving his beloved character from "Home Improvement." Allen also teased other potential cameos when referencing his role as Santa Claus in the season nine trailer.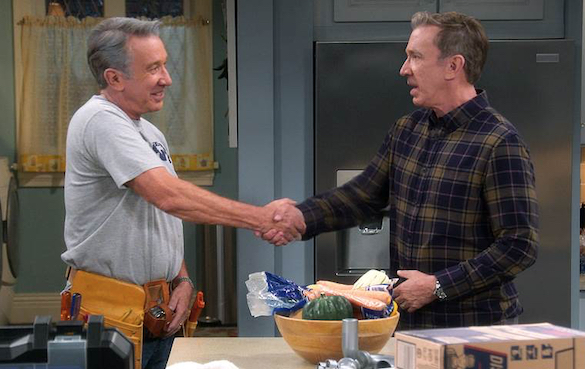 Tim Allen is joining a multiverse, the actor teased that he will be reprising his most popular role as Tim "The Tool Man" Taylor on an episode of the Fox comedy Last Man Standing's ninth and final season. Allen plays Mike Baxter on the series, an executive and director of marketing for a sporting goods store chain in the Denver, Colorado area.
The network released a description for whatI'm sure is a highly anticipated crossover event:
"The Baxter's see double when Vanessa hires a home improvement repairman (Allen) who bears an uncanny resemblance to Mike (Allen), who is struggling with an idea for his Outdoor Man 10th Anniversary vlog."
Allen's previous role as obnoxious, but lovable repairman/TV show host on Home Improvement is considered one of the best sitcom characters of the 90's. Delivering one of the most memorable grunts in recent memory, Taylor loudly hosted the DIY-centric television show "Tool Time" with cohost Al Borland (played by Richard Karn) by his side. The series centered around Allen's male-alfa image and raw comedic skills while he interacted with his family The show ran for eight seasons from 1991 to 1999, snagging seven Emmy's, and a best actor Golden Globe for Allen in 1995. Last Man Standing has also been nominated for three Emmy's since it first premiered in 2011.
The episode, which is fittingly titled "Dual Time" will air as the second of the season on Jan. 7, 2021. The teaser also showed Allen making references to other past roles as well, including Scott Calvin from The Santa Clause trilogy. In the season nine trailer, Baxter claims he will not shave until the pandemic is over, the next clip shows Allen with a full beard muttering the line "I could play Santa Claus."
In addition to the Home Improvement crossover, the final season of the show will also address the current COVID-19 pandemic, showing clips of the Baxter family utilizing Zoom calls to connect with each other.
The first episode of the season is titled "Time Flies" and will air on Sunday, Jan. 3, 2021 at 9:30pm ET. In the season opener "a series of time jumps finds Mike & Vanessa with two new grandchildren as well as Mandy and Kyle living with them. Mike, accidentally / on-purpose, gets involved when Vanessa and Mandy clash over Vanessa's "helpfulness." Meanwhile at Outdoor Man, Chuck desperately hopes its last call on Ed's mixology happy hour." The second episode titled "Dual Time" which includes the Home Improvement crossover will air on Thursday, Jan. 7, 2021 at 8:30pm ET on Fox.

Last Man Standing stars Tim Allen, Nancy Travis, Amanda Fuller, Christoph Sanders, Molly McCook, Jordan Masterson, Jonathan Adams, Krista Marie Yu, and Hector Elizondo. The show was originally created by Jack Burditt, is showrun by Kevin Abbott. After being canceled by ABC after the sixth season, Fox picked it up for the last three seasons. Allen's previous television hit Home Improvement also starred Patricia Richardson, Earl Hindman, Richard Karn, Jonathon Taylor Thomas, Zachary Ty Bryan, and Taran Noah Smith.
Have you watched Last Man Standing or Home Improvement? Do you believe this is the biggest crossover event since Avengers: Endgame? Let us know in the comments below or join in the discussion on the official TCN twitter.