Joel Schumacher's Nearly 3-Hour Cut of "Batman Forever" Exists and It's Darker Than You Think
Joel Schumacher's original director's cut of "Batman Forever" was a nearly 3-hour epic that took a much darker, deeper look at Bruce Wayne's psyche.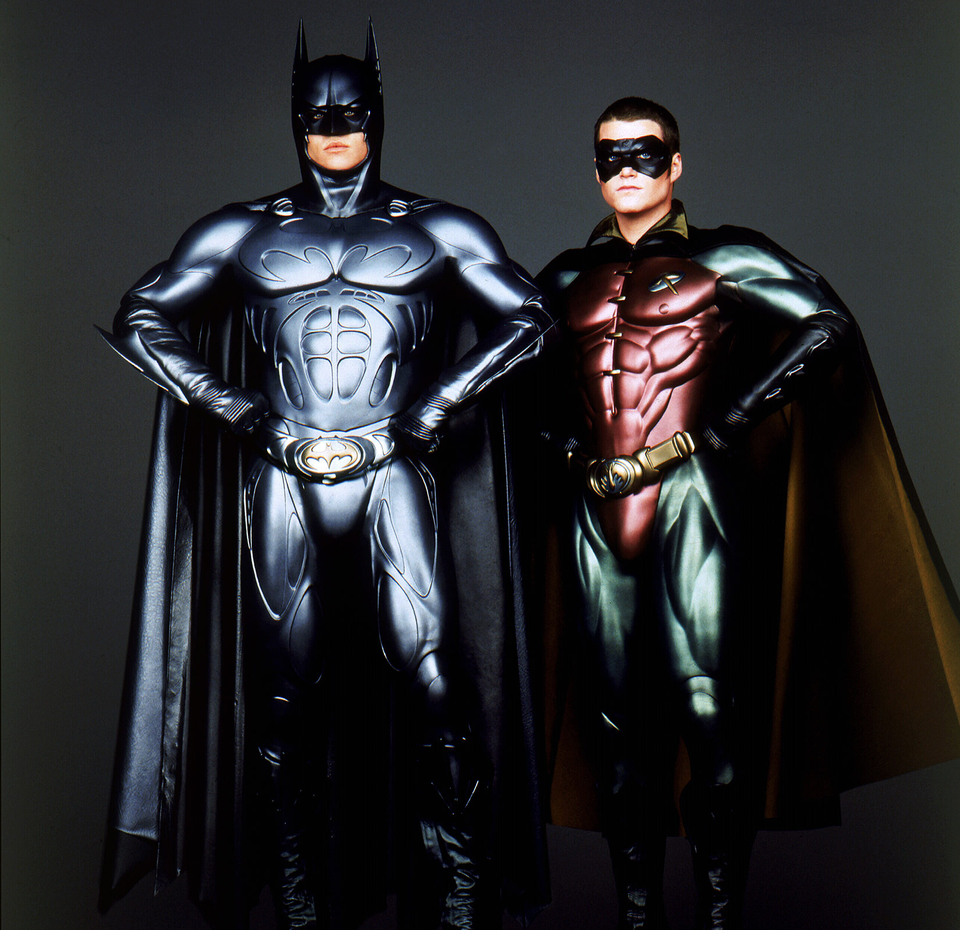 The long rumored "director's cut" of the late Joel Schumacher's 1995 blockbuster hit Batman Forever was essentially confirmed to be real all along. Over the years, a slew of deleted scenes and photos have surfaced, giving us hints of a much darker, more psychological look at The Bat himself.
This deeper, darker version of the film was brought up on the YouTube talk show FatMan Beyond with Kevin Smith and writer/producer Marc Bernardin (Castlerock, Treadstone). The pair start discussing the supposed 170-minute cut of the film at the 47:11 mark of the show.
"I have it on pretty good authority that there exists in the Warner Bros. vault a 170-minute cut of Batman Forever," Marc Bernardin told his co-host Kevin Smith. "I think that it went much deeper into his childhood psychosis and his mental blocks and that it was a more serious, darker version of that movie that was one of the first assemblies that Joel filed with the studio and they eventually cut it down because they were like 'it's too dark for kids. We gotta sell these Happy Meals, so maybe let's not invest ourselves in the trauma of childhood murder. We've got Jim Carrey, let him do some s–t."
The live-action Batman series originally kicked off with Tim Burton (Beetle Juice) directing the first two features Batman (1989) and Batman Returns (1992). They were dark, dreary, and somewhat claustrophobic. Burton went against the grain and rejected the camp and overall cheesiness of the previous iterations. But after a less-than-stellar box office return for Batman Returns, the executives at Warner Bros. decided to go in a different, more "kid friendly" direction in order to sell more merchandise. It seemed Burton's style was too dark, and it deterred younger children from seeing (or liking) Batman Returns. Joel Schumacher (The Lost Boys, Flatliners) was then hired in 1994 to helm the third Batman film after Burton and Keaton left the project.
When the third movie in the series was released, its tone was reaching more towards the 1966 Batman TV show than Burton's previous depiction. There were some very distinct, somewhat sexy color palettes and some (very) questionable costume designs. Despite major criticisms, the film was still a box-office hit and sold an incredible amount of toys. The kooky, energetic performances of Jim Carrey (The Riddler) and Tommy Lee Jones (Two-Face) really brought the movie to life. You also can't forget the fantastic support casting of Chris O'Donnell (Dick Grayson/Robin) , Nicole Kidman (Dr. Chase Meridian) and Michael Gough (Alfred Pennyworth).
As for the bat-suits, either you love the "bat-nipples" or you don't. Even if you aren't a fan, it's hard to deny that the original suits designed by master sculptor, Jose Fernandez, owner of Ironhead Studios are some of the best to ever make it to film.
It now seems like Schumacher's original tone for the film may have been closer to Burton's than we all think. There was supposedly a whole subplot where we go even deeper into Bruce Wayne's psyche and why he inevitably becomes Batman "forever." This would make sense as to why the film was even titled Batman Forever in the first place.
Shots From Deleted Scenes
"In a world where Joel Schumacher just passed away, what an interesting, wonderful testimony that would be to his work, to get to see a totally different version of Batman Forever," Smith said on FatMan Beyond when discussing the possibility of the directors cut being released by Warner Bros.
Instagram user nygmatech_archives posted this rare photo to their account as well as other never-before-seen photos from Batman Forever.
Below is just one of many deleted scenes from the film. This particular scene involved one of Bruce's vivid dream sequences. It can be assumed that this was pulled for being too dark and intense for the younger audiences they were trying to target.
Val Kilmer may not have been the best onscreen Batman, but he still holds a special place in my heart. Having been born the year it was released, I've seen Batman Forever more times than any other Batman film to date. I don't think I'm alone when I say I would love to see Schumacher's original vision for the film out of pure curiosity.
It seem's like there is no better time than now to get a campaign going for a "Schumacher Cut." With the Zack Snyder's Justice League coming to HBO Max in 2021 and with David Ayer's Suicide Squad anticipating its release announcement soon, the 170-minute cut of Batman Forever should fit right in. Just this week, TCN reported on rumors of Michael Keaton reprising the role of Bruce Wayne/Batman in the feature length Flash movie directed by Andy Muschietti (It: Chapter 1 + 2) that is gearing up for pre-production as we speak.
Marc Bernardin humorously recommended using #ReleaseThe20000Cut to start the campaign. The hashtag title comes from an inside joke on the show referring to the time Schumacher once stated that he has had sexual relations with up to 20,000 partners.
Do you want to see the darker extended version of Joel Schumacher's Batman Forever? Let us know in the comments!