Star-Studded Panel of Directors Discuss Creating "The Mandalorian"
During a pre-recorded panel for "ATX Television Festival from the Couch!", the creator and directors of "The Mandalorian" spoke about their thoughts on their contribution to the Star Wars universe.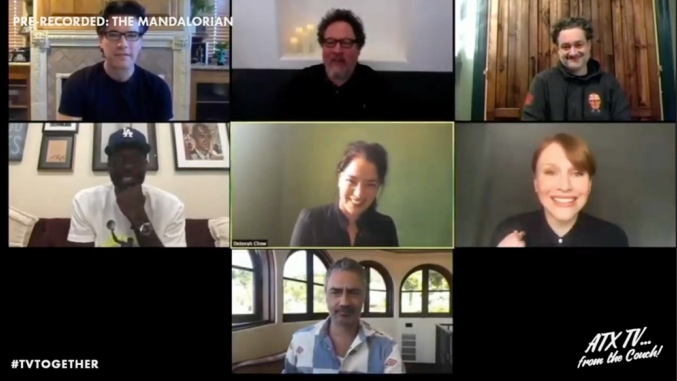 The Disney+ smash hit The Mandalorian combined the work of talented directors under the unified vision of creator Jon Favreau. During a pre-recorded panel for ATX Television Festival from the Couch!, the creator and directors spoke about their thoughts on their contribution to the Star Wars universe. The panel included writer/creator Favreau, as well as directors Deborah Chow, Bryce Dallas Howard, Rick Famuyiwa, Dave Filoni, and Taika Waititi.
The Mandalorian is the first live-action Star Wars show ever to appear on the small screen around the world. The show used groundbreaking special effects paired with some of the best directors in cinema today to create a truly captivating series.
When the star-studded panel of directors began talking about their inspirations for the spinoff, Favreau said:
"It was specifically doing a version of Star Wars that felt small and felt like it reflected the genres that influenced George (Lucas) originally: space adventure, westerns, samurai films, WWII adventure films, those are the genres that inspired the tropes."
These elements were very apparent in the storytelling of the show, giving it a unique feel while still celebrating and honoring the Star Wars stories that preceded it.
The acclaimed directors talked about the influences for their individual episodes and how these episodes were combined to create a truly amazing and original product. They needed to learn together on the fly to navigate the uncharted territory of piecing together episodes by different directors. Filoni said, "We kind of bonded on that in the best way possible," because a show had never been made in this fashion before.
Before the panel wrapped up, Chow confirmed that the Obi-Wan Kenobi show is still in early stages of development. Waititi jokingly boasted his still-unnamed Star Wars movie was already complete. One thing that is complete, however, is all the photography for the The Mandalorian Season 2, which was completed before the COVID-19 shutdowns, according to Favreau.
With all the confirmed and rumored fan-favorite characters that will be appearing in Season 2, such as Rosario Dawson as Ahsoka Tano, Katee Sackhoff as Bo-Katan Kryze, and the return of Boba Fett played by Temuera Morrison, the hype for the future of the Star Wars show has never been higher.
Favreau confirmed that The Mandalorian Season 2 ,starring Pedro Pascal and "Baby Yoda," will not be delayed and will premiere in October as scheduled, exclusively on Disney+.