[Review] "Stranger Things" Season 4: Volume 1
"Stranger Things 4" Volume 1 delivers the series' most ambitious episodes yet, delivering with clever, satisfying writing and great performances from the ensemble cast.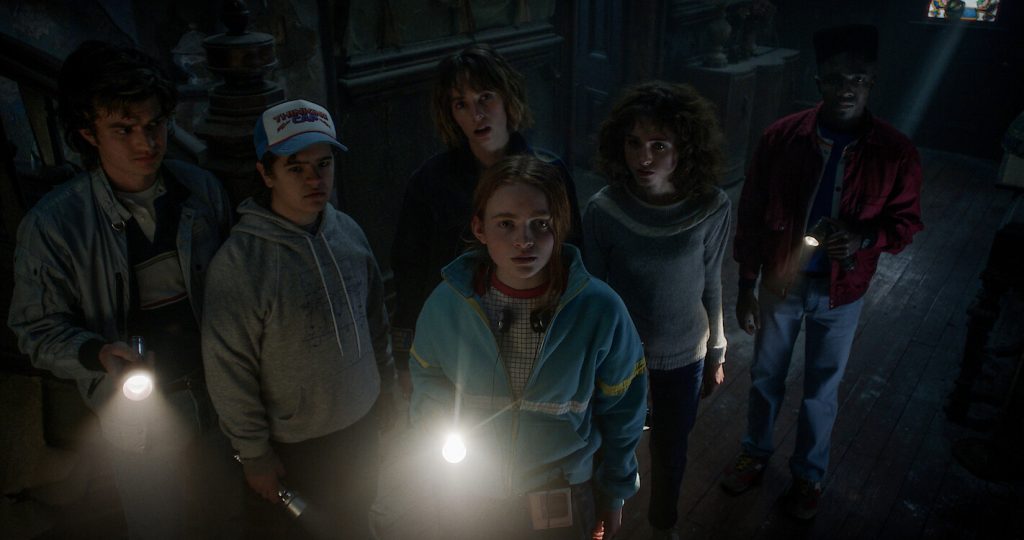 Stranger Things 4 has finally arrived with its first volume, consisting of 7 lengthy episodes and a runtime of roughly 9 hours total. Taking place across four separate locations and several different groups of protagonists dealing with their own unique narrative conflicts, the fourth season of the acclaimed Netflix original offers the series' most sprawling story yet while capitalizing on its ever-growing ensemble cast. The stakes are higher than ever before and the scale of the season so far is certainly the most ambitious shift the series has made so far. While some of the earlier episodes of the season feel like the show is biting off a bit more than it can chew with its widespread narrative, Stranger Things 4 volume 1 is written excellently like past seasons by coming together in a satisfying payoff.
At first, the choice to so drastically increase the scope of this season certainly makes volume one a bit overwhelming at times, especially considering the hefty episode run times. There is a lot of jumping around in each episode, and it feels like the plot is all over the place early in the season. However, in true Stranger Things fashion, what may seem like disconnected storylines begins to gradually become more entwined as the season progresses. The writing for Stranger Things 4 might initially seem disjointed, but the narrative certainly comes together in the last couple episodes of volume one. This could honestly be attributed to the sheer amount of settings the season visits outside of Hawkins—locations which each have their own stories that function independently for a sizable portion of the episodes we have seen so far. The fact that the season initially seems disconnected in its first few episodes definitely makes it a harder season to get through compared to past installments for the series, but seeing the episodes through to episode 7 certainly feels rewarding and answers a lot of questions.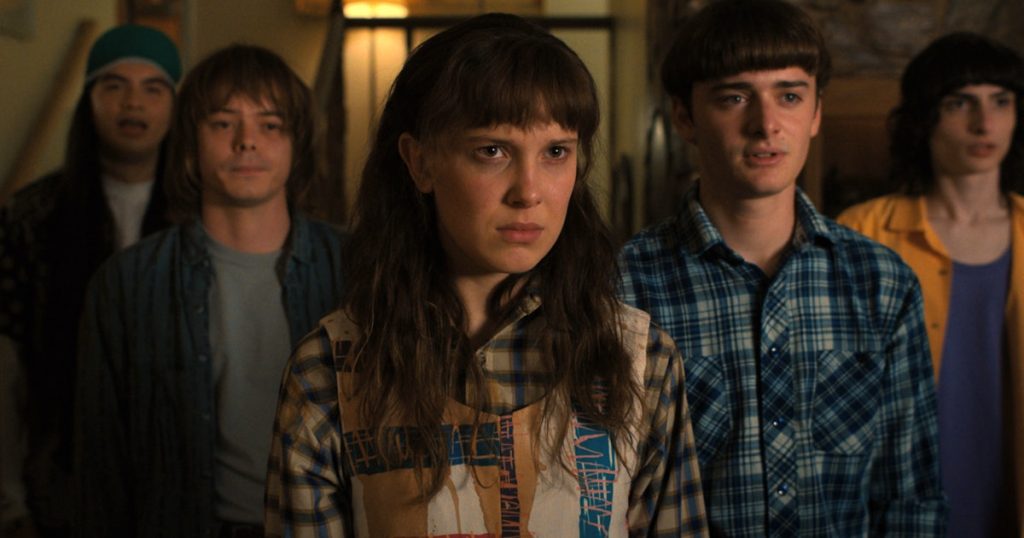 Gone is the small town feeling of the series this season—arguably an element that made the earlier installments of Stranger Things stand out so prominently. The fate of the world—not just Hawkins—is at stake in season 4, and as such the series has to elevate its scale beyond the familiar world of Hawkins, Indiana. I think this was executed well enough, but as a result there are some parts of the season that just don't feel like Stranger Things. When I think of the setting for Stranger Things, I think of small town America, but this season goes beyond that small town setting to various degrees of success.
The weakest storyline to me was David Harbour's Jim Hopper in Russian prison. The Russia story feels the least connected between the different storylines this season, and I found it hard to be invested in it because of how unremarkable the setting was. Harbour doesn't really get to bounce off of any interesting characters and as a result his performance falls a bit flat, making his story the least engaging of the season so far. While almost everyone on the cast was given great material to work with, I was a bit disappointed by how little the writing gave to Hopper's character. With the exception of one brutal action sequence in episode 7, the Russian arc is easily the least interesting of Stranger Things 4.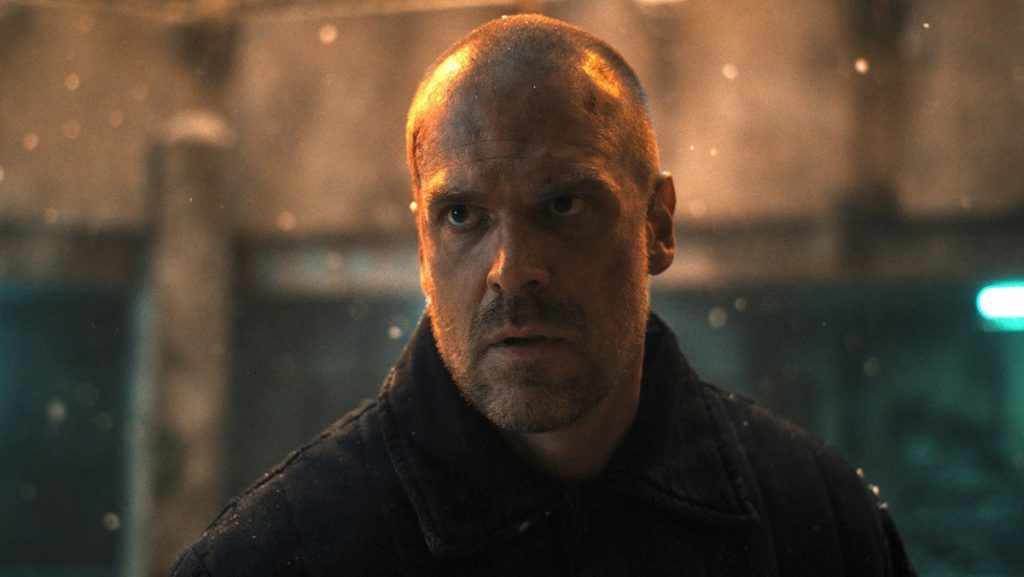 While Season 3 offered a somewhat lighter story stylized like a summer blockbuster more than a horror series, Stranger Things 4 leans back into the series' darker side in full force. This is mainly attributed to the nature of the season's antagonist, Vecna—a mysterious psychic from the Upside Down able to induce nightmarish hallucinations for his victims: people who are haunted by traumatic experiences. Season 4 has the most intense horror sequences and shocking brutality of any past season because of this villain. While the antagonists of previous seasons have been faceless monsters, Vecna also has more personality and thus feels more threatening, as he directly speaks to and taunts his victims. He is by far the best villain the series has produced.
Once again, the ensemble cast is what makes Stranger Things so excellent in its fourth season. The charisma between the members of the cast is palpable, and the actors in every scene have great chemistry with each other. Everyone has a rapport and the interactions between the characters is part of what makes the season so engaging. One duo that particularly stood out to me was Natalia Dyer's Nancy Wheeler and Maya Hawke's Robin Buckley; the latter was a character we saw only interact with a relatively small host of characters in season 3, but her interactions with Nancy in season 4 really allowed both characters to be fleshed out while offering some humor to this tonally dark season. They get a lot to do together this season, and their scenes were some of the best of the season because of how well Dyer and Hawke play off of each other.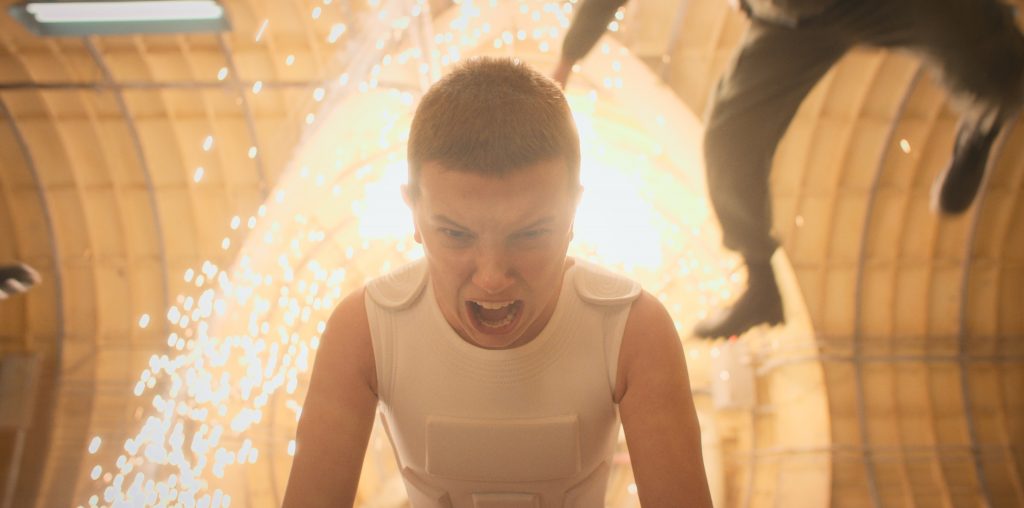 What I also love about this season is that it continues to give all characters a moment to shine. Every character has at least one scene where they get to have the spotlight and their actor/actress gets to show off their acting chops. However, there are of course some characters that steal the show. Max Mayfield, played by Sadie Sink, is a particular standout and probably one of the most integral characters of Stranger Things 4; her role in this season is more significant than she has ever been on the series and I found her character very empathetic. Millie Bobby Brown as Eleven also kills it as usual, delivering her most intense performance as the character yet. This season is all about dealing with trauma, and Eleven's story dives deep into this theme by exploring her past with Hawkins National Laboratory—a storyline that massively succeeds in unsettling the audience thanks to Brown's engaging performance.
All of the new characters have been casted perfectly. Newcomers Joseph Quinn and Eduardo Franco as social pariah Eddie Munson and hilarious stoner Argyle, respectfully, fit in excellently alongside the show's mainstays as standouts in the new cast. Quinn does an especially great job portraying Eddie in a simultaneously sympathetic while also, at times, funny light, giving the character a lot of charisma for a new addition to the show. Jamie Campbell Bower as Peter Ballard also stands out among the newcomers with an incredibly nuanced performance that becomes more apparent as the season progresses. Even supporting characters—like Hawkins High cheerleader Chrissy Cunningham, portrayed by Grace Van Dien; basketball jock Jason Carver, played by Mason Dye; and of course, alleged serial killer Victor Creel, played by the Nightmare on Elm Street legend himself Robert Englund—all fill their roles excellently in the brief screen time they receive.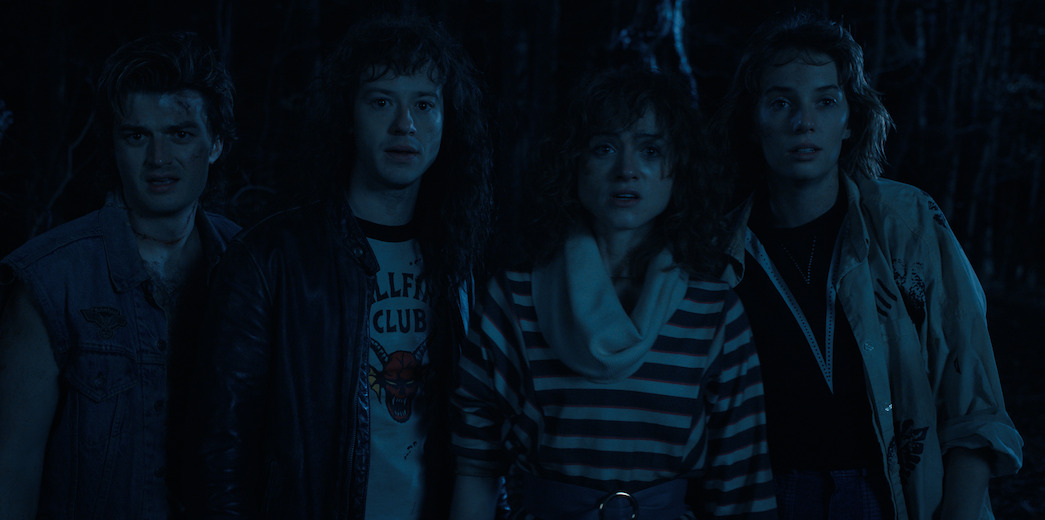 Volume one leaves a lot to look forward to when volume two arrives in July. I was initially uncertain about why Netflix would break the season up at such a late point in the story as there are only two episodes in volume two, but after watching volume one in its entirety, this decision makes perfect sense. By the end of episode 7, the season really comes together and the different storylines become connected. Everything ties together and the pay off is satisfying for the viewer like never before for the series. While I did have my qualms about the story early in my first watch of the season, the writing for Stranger Things 4 is excellent—it just comes across as a bit too overcrowded in the earlier episodes. As a huge fan of the series I did not mind this, but I could see some viewers getting lost easily with the story. Overall, season 4 volume 1 continues the excellence of Stranger Things through ingenious writing and a cast that truly brings their characters to life. I give Stranger Things 4 volume 1 an 8.5 out of 10.
Stranger Things season 4 volume 2 releases on Netflix on July 1.