New Gotham Knights gameplay demo and pre-order details revealed
A closer look at the Gotham Knights video game coming this fall.
It's been two years since Gotham Knights, the new video game from WB Games Montréal, was announced at DC Fandome. The COVID-19 pandemic was partially responsible for the delays, but the developers have set an official release date: October 25th, 2022.
However, Gotham Knights will not release on every platform that was promised. Specifically, the game will now be a next-gen exclusive and no longer release on PS4 or Xbox One. There's no apparent reason for this other than to ensure that they "provide players with the best possible gameplay experience."
As gamers know, it's best not to rush development. Most of us would rather wait to play a finished game than play an unfinished game early. With characters as well known as Nightwing, Red Hood, Robin, and Batgirl, fan expectations for Gotham Knights are high to fill the shoes of the acclaimed Batman Arkham video game series. We'd rather not repeat the Cyberpunk fiasco.
And judging by the recently released gameplay footage, Gotham Knights could use more polishing before release. Watch Nightwing and Red Hood in action below:
Despite the disclaimer, we can tell the gameplay is unfinished, and with less than six months to go, it makes sense why WB Games Montréal would cancel the last-gen versions and instead focus on finishing the PS5 Xbox Series X/S and PC versions on time.
Additionally, while payers might have initially been under the impression that Gotham Knights would feature a four-player co-op, given that there are four main playable characters, new details suggest it will be a maximum of two. The PlayStation Store listing for Gotham Knights has quietly changed to read "supports up to 2 online players."

It's unclear, however, if there will be any couch co-op available via split-screen or if you can only play with a second player online. The developers did say that "the more you try to lean into [4-player co-op], the more you have to create environments that only really work for that," highlighting the difficulty of managing multiple players.
Gotham Knights is now available for pre-order for $69.99. All pre-orders come with an exclusive 233 custom batcycle skin for their in-game bike. You can see how it looks in the video below:
If you want a little more in-game content, you can pre-order the Deluxe Edition for $89.99. That includes an exclusive ''Knightwatch by Jim Lee'' Transmog, a Beyond Suitstyle inspired by Batman Beyond universe, Salvage to build new Gear, Boosted Gear, an exclusive Emote, and three colorways for your suits.
For the serious collectors, there's also an upcoming Collectors Edition for a whopping $299.99. It includes everything in the Deluxe Edition plus a Gotham Knights Exclusive New Guard Statue, inspired by the art of Jim Lee, Promethium New Guard Transmogs, Jim Lee Certificate of Authenticity, an Augmented Reality Talon Key, and a Gotham City: City of Bridges collectible map.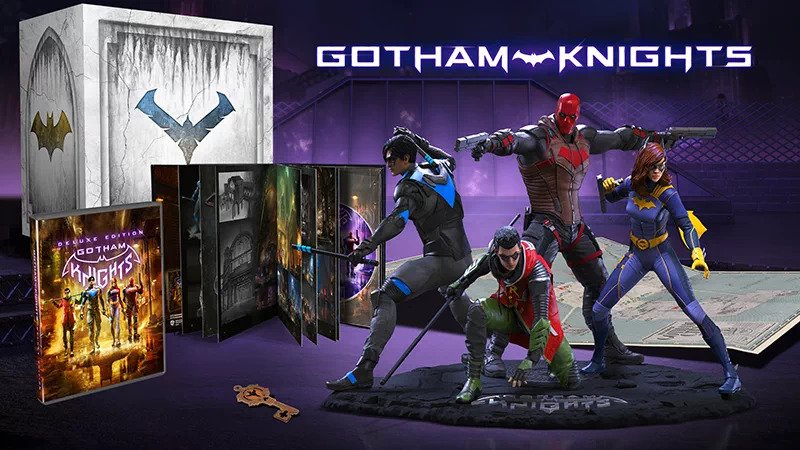 Gotham Knights will release on October 25th this year.
Are you excited about Gotham Knights? Will you pre-order the game? Let us know in the comments below!