A War is Coming: New "Stranger Things 4" Trailer Releases Online
The new trailer promises the series' most exhilarating and sprawling season yet.
Stranger Things 4 released a new trailer Tuesday, showcasing a thrilling season to come and the highest stakes yet for the Netflix series.
Season 3 ended on a bittersweet note, as Hawkins was saved yet again from the Mind Flayer, but not without the disappearance of police chief Jim Hopper, Eleven's loss of her powers, and the sacrifice of Billy Hargrove; the new trailer shows the emotional aftermath of these colossal losses. After an eerie opening, Billy's stepsister, Max, is seen visiting his grave and telling him that since he's been gone, everything has been a complete disaster in Hawkins. Everyone's tried to act like things are normal, but it feels impossible.
The trailer then transitions to Paul Reiser's Dr. Owens, who tells Eleven a war is coming with Hawkins right at the center. Eleven reminds him that she has lost her powers, but Owens makes it clear that without her help, they could very well lose this coming conflict. The last minute of the trailer shows a return to the Upside Down, with the remaining cast in Hawkins exploring the mysterious dimension for reasons unknown. We also see a bit of Hopper, who says he was sent to Russia for a reason—to help people, if it's the last thing he does.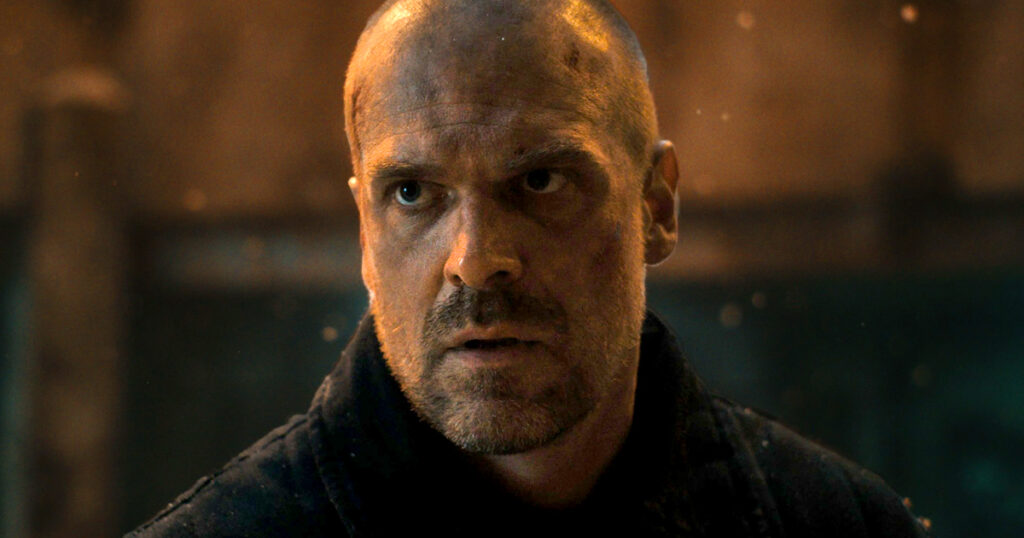 The trailer begins and ends with a monologue from who appears to be the new villain in Stranger Things 4. We get a good look at him in the trailer's final shots—a humanoid monster who remains unnamed. The entire trailer is underscored by an epic rendition of "Separate Ways (Worlds Apart)" by Journey—a fitting song choice for this season, which sees our cast on different paths both in and out of Hawkins.
Creators of the series Matt and Ross Duffer have said this will be the most sprawling season yet and even referred to it as the show's "Game of Thrones season" due to the wide scope of the narrative. Stranger Things 4 has been highly anticipated for years now, and after a lengthy delay due to the COVID-19 shutdown and subsequent script additions and rewrites, the new season is just around the corner. Broken up into two parts, volume one of Stranger Things 4 is set to release on Netflix May 27, with volume two releasing July 1.
You can watch the trailer below:
Stranger Things stars an ensemble cast that includes Millie Bobby Brown, Finn Wolfhard, Sadie Sink, Winona Ryder, David Harbour, Natalia Dyer, Joe Keery, and Maya Hawke, to name a few. You can catch up on all three previous seasons on Netflix.