Could Danny DeVito return as the Penguin?
You didn't invite me, so I CRASHED!
It's been nearly thirty years since Tim Burton's Batman Returns premiered in theatres, but the impression it left undoubtedly isn't fading. Who could forget Michelle Pfeiffer's portrayal of Catwoman, dressed in that messily stitched-together black leather, or Danny Devito as the film's main antagonist, the tragically orphaned-to-the sewers Penguin?
However, Burton's unique vision for these classic characters may have been ahead of its time. Unfortunately, audiences were unprepared for the film's darker direction (partially due to the severe mismatch of a colourful McDonald's marketing campaign, among other things). But Batman Returns has only gained appreciation with time, ageing like a fine wine.
Now, we live in an age where fans are more ready than ever to see DeVito don the top hat and monocle again.
Bird Cat Love
This December marks the 80th anniversary of the Penguin/Osswald Coblepot in DC Comics. As such, DC asked Danny DeVito to write a comic book celebrating the iconic villain as part of their newly released Gotham City Villains Anniversary 100-page anthology.
A few days ago, that comic was just released, titled "Bird Cat Love," and follows an elseworld romantic partnership in crime between the Penguin and Catwoman. Devito expressed his excitement for the project in a recent interview with Forbes.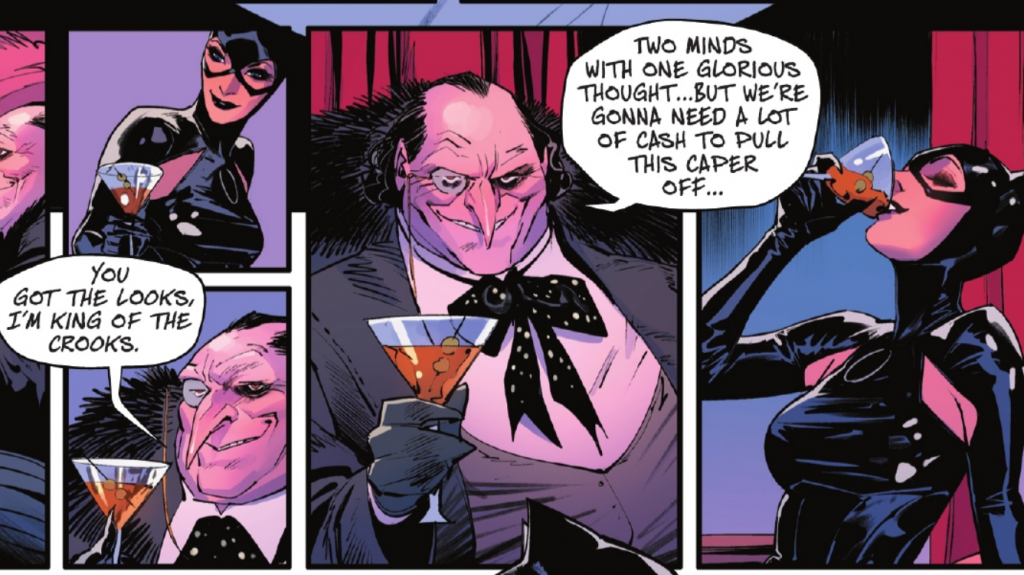 "I'm so excited about it. I've never done anything like that before but I've always been a big fan of DC. From the time I was a kid, I had giant collections of all kinds of comics. I love The Penguin, I love Oswald. And of course, doing the movie with Tim Burton was one of the highlights of my career. I love that character so much.
When asked if he would ever return to the role in live-action, the actor had a lot to say.
"I feel like it's not out of the question that The Penguin will return someday, but this is all up to Tim, whether or not Tim wants to do this. I would say that could be in the cards because we ain't dead yet (laughs). We could do a continuation of what we had in the past because that was truly a brilliant movie. They afforded me that opportunity and I feel very grateful and would I like to revisit it? Why not! It was a really great moment in time for me."
When it comes down to it, who's holding the umbrella?
The Hollywood legend clearly shows some interest in slipping on the three-fingered gloves again, but leaving it up to Tim Burton is a modest answer. In fact, it's the same answer Michael Keaton gave when asked the same question over the years – if he would ever don the cape and cowl again.
And look where we are now, just a year away from Keaton reprising his role as the Dark Knight in the upcoming Flash film. Who's to say DeVito won't join him?
Before you say it, yes, we know, The Penguin did technically die at the end of Batman Returns. But other studios haven't let death stop them from bringing back beloved portrayals of characters, such as Willam Defo making his return as the Green Goblin in the upcoming film Spider-Man: No Way Home.
Anything is possible in a multiverse. All modern audiences need to accept to get onboard are the very first lines of DeVito's Penguin comic: "Another time. Another place."
Stories can occur anywhere, whenever, with whoever, and we're hungry for more.