Kevin Smith Details Plans To Recreate Clerks
Kevin Smith Details Clerks III Plot Focus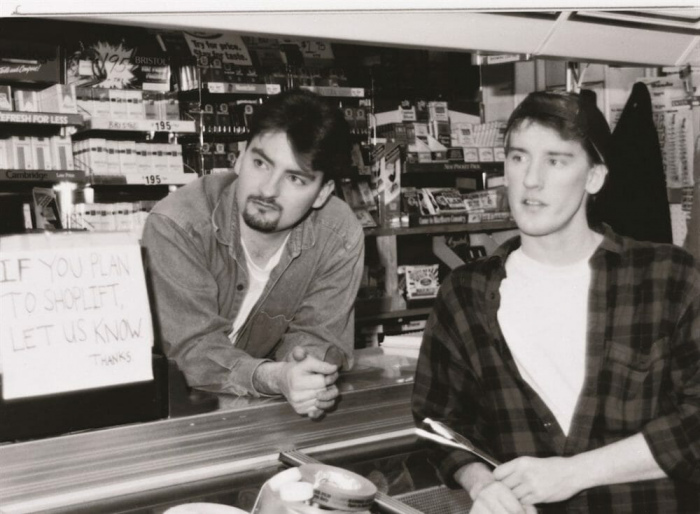 People know him and love him. He's been hailed as a brilliant director, writer, actor and so much more. Now Kevin Smith is bringing audiences back to the beginning of it all. Get ready for some crazy deja-vu, because he's serving it up piping hot on a silver platter.
No, this isn't about Clerks. It's about Clerks III and what Kevin plans to do from a narrative perspective. Clerks III will pull from Kevin's own life, with mainstay character Randal (played by Jeff Anderson) suffering a medical situation that proves near-fatal, not unlike Smith's own dance with death in 2018.
In a recent Facebook post, the master of the View Askewniverse shared a photo and some details of what audiences can expect when his latest cinematic venture releases.
How I Spent My Summer Vacation!

They say that those who forget the past are doomed to repeat it. Well I never forgot #clerks, but I've still spent the last month repeating it. The Movie-In-Movie moments in #clerks3 have been the most fun to shoot, as the cast and crew painstakingly labor to recreate my cinematic past. Here, @briancohalloran and #jeffanderson discuss an obscure 70's sci-fi flick you've probably never heard of. Three more shooting days until we wrap Clerks III. It's been a blissful trip to the past in the Wayback Machine, but we're running out of script to shoot now – so the end is near. Took 7 years to get here and now it's almost over. #KevinSmith #clerks #clerks3
What stands out both within this post and the photo, is the serious nostalgia kick that the production is on and that fans will receive.
To tie it all together, when Clerks III was announced the previous month, Kevin released the following statement about the past and what he hopes to achieve.
"There's a saying from the Tao that goes something like 'To be great is to go on. To go on is to go far. To go far is to return.' Thanks to Lionsgate, we get to return to where it all started with almost the whole cast that started it all! And for the first time since the first time we ever made a movie in 1993, we're shooting the entire flick on location in New Jersey, as an ode to both the enduring allure of cinema and the resourcefulness and lunacy of its storytellers. Years ago, Dante and Randal made me a filmmaker – so now it's time I return the favor."
All in all, this looks to not only be a very fun project but one that will me a true notch on the belt of the career of Kevin Smith. Snootchie Bootchies!
Clerks III is set to release sometime in 2022
Source: Slashfilm.com