First Trailer for Showtime's 'Dexter' Revival Arrives; Official Title and Release Date Revealed
Showtime's has just released the first official trailer for the highly anticipated Dexter revival series. In addition, the network has also unveiled a new title and official premiere date for the limited time series.
One of the more tantalizing projects that has recently wrapped up production is Showtime's revival of the hit series, Dexter. Focused on the sociopath disguised as your regular everyday forensic expert , Michael C. Hall's Dexter Morgan, the show captivated audiences across nearly a decade full twist and turn storytelling. With that being said, the show's final season had a controversial standing with the fan, and in doing so only stoked the demand to see a continuation of Dexter's story past what was given in the eighth and subsequently final season. After announcing the revival last October, Showtime has released the first official trailer has been released for the highly anticipated limited time series. In addition to the trailer, the network has also announced that the series will be officially titled, Dexter: New Blood, and it will premiere exclusively on Showtime on November 7th.
While the trailer doesn't necessarily give away any major plot details, it does give fans a first look at Clancy Brown's as the series new lead villain. With the original show-runner, Clyde Phillips, returning to the helm and setting the series a decade after the polarizing events of the final season, anticipation for the series' return is starting to gain some serious momentum. Based on the trailers and details that have been released, New Blood finds serial killer Dexter Morgan living under the alias of Jim Lindsay in the fictional upstate New York town of Iron Lake. While it appears that Dexter has have moved on from his blood soaked past in Miami, the trailer certainly suggests that Dexter's "Dark Passenger" is very much a still part of him.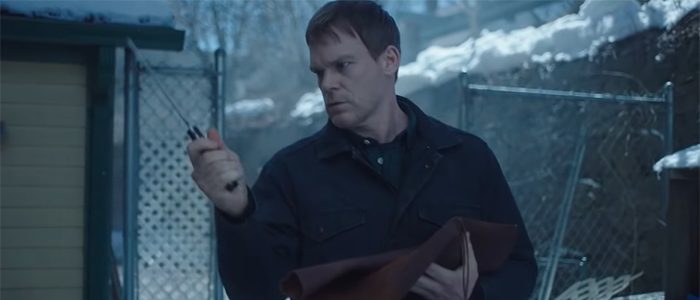 New life has been pumped into the limited time series with fan favorites characters such as John Lithgow's Trinity Killer and Jennifer Carpenter's Deb Morgan (both in flashback roles) expected to make a return alongside Hall and Phillips. In addition, the new cast members include the previously mentioned Clancy Brown as the main villain, Julia Jones as the town's chief of police, Alano Miller as a sergeant/high school wrestling coach, Johnny Sequoyah as the chief's daughter, and Jack Alcott as a town resident named Randall all joining the storied Dexter saga.
What do you guys think about the first trailer for Dexter: New Blood? Do you guys think more characters from Dexter's past life in Miami will show up? As always sound off in the comment section below and stay tuned in right here at The Cultured Nerd for the latest news surrounding Dexter: New Blood.