'Zack Snyder's Justice League': Junkie XL's Complete Score Will Be Released In A Special Box Set
Junkie XL's full anthem to the superhero opera will be released in a special box set. Seven vinyl discs will bring his ZSJL score to life.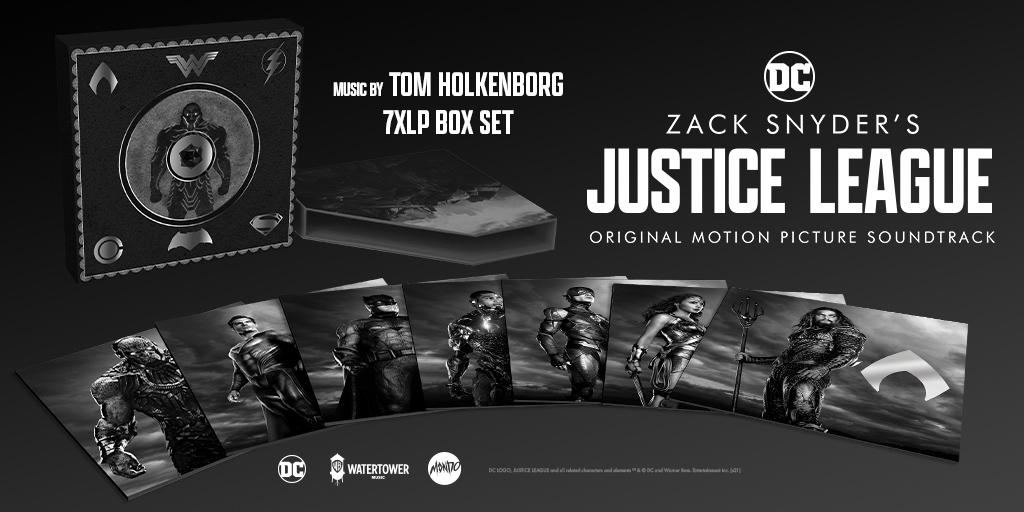 Tom Holkenborg, aka Junkie XL, played a crucial role in the success of Zack Snyder's Justice League. His incredible score accompanied the film's tone, story, and helped to define it as a superhero opera. Since the release of the first theme, "The Crew at Warpower", fans' expectations went up the roof to hear Holkenborg's musical contribution once the film premiered on HBO Max. He did not disappoint.
Now his almost four-hour long soundtrack will be getting honored with a box set release by the Austin-based company, Mondo. The limited-edition set will bring Junkie XL's score to life within seven, 180 Gram vinyl discs, with a laser-etched B-Side on the final disc. The discs are accompanied by character-focused, black, white, and silver foil-stamped slip cases. You can check out the aesthetic of the box set below:
The full tracklist was released a week before the film premiered, but the box set will be divided as follows:
DISC 1 SIDE A
1. Song to the Siren (3:17)
2. A Hunter Gathers (7:56)
3. Migratory (0:56)
4. Things Fall Apart (1:03)
5. Wonder Woman Defending / And What Rough Beast (7:19)
DISC 1 SIDE B
6. World Ending Fire (9:22)
7. Middle Mass (1:18)
8. Long Division (1:12)
9. No Paradise, No Fall (4:10)
DISC 2 SIDE A
10. The Center Will Not Hold, Twenty Centuries of Stony Sleep (8:56)
11. As Above, So Below (2:27)
12. No Dog, No Master (8:13)
DISC 2 SIDE B
13. Take This Kingdom by Force (1:44)
14. A Splinter from the Thorn That Pricked You (1:09)
15. Cyborg Becoming / Human All Too Human (10:35)
DISC 3 SIDE A
16. The Path Chooses You (2:11)
17. Aquaman Returning / Carry Your Own Water (8:22)
18. The Provenance of Something Gathered (1:14)
DISC 3 SIDE B
19. We Do This Together (12:57)
20. The Will to Power (5:20)
21. Smoke Become Fire (1:39)
DISC 4 SIDE A
22. I Teach You, The Overman (4:18)
23. A Glimmer at the Door of the Living (1:00)
24. How We Achieve Ourselves (1:42)
25. The Sun Forever Rising (1:30)
26. Underworld (5:49)
27. Superman Rising, Pt. 1 / A Book of Hours (2:40)
28. Beyond Good and Evil (4:24)
DISC 4 SIDE B
29. Monument Builder (2:29)
30. Monument Destroyer (6:07)
31. Urgrund (1:49)
32. So Begins the End (4:49)
33. The House of Belonging (2:37)
34. Earthling (3:23)
DISC 5 SIDE A
35. Flight Is Out Nature (1:54)
36. Indivisible (2:32)
37. And the Lion-Earth Did Roar Pt. 1 (5:22)
38. And the Lion-Earth Did Roar Pt. 2 (5:32)
39. Superman Rising, Pt. 2 / Immovable (1:55)
40. At the Speed of Force (4:20)
DISC 5 SIDE B
41. My Broken Boy (2:15)
42. That Terrible Strength (1:51)
43. An Eternal Reoccurence of Change (1:44)
44. We Slay Ourselves (5:52)
45. Your Own House Turned to Ashes (3:16)
46. All of You Undisturbed Cities (6:15)
DISC 6 SIDE A
47. The Art of Preserving Fire (1:27)
48. The Crew at Warpower (6:49)
49. The Foundation Theme (2:07)
50. Batman, a Duty to Fight / To See (5:29)
DISC 6 SIDE B
51. Batman, an Invocation to Heal / To Be Seen (8:36)
52. Wonder Woman, a Call to Stand / A World Awakened (5:09)
DISC 7 SIDE A
53. Flash, The Space to Win / Our Legacy is Now (11:13)
54. Hallelujah (6:10)
Mondo's creative director of music, Mo Shafeek stated the following regarding the album:
"The filmmaking story behind Zack Snyder's return to his DC Comics juggernaut is well known at this point, but not enough time has been spent on the journey of the film's once-shelved score. The incredible composer behind one of last decade's biggest filmmaking triumphs (Mad Max Fury Road), Tom Holkenborg joined the sadly far-too-large club of composers across filmmaking history to have their blockbuster scores replaced. But the big-budget redemption arc of Zack Snyder's original vision for Justice League presented Holkenborg with the opportunity to build upon what he had started many years ago, with new skills and tools – this time with no other cook in the kitchen but his director and friend."

"As pure as any film music expression has ever existed, Holkenborg's nearly-four hour opus is as bombastic and singular as the film it compliments, and we are honored to present the premiere physical release of this staggering work of expression."

Mo Shafeek, Mondo's creative director of music.
Junkie XL's other projects include Batman v. Superman: Dawn of Justice (with Hans Zimmer), Mad Max: Fury Road, Godzilla Vs. Kong, Deadpool, Sonic the Hedgehog, and Snyder's upcoming zombie-heist adventure for Netflix, Army of the Dead. Nonetheless, it seems Zack Snyder's Justice League has been one of, if not his best musical score as of yet. Holkenborg returned to work with the Snyders after he was replaced for Danny Elfman back in 2017 for Joss Whedon's theatrical version.
The limited edition set will be available for pre-order starting Wednesday, April 14, for $200 at MondoShop.com. You can stream Zack Snyder's Justice League and Zack Snyder's Justice League: Justice is Gray edition only on HBO Max.
What did you think of Junkie XL's score? Comment below and stay tuned to The Cultured Nerd for more updates.
[Source]: The Hollywood Reporter & ComingSoon