Disney Removes "Free Guy" & "Death on the Nile" from Release Calendar
Disney has delayed both Ryan Reynolds "Free Guy" and Kenneth Branagh's "Death on the Nile" indefinitely.
Disney has removed both Ryan Reynolds new adventure film Free Guy and the Kenneth Branagh directed Death on the Nile sequel to the 2018 hit Murder on the Orient Express from their release calendar.
Having been part of only a handful of films still planned to release in theaters this year, it is undoubtably another huge hit to the already struggling movie theater industry. There have been so few offerings for open theaters to show, that many have shutdown to avoid bankruptcy from a drastic lack of customers. The last 'blockbuster' scheduled to release this year is Wonder Woman 1984 aka WW84 starring Gal Gadot. There have already been rumblings of Warner Bros. considering streaming options. However, the studio, the stars, and director Patty Jenkins, have consistently stated that the film will get a theatrical release. The superhero sequel to 2017's Wonder Woman is still set for a Dec. 20 release. Other films still set for a theatrical release include Universal's animated film The Croods: A New Age (Nov. 25), the Vince Vaughn thriller Freaky (Nov. 13), and Promising Young Woman, a revenge film starring Carey Mulligan.
With COVID-19 cases rising across the country, movie theaters may not even be open in certain states upon release of these upcoming films. Both New York City and Los Angeles have had their theaters shutdown for the longest period of time after the pandemic started. Many theaters still are not open, recent estimates have reported that there are only around 50% of theaters open across the country, all with social distancing, and limited seating.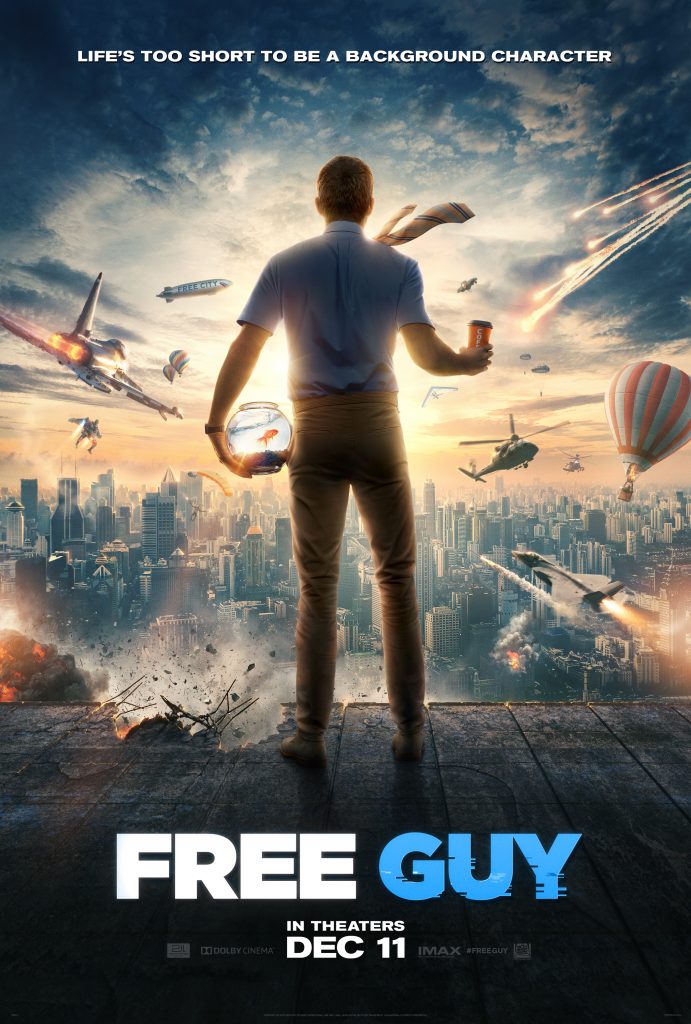 Free Guy is directed by Shawn Levy (Stranger Things, Date Night). The story follows a mild-mannered bank teller named Guy (Reynolds) who discovers he's one in a million background characters in a video game that's about to have its server shutdown. The action-adventure-comedy is written by Matt Lieberman (Scoob!, The Addams Family), and Zak Penn (The Avengers, Ready Player One). The rest of the cast includes Jodie Comer, Taika Waititi, Joe Keery, and Lil Rel Howery.
Death on the Nile is directed by, and stars Kenneth Branagh (Tenet, Dunkirk) who once again appears as detective Hercule Poirot. This time around he's investigating the murder of a young heiress aboard an luxury cruise ship sailing along the Nile River. The film was written by Michael Green (Logan, Blade Runner 2049), and stars Gal Gadot, Letitia Wright, Armie Hammer, Annette Bening, and Russell Brand alongside Branagh. The first novel turned film in the franchise, Murder on the Orient Express, was a massive success at the box office, earning more than 350 million on a 55 million dollar budget.
Free Guy was set to release on Dec. 11, while Death on the Nile was set for a week later on the 18th. There has not been a new release date set for either film at this time.
What do you think about both of these films being removed from the release schedule? Are you planning on seeing anymore movies this year in theaters? As always, let us know in the comments below or join in the discussion on the official TCN Twitter.
[Source: variety]