Original Cast of Kevin Smith's "Mallrats" to Return for Sequel "Twilight of the Mallrats"
Director Kevin Smith is gearing up to film his "Mallrats" sequel, tentatively called "Twilight of the Mallrats". The film will primarily focus on Jason Lee's character "Brodie" and his now teenage daughter.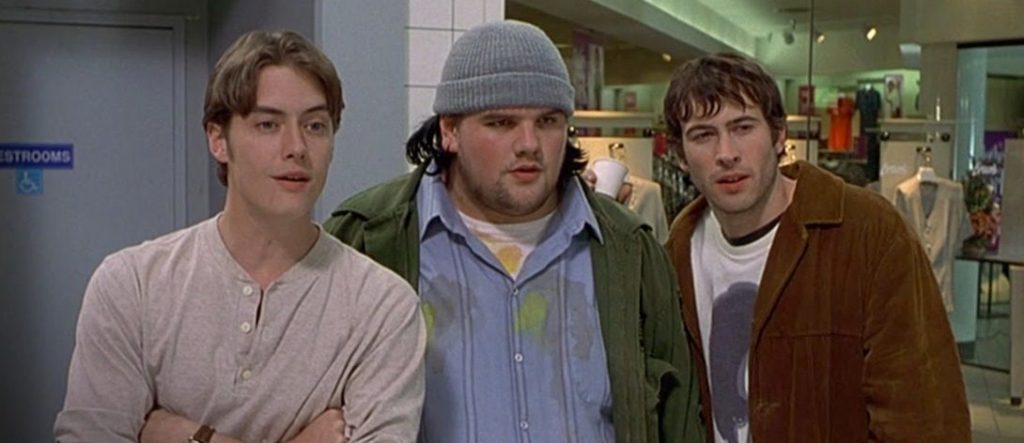 At last, Kevin Smith's proposed sequel to the 90's cult classic Mallrats will aim to begin production in early 2021. Smith finished his script for the film, currently referred to as Twilight of the Mallrats, earlier this year. The original cast returning had also been teased on multiple occasions by Smith himself, and now he officially confirms it in a recent interview:
"Looks like we're heading toward it now in 2021, which is very exciting for us. It takes place 25 years after the original and features the entire cast, [and] a new cast of characters as well. It's about Brodie and his daughter and the death of the mall. The Brodie that we met in Mallrats has only been proven right in life. The world came around to his way of thinking. So, based on that, Brodie never really had to grow up and now, at this juncture in time, we face the moment when he might actually have to become an adult."
Jason Lee (My Name Is Earl, Almost Famous) portrayed the loudmouth comic-book geek Brodie, and Jeremy London was his softer, more caring, but equally as dim-witted best friend T.S. Quint. The film starts with the pair both being dumped by their girlfriends (Shannon Doherty & Claire Forlani) on the same day. This dumping leads them to their local more where they look to find the answers to love, life, and the universe. The film is a 90's time capsule, featuring a collection of "mallrats" including Ethan Suplee (My Name Is Earl) as the disgruntled William who (no matter how hard he tries) is unable to see the hidden picture within a portrait at a kiosk. Michael Rooker (Guardians of the Galaxy 1 & 2) pops up as Brandi's (Clair Forlani) TV producing father, who will stop at nothing to keep his daughter away from T.S. after their initial break-up. We also get a few scenes with the always crass Jay (Jason Mewes), and always silent Silent Bob (Kevin Smith) before their characters really took off in Smith's movies. The two are featured throughout, giving poor relationship advice to T.S. on more than one occasion. Silent Bob even appears as a knock-off Batman and quite literally swings across the mall by harness and cable in hilarious fashion (pictured below).
"Brodie's a character that like, was awarded a second bite of the apple because he was right," Smith said. "Like, you know, one of Banner's frustrations with her father is that he's so like, 'I was right. Like the culture turned in my way comic book culture, I predicted this.' So, he's insufferable to her for that reason."
This time around, the main focus of the film is on Jason Lee's Brodie and his now teenage daughter. As Smith stated above, his whole outlook on pop culture and superhero preferences slowly but surely became the most popular film, TV, and video-games on the market, essentially proving his philosophy to be "right." This may prove to not have been the best thing for Brodie's already inflated ego. Smith also went on to reassure us that even though Brodie is the main character this time around, T.S. Quint will surely be back:
"Everybody comes back. T.S. has a really like, poignant part to. I'm very happy with T.S.'s part two. The thing I'm most happy about… the thing I feel most clever about in regard to the movie, obviously one of us can't come back, right? Stan's gone. So, there is a Stan Lee scene, and it makes absolute perfect sense. And when you see it, it'll fucking break your heart and make you cry and while you're laughing. It is so like, I'm not saying I'm clever, but it's f*cking clever. And I get to pull it off without bringing in somebody that's not part of the family, so to speak. It's pretty damn wonderful. So, he's represented as well. He's a big figure, obviously, in Brodie's life."
Mallrats 2 was originally going to be Smith's next film before experiencing a heart attack in early 2018. After surviving the event, Smith changed his entire lifestyle, went vegan, and lost a ton of weight. After taking time to improve his health, he decided to make Jay and Silent Bob Reboot as somewhat of a thank you to his fans and a perfect way to tie up his multiverse incase anything were to ever happen again. Mallrats 2 went into active production shortly after Jay and Silent Bob Reboot was periodically released during Kevin Smith's cross-country tour. Smith went to theaters all around the U.S. showing his film to small pockets of audiences at a time, then following up with a Q&A.
The film was by no means an overnight success when it first released in 1995, only garnering a measly 2.1 million throughout its entire run at the box office. Smith even jokingly mentioned that the awkward encounter he had with Universal when he brought them his finished script:
"When I handed them the script for Mallrats 2, they were like, 'We own Mallrats 1?'" said Smith. "I was like, 'Yeah, it's yours!' Mallrats is a movie that's a little bit lost in time in many ways. It's a real relic of its era, but at the same time, maybe except for the lack of cell phones and the haute couture, that movie still plays today, probably better than it did in 1995."
Mallrats original cast included Jason Lee, Jermey London, Shannon Doherty, Claire Forlani, Ben Affleck, Reneé Humphrey, Joey Lauren Adams, Michael Rooker, Ethan Suplee, Jason Mewes, and Smith himself. We can expect to see every character appear in some capacity when Twilight of the Mallrats is released.
The film is currently available to rent and stream on platforms including Amazon Prime Video, Vudu, and Youtube. You can checkout the original 1995 trailer for Mallrats below:
[Source: comicbook.com & EW]