STARWARS.com has released new images for a new lightsaber design that was inspired by one of the most iconic swords in history, Excalibur. The new saber will be featured in the Star Wars: High Republic .
The next adventure into the Star Wars Universe, the High Republic era, was supposed to start in August of this year but was postponed until 2021 due to COVID-19.
The Star Wars: High Republic era will be a cross platform story spread across novels, comics, and more. This era takes place centuries prior to the start of the Skywalker Saga at the height of the Jedi's power.
Michael Siglain, creative director for Lucasfilm Publishing, has stated that,
"Internally, we often refer to the Jedi of this era as 'the Jedi Knights of the Round Table.' Taking that idea one step further, their sabers can be viewed as their own versions of Excalibur."
While fans will have to wait until 2021 to dive into this new material, new images have been released for a new lightsaber design.
This first look is for the lightsaber of Jedi Master, Stellan Gios.
The exclusive preview comes from the new book releasing on October 20th titled Lightsaber Collection.
Disney Publishing illustrating manager, Jeff R. Thomas, said this about Gios lightsaber,
"He needed an iconic weapon that could stand beside the other famous lightsabers, but at the same time be unique to him and evoke the time period of the High Republic."

Using Kylo Ren's saber as the initial inspiration the team got to work designing this new saber. It became clear that it did not work exactly as the team had hoped.
That is when the idea for Excalibur came into play.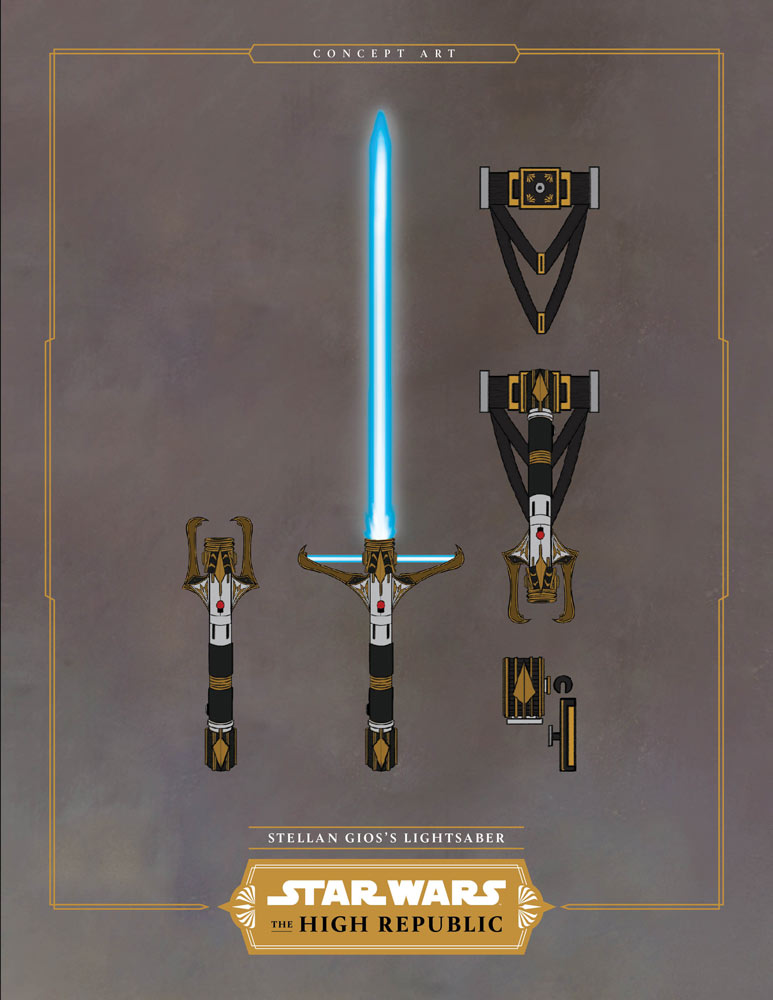 The bold and new design boasts a cross-guard that is not stationary and can retract while holstered which was an initial hang up with the design according to Thomas.
Thomas said,
"What would a lightsaber version of Excalibur look like? I started sketching and came up with a silhouette I really liked, but the practicality of holstering/sheathing it nagged at me until I had the idea that the cross-guard didn't have to be stationary. Perhaps it could activate or deactivate with the saber. So after some more sketches and some back and forth with Lucasfilm, it was decided that the cross-guard would activate as opposed to always being open, which would give the saber the slimmer silhouette while holstered and would lend itself to some great visuals when activating."
The global pandemic pushed back the release of The Star Wars: High Republic content. The first installment of this new era will be hit stand in January of 2021.
[Sources: comicbook.com and starwars.com]