"Black Adam" to Begin Filming Early 2021 according to Producer
Production on "Black Adam" starring Dwayne "The Rock" Johnson is said to be starting in Q1 of 2021. This is according to producer and Seven Bucks Production business partner, Hiram Garcia.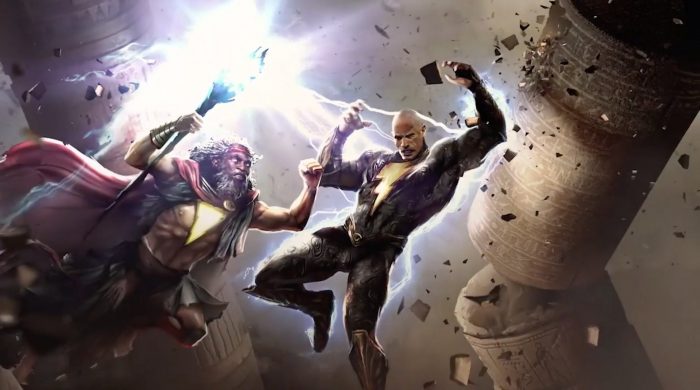 It won't be much longer until we see Dwayne Johnson on screen as the popular DC anti-hero Black Adam in his own standalone film. The Rock is planning to introduce the extremely power and merciless character as well as give us a glimpse (or more) at the Justice Society of America. The super group includes comic-book royalty like Hawkman, Doctor Fate, Atom Smasher and Cyclone. The JSA even predates the Justice League, with the first issue being published in 1940 from All Star Comics.
Long time business partner to Dwayne Johnson and producer of Black Adam, Hiram Garcia, recently spoke about when we can expect the film to begin production:
"We're going to start filming sometime in the first quarter of next year"
He also talked about Black Adam's journey and how this film will show you that he's truly the most powerful character in the DC Cinematic Universe.
"The journey we're going to put Black Adam on, it's very compelling — what he's gone through and what you're going to see on-screen is going to be amazing to watch play out, and then when you couple that with how powerful every character is who is going to be in the universe, it's really going to heat things up. We have a lot of fun saying the hierarchy of the power in the DC Universe is going to change because when Black Adam arrives, everyone needs to watch out because he's going to change the game."
Below is concept art that was released during DC Fandome Part One back in August by the always impressive Bosslogic.
Garcia later touched on their future plans for the Justice Society of America including the role they will have in Black Adam's overall journey into becoming the anti-hero he's best known for being.
"Our entire production team and our amazing director, Jaume Collet-Serra, we all have unified, giant ambitions for what we want to do with these characters and the JSA and all those new members we're introducing from Hawkman to Atom Smasher to Cyclone and Doctor Fate," Garcia explained. "It's an opportunity to put ourselves in the DC Universe, and really start to create a fun group of characters that audiences haven't had the chance to see, but that a lot of them are familiar with."
The Rock plans to introduce the character in his own film and then branch out to other DC properties, specifically Shazam. The two share a long and strained history in the comics and there have been already been talks of the two meeting in future installments for a brutal face-off before inevitably teaming up. Zachary Levi is currently playing the superhero version of Billie Batson and will appear next in Shazam! Fury of the Gods which is set to release on November 4, 2022.
The film will be directed by Jaume Collet-Serra (Orphan, House of Wax) with Adam Sztykiel penning the screenplay. Noah Centineo was recently cast as Al Rothstein aka Atom Smasher, one of the original members of the Justice Society. The rest of the JSA has yet to be cast but TCN recently reported on two actors who are currently on the shortlist to play Carter Hall aka Hawkman. Black Adam is currently slated to release December 22, 2021.
Are you excited for Black Adam? Who do you think should play the other members of the JSA? Let us know in the comments below!
[Source: comicbook.com]