[TCN Artist Interview] Writer and Creator Jason Douglas Talks First Comic "Parallel" and More
Douglas and his debut comic Parallel have arrived proving that with hard work and just a bit of luck, dreams can still come true.
Michigan native and lifelong comic fan and teacher, Jason Douglas, has now joined the ranks of comic book creators with his debut one-shot Parallel. Douglas had a lifelong dream to be a comic book writer, but 20 years of teaching and three kids later, he used his own deferred dreams and missed opportunities to create a gloriously original comic.
In an interview with Douglas, I talked with him about how his comic came to be. Douglas is no stranger to writing; he has written and published plays while running extracurricular drama clubs as a public-school teacher. According Douglas, even when he was writing plays, that desire to make a comic come to life was always in the back of his mind.  
Douglas believes there is no story a comic cannot tell, stating that, for him, it is the most malleable and flexible means of storytelling.
"So, for a story like Parallel, which explores existential dread, regret, dreams deferred, depression, all wrapped in a tense sci-fi parallel world construct…well, what better medium that the one I have loved since I was a child and maybe the only one that can tell such a story with the fun, darkness, hope, twists and turns I wanted to imbue it with!"
The comic Parallel is a nonstop thrill-ride for 62 pages, following a young man named Landon: a former rock star hopeful, now a just a regular guy dreaming about the past. When I asked Douglas about the inspiration for the comic, as can be expected, he too felt like Landon, stating that he too felt the "creeping dread of the passage of time, dreams slipping away, time running out."
Looking back on his own life experiences was not enough. According to Douglas, the catalyst came from his former students. These kids are now in their 20's, and they told him about their "Quarter Life Crisis" and how their dreams seem to be fading.
"[They were] wondering how the 'temporary' decisions they made at 22 to take that job just to pay the rent, get in that relationship just because it was there, set their dreams aside because there would "always be more time"… they wondered how, in a blink, 5+ years had gone by and now everything seemed so distant and un-attainable, it was in hearing their stories that lit the preverbal fire under my butt and made me finally put pen to paper. My own existential angst was not enough to break me out of my atrophied state, but knowing that I was not alone in it, that was the catalyst."
The Parallel comic had a quite an origin story. Douglas said he wrote the first 32 pages in a bubble. Then, at that point, he started looking into the daunting process that is bringing a comic to life. The initial discouraging reaction was understandable. Most publishers do not want unsolicited material and Douglas at the time did not have a finished product. He took his 32-page script, a cover letter, pages of character bios, and possible plot points for the rest of the story and put them in an old school manila envelope and headed to the Motor City Comic Con.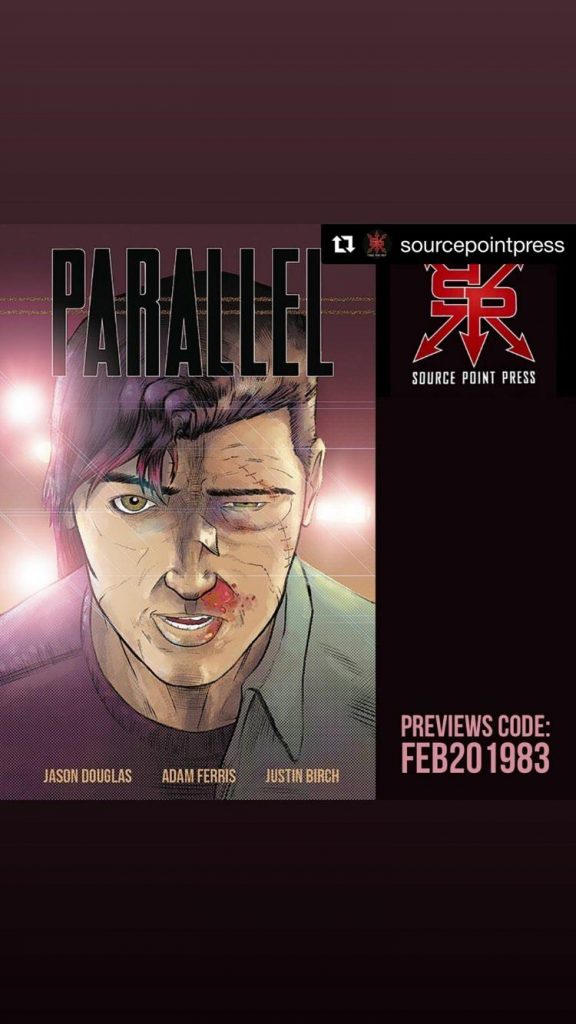 Douglas admitted that his own naivety may have helped him as he set out, envelope in hand, and chased down his dream. Now, depending on your own belief system, the reasons for what happened next can vary. The very first booth that caught his eye was the Source Point Press booth.
Source Point Press is one of the more prominent indie comic book companies around. The company publishes books, comics, and graphic novels. The company's mission statement says it best: "Working with both industry legends, and new talents on the rise, we strive to bring you the best storytelling in horror, sci-fi, pulp, true crime, the occult, and supernatural."
It may have been fate or destiny, but according to Douglas, it may have been due to the first person he saw behind the table. Or as Douglas put it, the "magnificent red beard" of Travis McIntyre. McIntyre just so happens to be the co-founder, president, and EIC of SSP.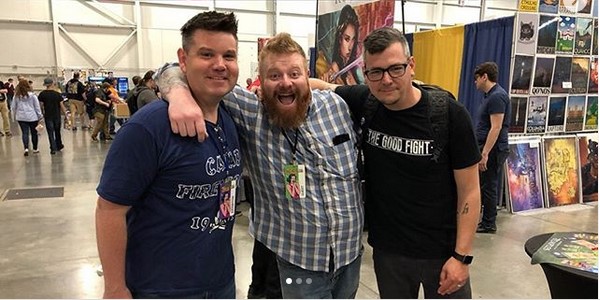 Luckily, McIntyre liked his pitch, especially the method of delivery. Douglas believes his "archaic folder" and paperclips were what amused him the most. McIntyre even asked him if he thought he was pitching a comic back in 1971 and then requested he turned the story into a 64-page one-shot graphic novel.
With contract in hand and with the help of his editor, Bob Salley, and talented artist Adam Ferris, the rest is, as they say, history.
Once Ferris came on board, the game changed. Douglas said he adjusted his writing style once he saw what Ferris could do.
"Being blow away by him making my words even better than they were on the page through his art, and letting the tension build higher and longer in crescendos that end with real stakes for Landon's physical and mental well-being.  Getting with work with Adam and write for him was truly one of the greatest delights of the entire process."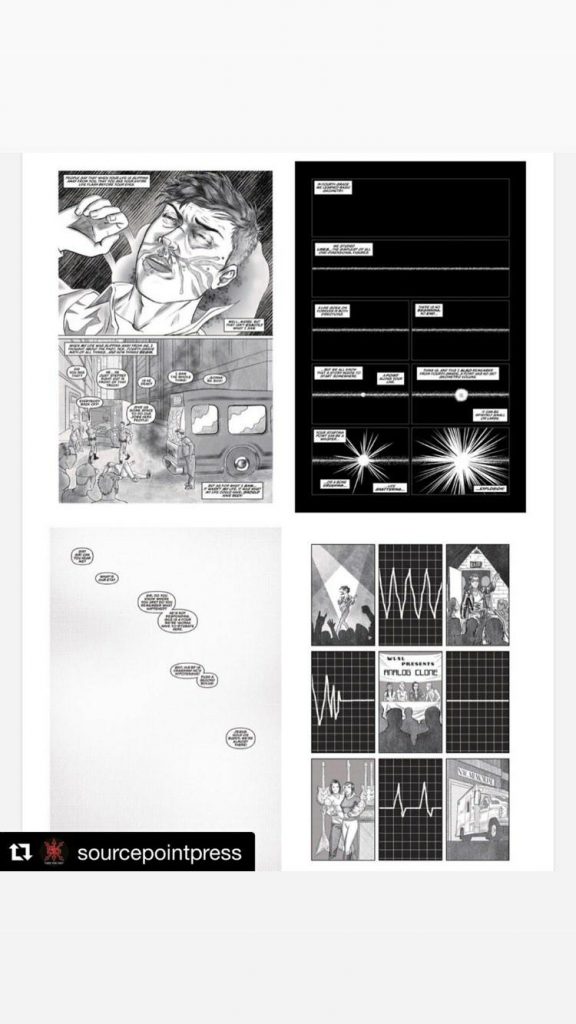 In speaking with Douglas, it was clear that this project was rewarding to write, and he hoped that it would be the same for the reader. This book may speak to many people on a very deep level, as it did with me. Douglas said one of the things he is most proud of was that these themes are far more universal than many of us believe. He said that if there was one thing that he hoped readers took away from the comic, it is knowing that you are not alone.
Douglas is also now working on his next project called Jane American that is inspired by his late grandmother. Set in post-WWII, a young woman with enhanced strength and speed is being forced to hide who she truly is.
Douglas and his debut comic Parallel have arrived, proving that with hard work and just a bit of luck, dreams can still come true. Douglas ended the interview with a message for the fans.
"Please come and say hi (and follow me) on Instagram @jdouglaswrites ! I love chatting with people who have read to book and if you buy a copy from your local shop, have them order it using the Diamond Order Code FEB20 1983, or order it directly through www.sourcepointpress.com please send me a pic of you and them book over Instagram and I will give you a shout out online!"