Barbara Muschietti Teases "The Flash" Movie News
Barbara Muschietti teases news coming soon regarding The Flash film.
Within the past few weeks, we've gotten news about Zack Snyder's Justice League, talks of a renewal of Henry Cavill's Superman contract, and even the possible return of Ben Affleck's Batman. The future of the DCEU is brighter than ever before, and it sounds like anything is possible at this point. That being said, one aspect of Snyder's DC universe that has become eerily quiet is Ezra Miller's The Flash movie.
However, Barbara Muschietti, film producer and sister to The Flash's current director, Andy Muschietti, teased something small regarding the Scarlet Speedster's solo silver screen debut. In the comments section of an Instagram post, Muschietti replied to a fan asking about the film, saying:
"It's coming! News very soon!"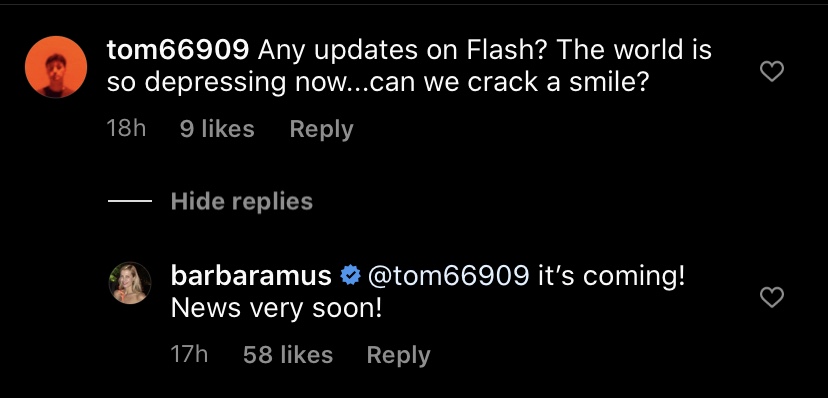 While we don't know exactly what this means, it's possible she could be referring to San Diego Comic Con's digital event happening July 22-26. With the amount of news surrounding the DCEU, it was only a matter of time before the Flash was found in the spotlight again. We can expect to see more of the Scarlet Speedster in Zack Snyder's Justice League in 2021, and according to Muschietti, we'll see a lot more in the future.
The Flash, directed by Andy Muschietti, stars Ezra Miller as Barry Allen/The Flash and will hit theaters June 2, 2022.