[TCN's Actor Analysis] Emma Stone
An analysis of Emma Stone and a few of her iconic performances.
Academy award winner Emma Stone has appeared in a wide variety of films since the beginning of her career, many of which give her the opportunity to play strange or quirky characters. Stone gives her all into each performance and it is evident how much hard work goes into her character creation.
Easy A (2010)
Easy A follows protagonist Olive Penderghast, as a lie she tells her best friend quickly spirals out of control impacting her friendships, relationships, and her character as an individual. With snarky sarcasm and impeccable wit, Will Gluck's Easy A is a fantastic comedy.
Olive Penderghast is an incredibly interesting protagonist. The audience gets to see her lie for what it is, meaningless, however, they also get to see the actions Olive continues to take that work against her better judgement. This makes Olive a complex character with an unreliable narration. In the early moments of the film, Olive tells the webcam that she "swears to tell the truth, whole truth, and nothing but the truth" so that she can right the various mistruths believed about her by the entire school. The film shows Olive reluctantly succumb to the rumours about her, using it for good by allowing nerdy kids or even a gay guy to pretend they had slept with her, allowing them to climb the social ladder just that little bit more.
This role in Easy A is a standout for Stone as it allows her wry and sarcastic sense of humor to take the center stage, while still allowing for emotional or serious moments. With its hilarious and endlessly quotable one-liners, there's no doubt why this film cemented Stone as a Hollywood Darling.
The Amazing Spider-Man (2012)
Andrew Garfield's Spider-Man films seem to be some of the most disliked of the many iterations of the Web-Slinger, but it had something undeniably unique, something that still makes the film stand out among others: Gwen Stacy. Instead of Mary Jane as the love interest, Marc Webb's Spider-Man films follow the oft-discussed Gwen Stacy storyline.
Gwen Stacy is an incredibly well liked character to most fans of our friendly neighbourhood superhero. She is incredibly smart, capable, and self-reliant. Daughter of the NYPD's police captain, Gwen is well cared for. However, for many fans, the most iconic part of her character is her death at the hands of the Green Goblin. Peter tries to save her by shooting a web out at her, but in a twisted turn of luck this breaks Gwen's neck, killing her instantly. The Death of Gwen Stacy informs many of Peter Parker's future decisions and continues to have a great impact on the comic iterations of the character.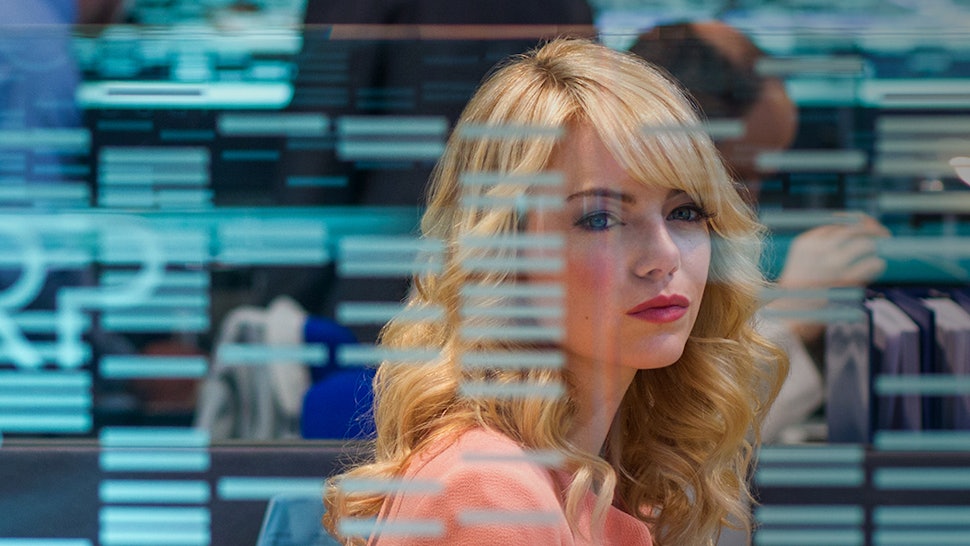 Emma Stone plays Gwen Stacy with much care. The character's intelligence is evident, with many of her more subtle traits shining through as well. Stone referenced many iconic character moments from the comic book in her portrayal, while providing a sense of humor that reflects Stone's own. This helped create a three-dimensional character out of Gwen.
Birdman (2014)
Alejandro G. Inarritu's Birdman is a haunting film following a fading cinema superhero looking to reignite his career and rebuild his relationships on a path to a more altruistic life. This proves a difficult feat as trauma and tension bubble under the surface.
Emma Stone plays Sam, protagonist Riggan's daughter. Their father-daughter relationship is a central theme throughout the film as Riggan tries to mend their relationship without truly taking responsibility for his actions, the impact of which has clearly deeply affected his daughter Sam as she recovers from drug addiction and struggles to connect with others.
This, in my opinion, is Emma Stone's best performance to date. While it is not nearly as hilarious as her more famous roles, Birdman shows the raw talent that Stone truly possesses as she gets into the mindset of this deeply damaged character.
Emma Stone continues to deliver great performances in the roles she plays, nominated for an Academy Award for her work in The Favorite. Upcoming Projects include Cruella, The Croods 2, and The Menu.