[TCN Exclusive Interview] Athlete Ryan Hilinski Discusses Star Wars and Gaming
An interview with Gamecock quarterback Ryan Hilinski about his love for Star Wars and his favorite hobby, gaming.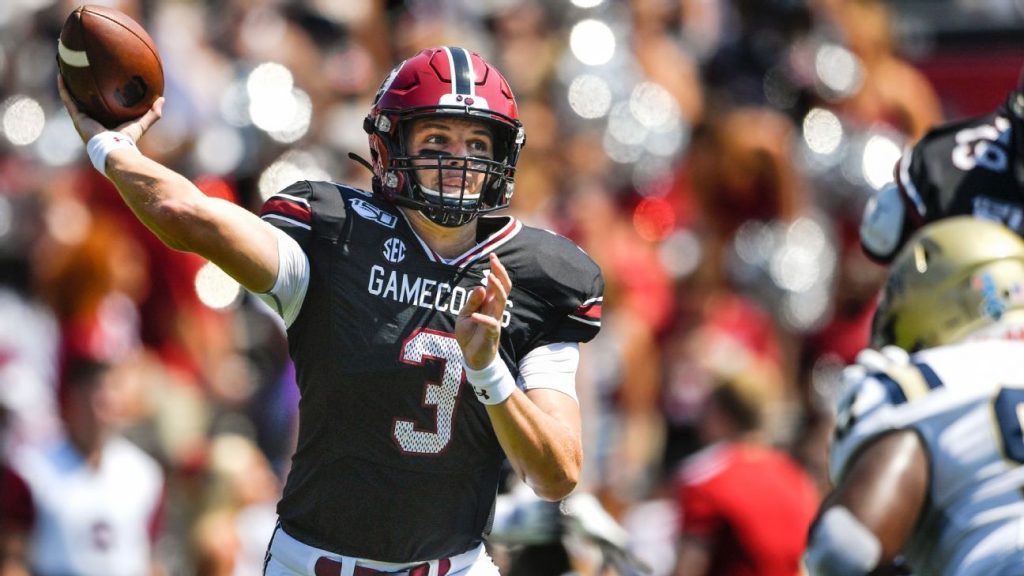 Ryan Hilinski is a quarterback for the South Carolina Gamecocks and had an impressive freshman season on the field. However, South Carolina's love for Hilinski extends beyond the field as his family has an organization called Hilinski's Hope, which was founded to remember Ryan's older brother Tyler Hilinski, who tragically took his own life.
"With H3H we have created a non-profit foundation with the goal of keeping Tyler's memory alive and generating the funding necessary to support programs that will help destigmatize mental illness.

We will provide the funding and practical tools for the schools with student athletes to implement the change necessary to bring parity to mental health in line with all other illnesses and injuries these student athletes face."

Excerpt of Hilinski's Hope's, about us page
I recently had the chance to interview Hilinski on his love for Star Wars and his favorite hobby, gaming.
You posted a Star Wars ride [from Disneyland] and we connected and you told me that you're a huge fan of Star Wars, could you expand on that?
So my girlfriend's brother [David], ever since I started hanging out with him really, he's a huge Star Wars fan. He's been filling me in on stuff and telling me conspiracy theories; we even saw the new Star Wars that came out, together. I've watched every episode with him, so we're big Star Wars fans, whenever we're together we talk about it a lot.
What do you think your favorite Star Wars film is? Which one is your least favorite?
I would say Revenge of the Sith, for sure is my favorite. Me and David love watching Revenge of the Sith, and the order 66 scene and Anakin's march when he walks into the temple. I know I'm getting a little nerdy but it's fun. A New Hope, probably to be honest [least favorite]. I really like the prequels more than the new ones [Disney trilogy] too though, you can't beat those man.
I know they get a lot of hate but they[the prequels] are kinda iconic to us, since we grew up with it.
Exactly, yes.
What did you think about the Disney trilogy?
I thought they were pretty good, I wish they would have included Darth Vader or Anakin a little bit more in that last one. To be honest, I like them, I really did. My brother Tyler was a big fan of Star Wars, and I'm a little bias because he liked Darth Vader but I wish they just included Anakin a little bit more. He's the "GOAT".
After watching all of the Star Wars films, do you think you resemble any characters or you'd want to be any character?
Obi-Wan Kenobi, of course is dope. I'd want to be Anakin, for sure, but until he turns evil. I don't know I might would take his powers whenever he turns to the dark-side, I might translate those to the football field but I can't be that mean. I'd probably have to go with Anakin.
If you had to pick a lightsaber color, which color would you pick?
Ohh. I would go with blue. Blue is the sign of hope, it's the sign of good versus evil. I'd have to go with the classic blue.
Now, what kind of gaming do you do?
Call of Duty is a big one, Modern Warfare, the battle royale mode is dope. Minecraft is another fun one, I've been playing that lately. MLB the Show. And of course I get my Madden in everyday.
Have you seen all the people using updated college rosters, playing as you kinda' on NCAA '14?
Yes, I have. It's pretty cool. Especially last night when I went live [on Instagram] there were a lot of people wearing Hilinski's Hope sweatshirts and they had flags on their walls and stuff. It was pretty cool. I'm glad to see people are keeping spirit. Especially when they are playing video games, I'd hope they'd play as me.
What kind of games did you play in your childhood?
Minecraft was one of them. But I usually grew up playing Madden. Madden was my go to. I created myself on NCAA and did Road to Glory.
What NFL team did you play as on Madden?
Patriots, I always played as the Patriots.