Paramount Moves Up Release Of Top Gun: Maverick, Competition Flys Right By
Maverick to give the theaters a flyby all on its own, the Top Gun sequel hits theaters sooner rather than later.
The ageless wonder Tom Cruise is back to reprise his roll as pilot Pete Mitchell, code name: MAVERICK. Many fans have been impatiently waiting for Top Gun to return ever since its 1986 release. A Top Gun sequel wouldn't be the same without Cruise, and we have him to thank for keeping it real. Literally. His involvement in the return of 'Maverick' was predicated that the film uses real fighter jets instead of the use of CGI. With that being said, Paramount is going to give us Top Gun: Maverick a few days earlier than expected, they're hitting the breaks while the competition flys right by. Originally scheduled to release on June 26th, now moved up to June 24th.
You may be thinking "only two days"? While that may not be a huge difference, there could be a few tactical reasons to do. Disney and Pixar's animated Soul releases on June 19th while the following week, In The Heights, a musical based off the stage show Hamilton of Lin Manuel Miranda, debuts on June 26th. The weekend after that, on July 3rd, Minions: The Rise of Gru and Free Guy (starring Ryan Reynolds) will also hit theaters.
Instead of "dog fighting" any of theses summer flicks, Top Gun: Maverick will give theaters a flyby all on its own. This tactical maneuver by Paramount should help the film gain a little extra cushion for the box office, led by the king of summer blockbusters, Tom Cruise.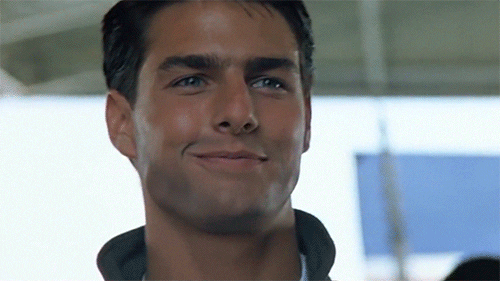 Pete "Maverick" Mitchell (Cruise) returns to the Top Gun school to push the envelope as a test pilot, instructing a class of new recruits, all the while dodging any advancement in rank.
Also featuring Jennifer Connelly, Miles Teller, Glen Powell, Jay Ellis, Monica Barbaro, Lewis Pullman, Ed Harris, and Jon Hamm. Iceman has yet to be revealed in any footage but "Val Kilmer as Iceman" is shown in IMDB. Script is penned by Ehren Kruger, Eric Warren Singer, and Christopher McQuarrie. Directed by Joseph Kosinski, Top Gun: Maverick now set to release on Wednesday, June 24th, 2020.
Welcome Back To The Danger Zone