Is Scott Derrickson hinting at directing a sequel to the 2005 Keanu Reeves Constantine Film?
Scott Derrickson hints that he would like to direct a Constantine movie.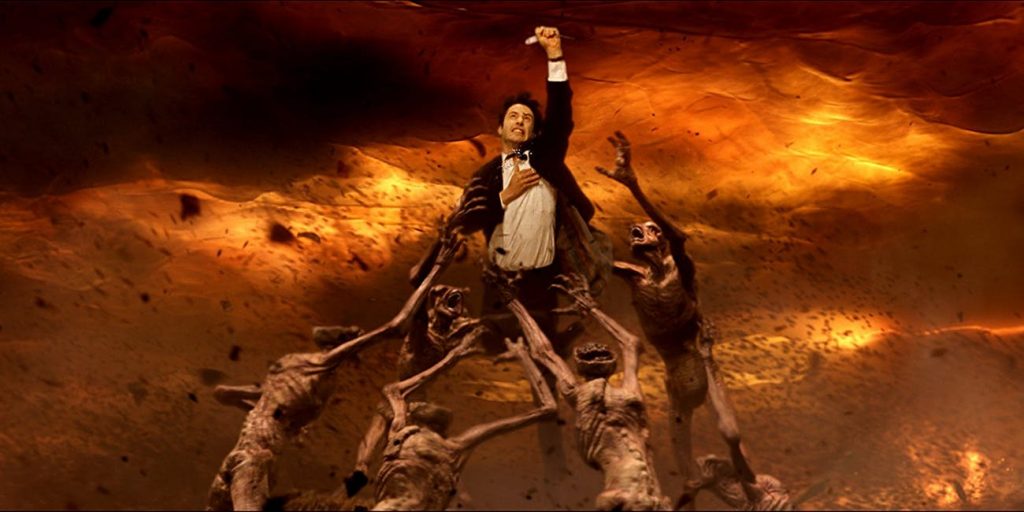 Two months ago Marvel's Doctor Strange in the Multiverse of Madness was on its way to being their first "horror-like" film under their belt before they they parted ways with director Scott Derrickson. Derrickson has directed horror films like The Exorcism of Emily Rose, Sinister, and Deliver Us from Evil. He also directed Doctor Strange in the MCU but was replaced by Sam Raimi for the Doctor Strange sequel due to "creative differences".
It didn't take long for fans to reach out to Derrickson via Twitter to see what he would want to direct next from the comic world. For DC fans, his answer was pleasantly surprising.
His most recent tweet on the subject had no captions but just 3 hashtags, #Tilda #Keanu #Constantine. The common ground? Derrickson directed Doctor Strange where Tilda Swinton plays The Ancient one. He also directed the remake of The Day the Earth Stood Still starring Keanu Reeves as Klaatu.
Maybe Derrickson is making a push for Constantine given that J.J. Abrams' company Bad Robot Productions has confirmed they are developing live-action content related to Justice League Dark, which Constantine is a member of. Being a director that doesn't shy away from the dark, creepy, and scary, Derrickson could very well handle the reigns of such a task.
Derrickson isn't the only one who wants a chance in bringing Constantine to the big screen. Reeves also wants another crack at playing the character again. While promoting John Wick Chapter 3: Parabellum in 2019, he was asked what character he would like to revisit. With no hesitation he shared his top choice.
"always wanted to play John Constantine again." Sharing that his love for the Constantine universe continues to burn fourteen years after the fact, Reeves, said, "I just had a blast playing the character and any [sic] of that world."
John Constantine would be another bada** character for Reeves to return to. He's already making John Wick 4, he's bringing Neo back in Matrix 4, I say why not let him reprise the roll of John Constantine. This could be DC's chance lock up one of Hollywood's biggest draws to help usher in new DCU era going forward. Especially if an actor of Reeves' caliber WANTS to play that character again, paired with a director that has said and tweeted he would want to direct his favorite non-Batman DC material.
Maybe there's something brewing with the Derrickson tweets or the Reeves quote. Maybe there's nothing. While the DCU is being developed under the watch of Abrams, WB is also wanting to separate themselves from the DCEU. The new 'Batman' will bring the crowd no doubt, but the integration of DC's more magical, occult, and offbeat side can strike the curiosity of more if done right.
That being said, Constantine would be the perfect movie to build relationships to the other lesser known characters in the DCU. As of right now, this is pure speculation, hopes, and dreams off of a few tweets. We'll wait and see how this all plays out. I, for one, would love to see the Derrickson-Reeves team up for a Constantine return.