There may be more to Tuesday night's surprise 'Crisis' cameo than meets the eye.
Those hoping to avoid Crisis on Infinite Earths spoilers—do yourself a favor; don't read any further.
Welp folks, they saved the best for last!
As Grant Gustin's Flash sped through the Speed Force during Tuesday night's finale of Crisis on Infinite Earths, he stumbled upon an unexpected visitor in the laboratories of "The Arrowverse's" Star Labs: Ezra Miller's Flash from the DC Extended Universe (DCEU).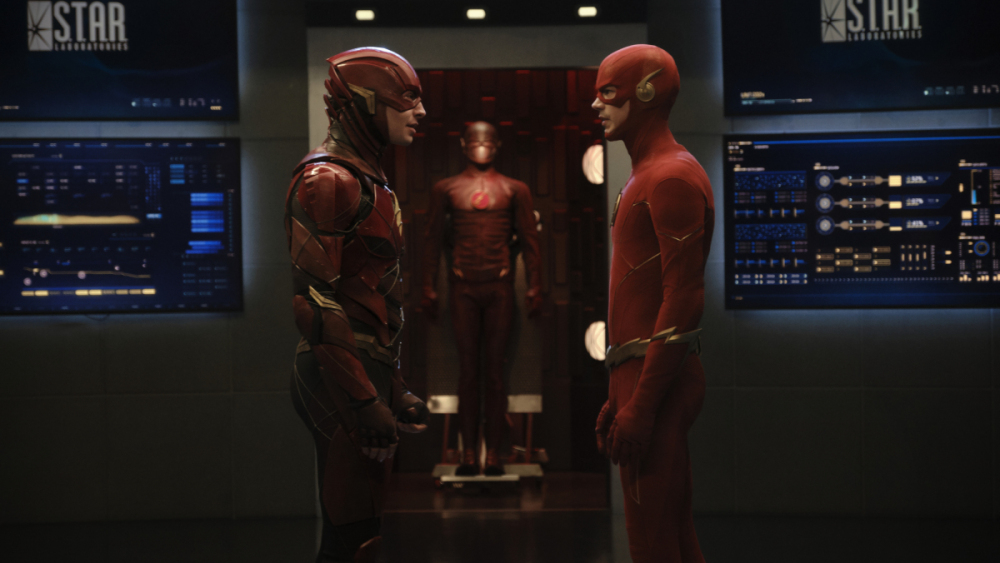 The moment was as delightful as it was surprising. Played mostly for laughs, with Miller asking Gustin if he is a cosplayer in search of a selfie, the scene shook the DC Twitter-verse and excited fans of the comics, movies, and of The CW's "Arrowverse" alike. More than a simple moment of fanservice, though, Miller's appearance on Tuesday night's Arrow has greater meaning than many news websites and opinion forums seem to realize.
In early-January, IT director Andy Muschietti announced that The Flash would likely begin production sometime in late-2020. He went on to confirm that the film will still feature elements of the Flashpoint comic book storyline by Geoff Johns and Andy Kubert, but then stated that the movie would be a "different version of Flashpoint than [fans are] expecting."
Beyond the above, however, details were scarce. There was no official word on whether Miller would reprise the role of The Flash in the film, nor was there confirmation that the film was set to take place in the DC Extended Universe established by director Zack Snyder. Miller's appearance on Arrow, seemingly answers both questions.
Ezra Miller's appearance on Arrow confirms not only that he is committed to the Flash role, but that Warner Bros is as well. Despite all the rumor and innuendo surrounding a potential recasting of the character, WB was confident enough in Miller's Flash to allow him a cameo on a television series (a cameo first discussed by Miller in 2015). If Miller were truly out as "The Scarlet Speedster," this appearance would likely have not happened.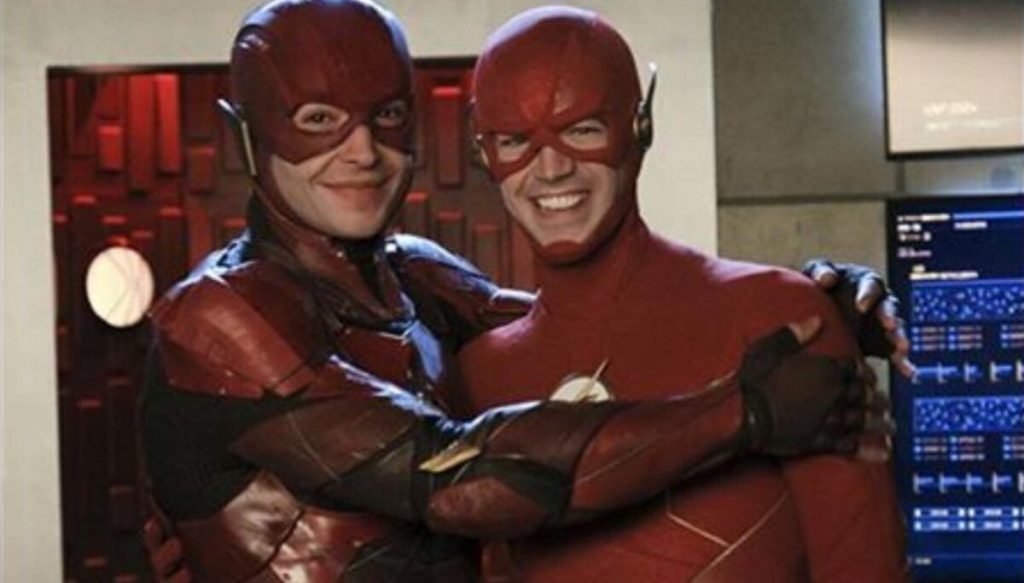 In addition to Miller's appearance as The Flash, fans should also take note of the way in which "The Arrowverse's" creative forces honored director Zack Snyder's take on The Flash. In 2017's Justice League, Barry Allen is never actually called, 'The Flash.' He is still new to the crime fighting game; still figuring out his powers and has yet to settle on a secret identity.
In Crisis, when Gustin's Flash tells Miller, "I'm also The Flash," Miller looks at him puzzlingly, then responds, "You're also the what?" The two Barries go back and forth over the name for a bit until Miller nods cautiously, smirks, and repeats the title. For producers of "The Arrowverse" to recognize a detail that few others noticed suggests that Muscheietti's The Flash movie may pick up where Justice League left off, thus establishing Snyder's take on the character as canon.
Finally, as Miller's Flash begins to phase out of Star Labs, he proclaims, "I told Victor this was possible!" Victor Stone, otherwise known as Cyborg, is a founding member of Justice League in Zack Snyder's movie. For Miller to state Victor's name suggests that the characters have remained close since the events of the 2017 film, perhaps even becoming friends. This is yet another detail establishing the DCEU as alive and well, and suggests that reports indicating that a hard reboot of what has already been established in the DCEU may have been a tad premature.
Perhaps the most important aspect of Miller's Crisis appearance, though, is what is says about the strength of the DCEU fanbase and the #ReleaseTheSnyderCut movement. It is hard to imagine Ezra Miller continuing in the role of The Flash were fans not so vocal in their support Zack Snyder's vision. Miller's appearance suggests that there is not only greater demand for "The Snyder Cut" than some have realized, but that, that demand is being heard by the powers-that-be at Warner Bros. Here's hoping that demand is answered soon.