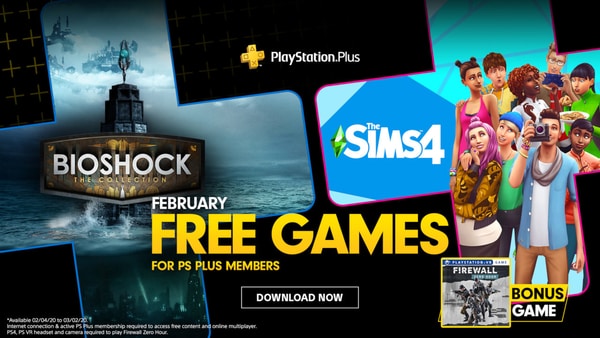 The next set of free games for PlayStation Plus members has been announced. In February, PS Plus subscribers will be getting Bioshock: The Collection and The Sims 4 for free, as well as a third game, PlayStation VR's Firewall Zero Hour.
The Sims 4 is the latest game in Electronic Arts' simulation game series, and has held up for quite some time with expansions and additiional content. However, Bioshock: The Collection specifically has quite a lot to unpack; it contains Bioshock, Bioshock 2, and Bioshock Infinite, as well as the DLC for all three games and director's commentary. Getting three games' worth of content for free is definitely a steal.
The inclusion of PSVR tactical shooter Firewall Zero Hour is interesting though. Usually PlayStation Plus only has two free games per month on PS4, since the service no longer provides free games for PS3 and PSVita. The inclusion of Firewall could potentially mean subscribers will get an additional third game for PSVR each month, but we will just have to see.
Bioshock: The Collection, The Sims 4, and Firewall Zero Hour will be free from February 4 to March 3. Players will still have the chance to pick up January games Uncharted: The Nathan Drake Collection and Goat Simulator until the February games are free on the 4th.