The Lighthouse is pure cinema—a treat for the senses that should not be missed.


There is little doubt that Robert Eggers' latest horror/drama, The Lighthouse, contains moments of brilliance. Some, like the cast's performances, last throughout the picture, while others flash before the audience's eyes like a rotating beam of light. The question is whether this movie should be recommended to general audiences. It is oftentimes difficult to follow while it winds to its bleak and tragic conclusion, and it is almost certain to be divisive. Still, the brilliance outshines any of the movie's murkiness, and after writing this review, it is safe to say that The Lighthouse is one of the best and most intriguing movies of 2019.
Set in the late-19th century off the coast of New England, The Lighthouse follows Robert Pattinson's Ephraim Winslow, a recently hired assistant to lighthouse keeper Thomas Wake (Willem Dafoe). Winslow is tactfully quiet; seldom talking except when necessary and always guarded in his speech. It is obvious that he has something to hide, yet at the same time he seems eager to share whatever he is hiding. He performs the backbreaking tasks assigned to him with exactness and discipline, yet often gets glassy eyed as he works; lost deep in his own thoughts.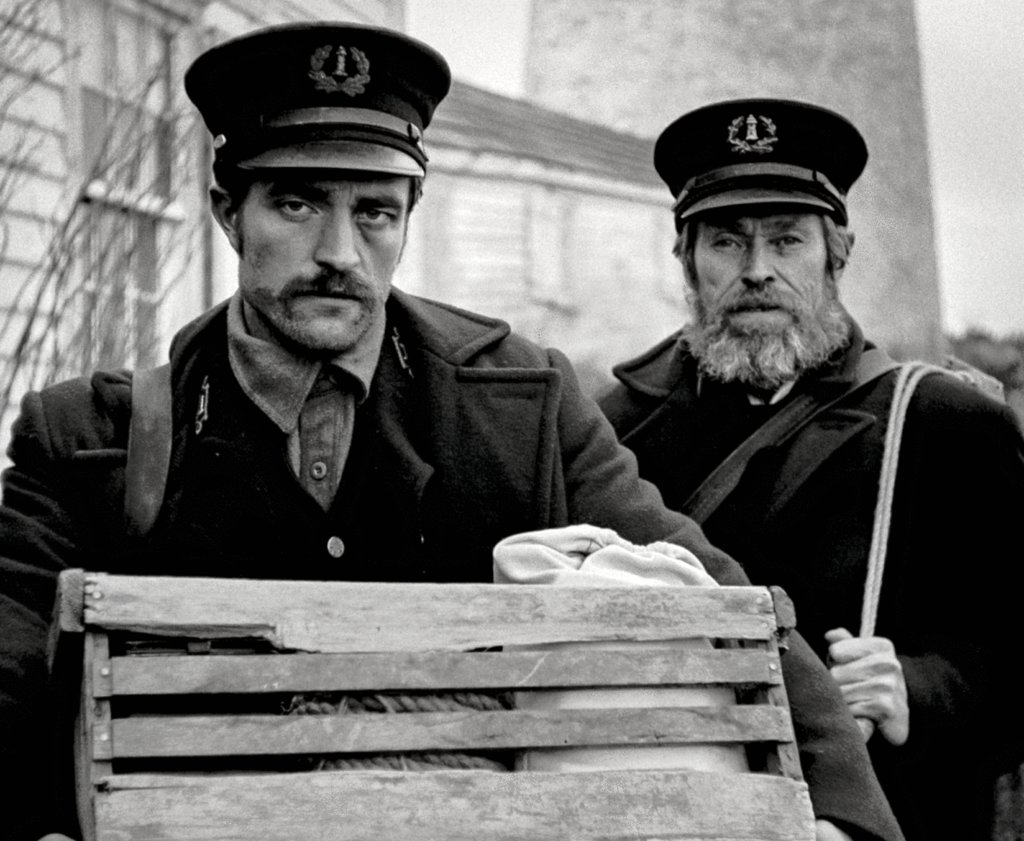 Wake, meanwhile, is Winslow's opposite. He is a boisterous tyrant of a man, always drinking and always blathering on about his former life as a sea captain. He seldom lets even a moment of silence pass, and if he is not barking orders at Winslow (whom he contemptuously refers to as "lad"), he is almost certainly deriding him.
Winslow is desperate to learn the lighthouse trade to begin life anew but is stimmed by Wake's unwillingness to take him to the top of the lighthouse to teach him about the light. Wake's protection of the light is curious, to say the least, and eventually, curiosity gives way to obsession, with Winslow becoming absolute in his determination to discover whatever it is that Wake does at the top of the lighthouse.
Pattinson and Dafoe are masterful in their roles, accentuating the eccentricities of their characters in a way that adds to the tension and builds anticipation for the inevitable climactic clash between the two of them. When Dafoe speaks, it is with a "Captain Ahab" accent, which borders on parody but is utterly believable given the tall tales and embellished sea-faring stories told by Wake. Pattinson acts largely with his eyes—there is an intensity in them, composed in-part of hatred for Wake, but also of a sort of inescapable dread.
Both stars, by the way, look incredible. Either could be performing alongside Hollywood legends of old, adding an unexpected and totally welcome timelessness to the picture. Pattinson may have abandoned the role of love-sick vampire, but that doesn't keep him from sparkling on screen. He's never looked better.
Filmed in black-and-white, the world inhabited by Winslow and Wake is as bleak and oppressive as the respective characters' personalities. Sharp rocks jut out of the earth below, while the skies are always grey. The two live in isolation, and despite the wide-open ocean and their solitude, the claustrophobic nature of living together in the lighthouse (made only more apparent by Eggers' decision to film in a 1.19:1 aspect ratio, making the screen an almost perfect-square) is destined to drive each of them mad.
In the end, Eggers has constructed a beautifully hellish dreamscape not only for his characters, but for the audience as well. Unwinding like a Hitchcockian drama, The Lighthouse is more than a movie, it is an experience that sends audiences spiraling to insanity alongside Wake and Winslow. The Lighthouse is pure cinema—a treat for the senses that should not be missed.
One final note: this is a movie which should be seen in theatres. Do so if given the chance.
3 ½ Stars for The Lighthouse.
The Lighthouse was released on October 19, 2019. Directed by Robert Eggers, the film stars Robert Pattinson and Willem Dafoe. Rated Rated R for sexual content, nudity, violence, and disturbing images and some language.