The Limbo Of The 'Friday The 13th' Franchise
One of the most popular horror franchises is Friday the 13th, that stars the machete-wielding, hockey mask-wearing Jason Voorhees. But where is he now?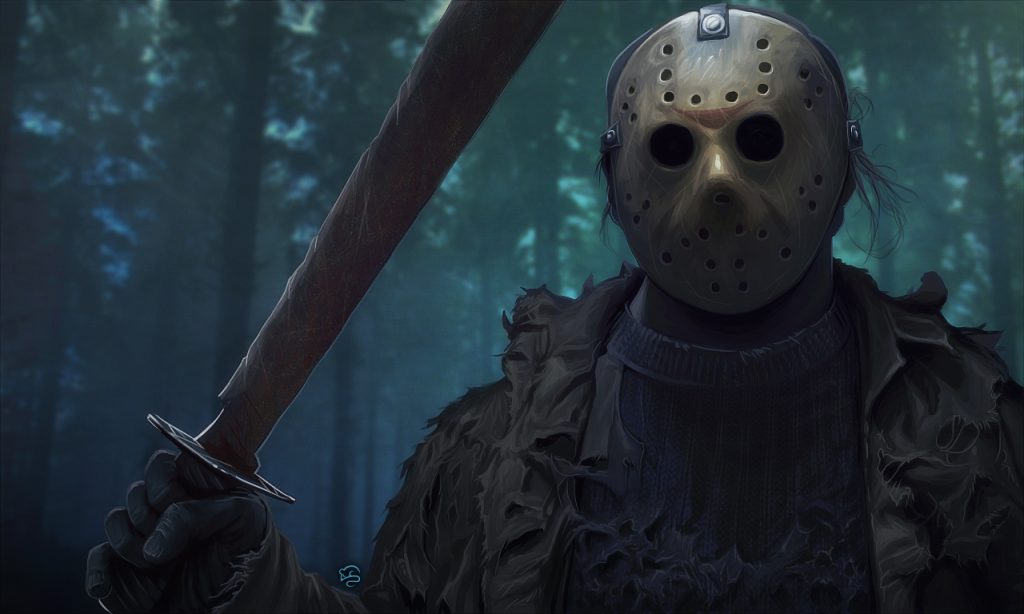 We are currently in the spooky season, and cable channels are now going to start playing classic horror movies non-stop.
One of the most popular horror franchises is Friday the 13th, that stars the machete-wielding, hockey mask-wearing Jason Voorhees. Every film is good slasher fun, with hormonal 20-somethings pretending to be teenagers running away from the murderous Jason.
Jason is an icon in the horror genre that's up there with the likes of Michael Myers, Freddy Krueger, Leatherface, etc. While slashers aren't in their 80's peak, Halloween (2018) became the highest-grossing film in that specific sub-genre, with two sequels on the way. The demand is still there for slashers, so why hasn't there been a Friday the 13th film since 2009? Well, there are multiple complex reasons why.
Paramount and Warner Bros.
When the Friday the 13th reboot released in 2009, it made respectable earnings, and it seemed like a sequel would be a no-brainer. According to a Collider interview producers Andrew Form and Bryan Fuller were working on it. Then it was considered dead because New Line and Paramount were the rights holders, but at that time the two studios weren't making as many movies anymore due to financial reason, and another Jason flick apparently just wasn't a priority.
In 2013 Warner Bros. gave up their stake of the franchise so they could co-produce Interstellar, meaning Paramount now had the exclusive rights. Another installment was so close to happening in 2017, but Paramount canceled it weeks away from production due to various reasons. An expensive budget, Rings flopping, and the franchise's rights going back to Warner Bros./New Line are all factors as to why the studio canceled it.
Fuller and Form both expressed their disappointment in not getting the film done.
One of the biggest heartbreaks of the last couple years was that we were about to make that movie and it fell apart. That still hurts

Fuller, joblo.com
Fuller went into more detail of the franchise's complex rights issues.
Fans think it's so simple, that if we want to make the movie we can go make it, and that's just not the case. There are rights issues; originally, Warner Bros. owned the rights, then Paramount had them for a couple of years, and now I think the rights are reverting back to Warner Bros. At the same time, there's this on-going lawsuit with Victor Miller. If there's a lawsuit hanging over the rights, it's problematic, you can't really make the movie until that gets settled. And now the movie is at New Line, and we've made a lot of movies with those guys, but that's not our home studio anymore. So the question is, do they want to make the movie with us? If they want to make that movie with us, we will drop what we're doing to make that movie.

Fuller, joblo.com
Legal Battles
In the above quote, Fuller brings up the on-going legal battle of over who came up with the original idea of that 1980 film that started it all. Screenwriter of the original film Victor Miller is in the middle of a lawsuit against the film's producer Sean Cunningham and his production company over who originally conceived the original film's idea. It's reportedly caused the development of future films to halt, including an abrupt cancellation of the game's DLC.
Miller reportedly had the courts rule in his favor against Cunningham but only for the original film's rights in the United States. But there are still questions over the copyright of the Jason character that appears in later sequels.
Current Developments
Notable figures in the industry have expressed their desires to make a new film in the franchise.
NBA superstar Lebron James through his production company was in talks to produce a new Friday film.
Ain't it Cool News reported on a script written by Clint Ford, that takes the franchise to its beginnings.
Another script floating around is one by Tom McLoughlin, writer of Friday the 13 Part VI: Jason Lives. That story is a direct sequel to that film and will have nothing to do with the other films.
Jason Blum, one of the main producers of Halloween expressed his desire to tackle the Friday series. Ryan Turek, another producer of Halloween, also got excited over the possibility of tackling this iconic series.
"Without question, at the top of my list would be Friday the 13th. Friday the 13th would be the franchise that I would love to work on next. Jason Blum shares that same passion. That is something that is unfortunately complicated. I mean, there's all sorts of stuff going on not [just] with the video game, but legal stuff. But, if it came our way, I mean I would be on cloud nine. It would be absolutely incredible to do. I feel a little bit smoother, because, I think there are only a few promises you'd need to make when it comes to Friday the 13th. That's, you know, you gotta deliver on a summer camp. You gotta deliver on counselors. You gotta deliver on Jason Voorhees."

Ryan Turek, Comicbook.com
Fan Demand
People love horror movies, especially during the Halloween season. Recent horror films like The Conjuring, It, Get Out, Us, and A Quiet Place show that the genre can still attract a big audience.
The recent Halloween showed that people are still hungry for slashers starring their favorite icons. A new Friday the 13th could be the perfect film to compete with the new batch of Halloween films.
It's a shame the franchise is still going through legal issues that have been stopping the release of new films. I think I can speak for most horror fans to kindly ask everyone involved to get their s— together so they can make new films with Jason killing more camp counselors.