Xbox Leak Reveals All: First Look at the New Xbox Consoles and Features
From a disc-less design to a fresh controller twist, this big Xbox oops spilled all the beans.
A surprising turn of events has cast a spotlight on Microsoft's upcoming Xbox console refreshes. An unintentionally published legal document by the FTC provided a treasure trove of details about Microsoft's new gaming offerings. Although swiftly redacted, the document's details had already been captured and shared online.
Key Takeaways:
New Xbox Series X: Cylindrical design, no disc drive, 2TB storage, 6nm chip, priced at $499.
Upgraded Xbox Series S: Similar appearance, 1TB storage upgrade, priced at $299.
New Controller: Accelerometer, Bluetooth 5.2, quieter controls, lift-to-wake function, priced at $69.
Release Dates: Series S in August 2024, Series X in October 2024, Sebile controller in May 2024, and a Black Friday 2024 promotion for the current Xbox Series S at $199.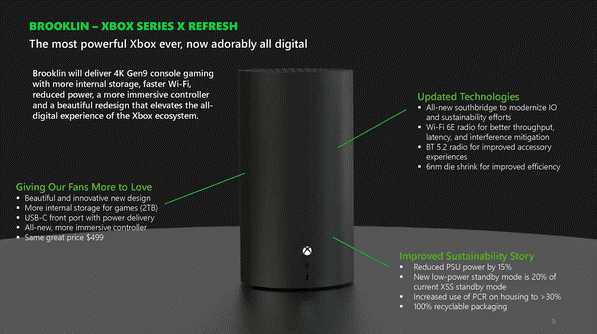 Microsoft's redesigned Xbox Series X, known under the codename Brooklin, will capture attention with its fresh cylindrical look. While it eliminates the disc drive, it compensates by doubling the internal storage to 2TB. The upgraded chip (6nm, down from 7nm) suggests potential efficiency improvements. Interestingly, despite these enhancements, the price remains at the familiar $499.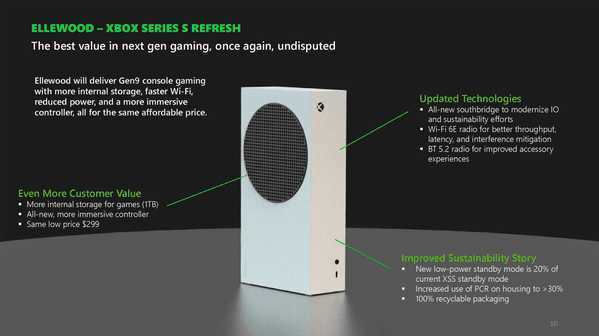 The Xbox Series S, going by the moniker Ellewood, retains its recognizable design. What sets this refreshed version apart is the enhanced internal storage, which now boasts a whole 1TB, up from the prior 512GB. All this while the retail price stays put at $299.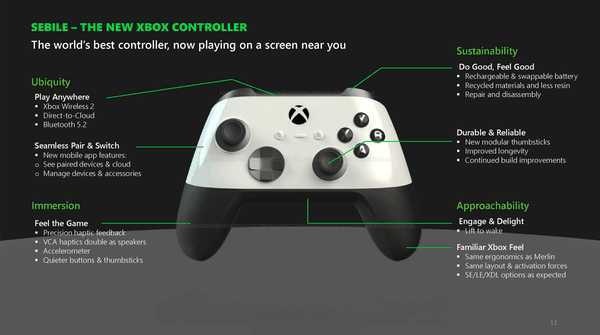 Gamers can also look forward to the all-new Sebile controller. Priced at $69, it's set to bring noteworthy features to the table. An accelerometer (likely intended for gyroscopic input), Bluetooth 5.2 compatibility, hushed buttons and sticks, and a unique lift-to-wake functionality place it as a promising addition to the Xbox ecosystem.
However, the absence of the disc drive in the new Series X iteration might not sit well with all. Players with extensive physical game collections will obviously face challenges, especially since certain retro Xbox titles demand a physical disc for backward compatibility. Not to mention owning physical discs allows gamers to get some return value on their purchases should they wish to sell or trade in their games once completed.
What do you think of Microsoft completely ditching the disc drive? Let us know in the comments below!