"FINAL FANTASY VII REBIRTH": The Journey Continues on February 29, 2024, Exclusively on PS5!
Cloud and the gang are back, and this time, it's a 100-hour journey beyond Midgar. Get ready to unsheathe your Buster Swords early next year!
The RPG world is abuzz following the brand-new FINAL FANTASY VII REBIRTH trailer, which premiered during Sony PlayStation's latest State of Play. The announcement everyone has been waiting for is finally here: The game will be released on February 29, 2024, exclusively for the PlayStation 5 console.
Not only did Square Enix finally confirm the game's release date, but they also dropped another bombshell: this sequel to the iconic FINAL FANTASY VII REMAKE will be a massive 100-hour experience. The trailer provides an expansive look at what's to come, including Cloud and his team's escape from the dystopian city of Midgar. Players can expect a new world of adventure, including riding Chocobos across lush plains and uncovering myriad secrets in expansive, stunning environments.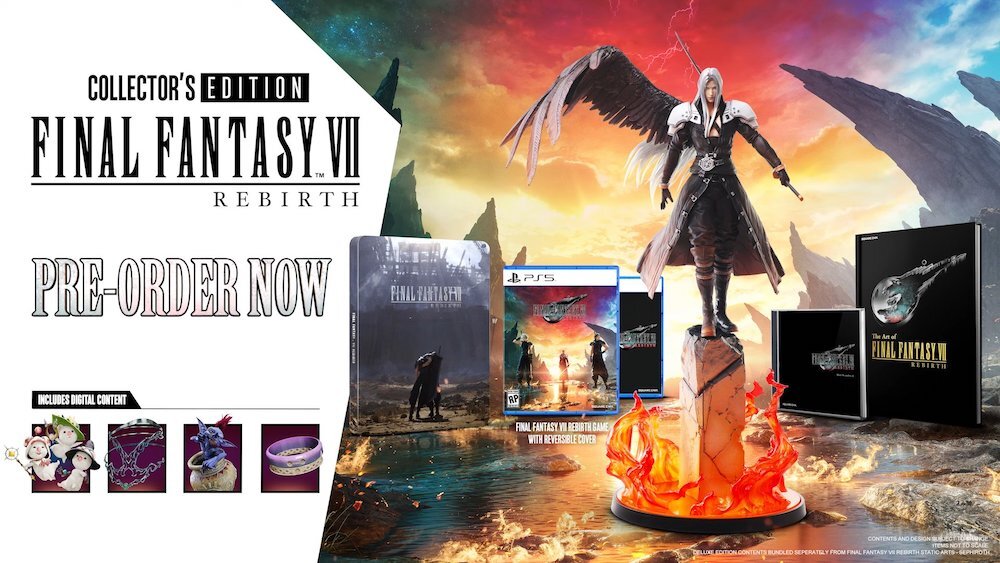 The game is now available for pre-order in three distinct editions, each catering to different levels of fandom:
Standard Edition: This base version includes the full FINAL FANTASY VII REBIRTH game and the Midgar Bangle Mk pre-ordering bonus. II armor.
Deluxe Edition: Along with the full game, this edition features an Art Book, a Mini Soundtrack, and a SteelBook Case. The deluxe edition also includes in-game items like the Moogle Trio and Magic Pot Summoning Materias.
Collector's Edition: This one combines all the Deluxe Edition contents with an approx. 48cm/19-inch highly detailed Sephiroth statue. Additional digital content includes unique accessories like the Reclaimant Choker and Orchid Bracelet, as well as a collection of special summoning materials.
Additionally, If you own save data from the previous titles FINAL FANTASY VII REMAKE and FINAL FANTASY VII REMAKE EPISODE INTERmission, you'll be eligible for unique summoning materias: Leviathan and Ramuh.
As the countdown to February 29, 2024, begins, we can't wait to see what other surprises Square Enix has in store for us.
For all your gaming news, reviews, and in-depth features, keep it locked on The Cultured Nerd.