'God of War Ragnarök' gets a release date in a new cinematic trailer
Ragnarök is coming. Here's every edition you can buy on November 9th.
Since it was first announced in the Fall of 2020, PlayStation fans have eagerly awaited when they can continue the story of Kratos and his son Atreus as they traverse the realms of Asgard. Now, the wait is almost over.
Mark your calendars because God of War Ragnarök is officially coming to PlayStation 5 and PlayStation 4 on November 9, 2022.
A new cinematic trailer shows off the father and son duo as they fight off Odin's forces in a wintery forest.
Be aware, however, that this trailer is entirely CG and not actual gameplay. But that doesn't mean the graphics won't be anything but impressive, which you can get a glimpse of in the PlayStation Showcase Reveal Trailer.
Pre-orders for God of War Ragnarök open July 15, 2022, at 10:00 am local time, and there are a bunch of editions to choose from. Also, PlayStation 4 players who purchase the God of War Ragnarök standard edition can upgrade to the PlayStation 5 version for $10 (or the equivalent in your currency).
There are currently no pricing details for each edition of the game, but here's a breakdown of what every edition includes.
When you pre-order the Launch Edition of the game, whether a physical or digital copy, you will get the Kratos Risen Snow Armor and the Atreus Risen Snow Tunic in-game cosmetic items fo each character. They look like a basic suit of white armor, perfect for blending in with the snowy region.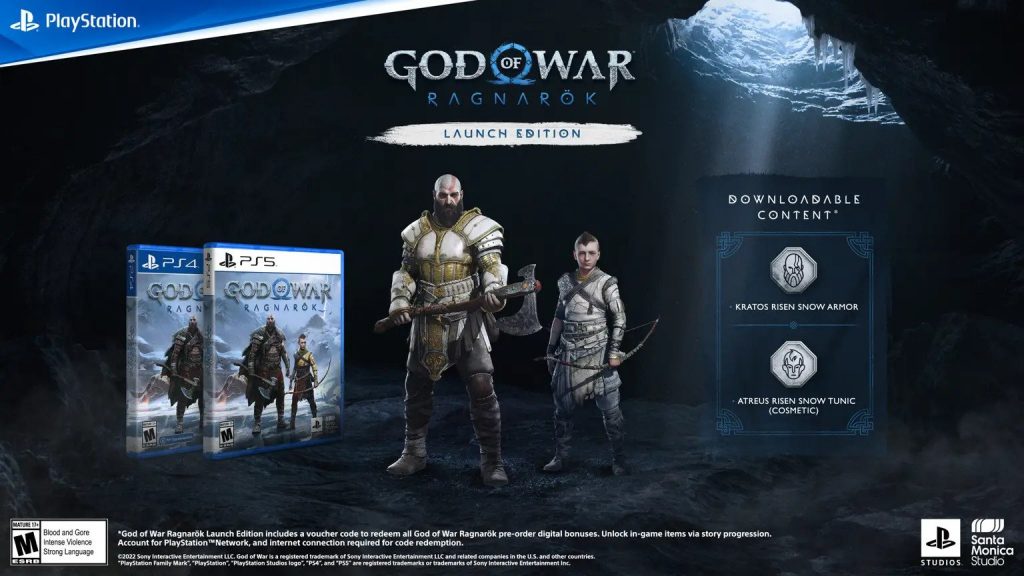 The Digital Deluxe Edition will get you more in-game goodies, such as armor and weapons, plus you will also receive a digital art book and soundtrack.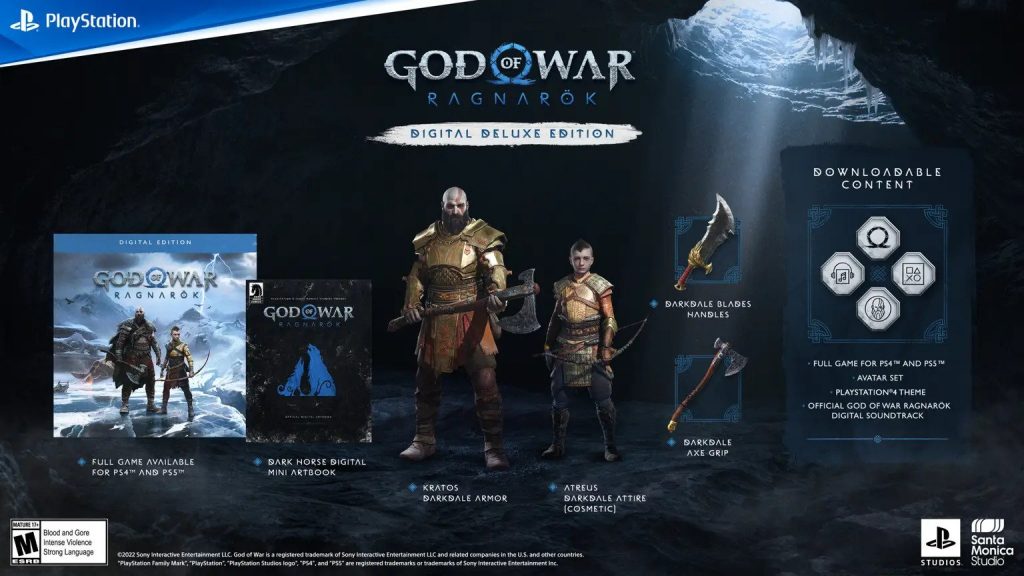 Here's a complete list of what the digital deluxe edition includes:
Full God of War Ragnarök game on PlayStation 4 and PlayStation 5 consoles.
Kratos Darkdale Armor**
Atreus Darkdale Attire (cosmetic)**
Darkdale Blades Handles for the Blades of Chaos**
Darkdale Axe Grip for the Leviathan Axe**
Official God of War Ragnarök Digital Soundtrack
Dark Horse Digital Mini Artbook
Avatar Set
PlayStation 4 Theme
If you want some goodies you can use in the real world, you'll have to buck up for the Collectors Edition. Again, we don't know how much it will cost, but the prospect of wielding a 16-inch replica of Thor's hammer is enough to say, "Take my money!"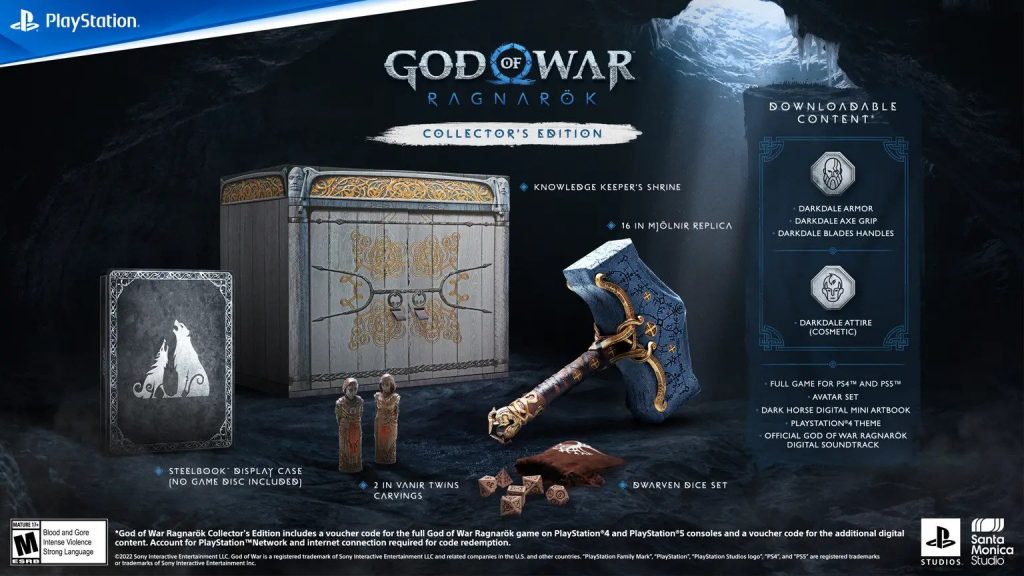 The entire package comes box representing the Knowledge Keeper's Shrine. Those who played God of War (2018) may recognize it from the end of the game, depicting the tale of the Giant Sorceress, Gróa, who was the first to have a vision of Ragnarök.
Inside the box, you won't find a physical copy of the game but instead a voucher code. This new tradition that seemingly started with Horizon: Forbidden West might upset some hardcore collectors, especially since you go get a steel bookcase without a disc to put inside it. But perhaps these other goodies will make up for that:
2″ Vanir Twins Carvings – In the same style as Atreus' wooden toy carvings of the Huldra Brothers from the God of War (2018) Collector's Edition, the God of War Ragnarök Collector's Edition completes the set with carvings of the Vanir Twins. 
Dwarven Dice Set – This set comes with a group of dice with a quality wood-like finish in a dice bag with a symbol of Yggdrasil on the outside. 
16″ Mjölnir Replica – A highly detailed replica of Thor's signature weapon.
Lastly, for those willing to give their wallet a beating worthy of the Gods, you can purchase the Jötnar Edition.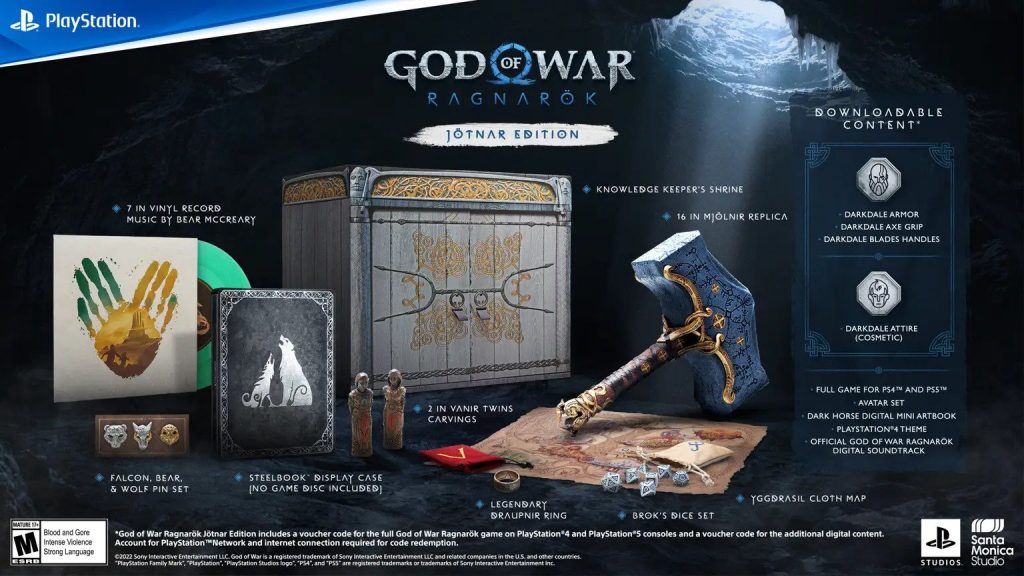 This bad boy includes everything from the previous editions plus these extra premium items "designed with care by the team at Santa Monica Studio:"
7-Inch Vinyl Record with music by Bear McCreary – This includes two tracks from composer Bear McCreary. 
The Falcon, Bear, and Wolf Pin Set – Representing Faye, Kratos, and Atreus, respectively, this pin set symbolizes the heroes' family. 
The Legendary Draupnir Ring – A ring from Norse Mythology, the Legendary Draupnir Ring comes in a red cloth bag. 
Brok's Dice Set – This dice set comes with a metallic silver finish with blue detailing. The dice bag features the Huldra Brothers' brand. 
Yggdrasil Cloth Map – This cloth map shows each of the Nine Realms within the branches and roots of Yggdrasil.
For a hands-on preview of the collector sets, check out the unboxing video from Santa Monica Studio Art Director Rafael Grassetti and Ryan Hurst, Thor's motion capture and voice actor.
Are you going to pre-order God of War Ragnarök starting July 15? If so, which edition will you purchase to pick up on November 9? Let us know in the comments below!