#ReleaseTheAyerCut Trends with over 400K Tweets.
With over 400K tweets, fans voice their desire for WB to Release The Ayer Cut after new script pages leak.
Once again, fans are campaigning for the release of David Ayer's Suicide Squad. Ignited by a series of unseen script pages and photography, around 405K tweets from fans yesterday expressed their desire to see what was left on the cutting room floor, and it seems there was a lot. Here's the breakdown of what was revealed and how it's different from the theatrical cut of Suicide Squad released in 2016.
Backgound
With the recent release of James Gunn's The Suicide Squad, some film critics had taken the opportunity to celebrate the fact that David Ayer wasn't directing this time around and suggest that he should abandon the idea of a director's cut. In response, Ayer posted a lengthy statement on Twitter detailing his personal background, reluctance to quit, and his full support for James Gunn and the rest of the cast and crew. You can read his full statement below.
Of note, he made clear that his cut is a "fully mature edit," with "traditional character arcs, amazing performances," and "a solid 3rd Act resolution." This once again sparked curiosity amongst fans who want to see his cut. Yesterday, we got more specific insights into what he was referring to, with new images and the Twitter account @RTAyerCutSS revealing snippets of pages from Ayer's original Script. Here are the highlights.
Deadshot and Harley Romance
Jose Conejo Martin, the rapper and actor who played Conejo in The Tax Collector, directed by David Ayer, posted the above image on Instagram suggesting that he might have been one of "the handful of people" to have seen the film which Ayer referred to his statement. Ayer had previously confirmed fan theories on Twitter that the Deadshot played by Will Smith and Harley Quinn played by Margot Robbie had "hooked up" in his version of the film, but this is the first time we have seen any photography of those scenes. Additionally, dialogue from Act 3 of the film was revealed, which speaks to the ambiguity of their romance.
None of this romantic chemistry made it into the film's theatrical release, which is unfortunate because it would have shown a progression in Harley's character from her toxic and abusive relationship with the Joker. Instead, by the end of the movie, it seems Harley would have completely moved on from Joker, beginning a new relationship with Deadshot.
A Darker Joker
Speaking of Mr. J, many of the script pages revealed yesterday depict a more twisted and manipulative performance from Jered Leto as the Joker, from how he treats his staff to his girlfriend. Particularly, there was an extended sequence where Joker coldly manipulates Monster T played by Common, into killing himself. Faced with two impossible actions, rejecting or accepting Harley as a gift, both of which would insult the Joker, he chooses to shoot himself in the head. Such a scene shows the fear that the Joker invokes amongst Gotham cities' gangsters.
Another page of dialogue shows the madness of the two clowns' love, with Joker physically abusing Harley and accepting it. Such a scene is unsettling and would understandably have given the studio second thoughts about its inclusion. Still, it doesn't shy away from depicting an abusive and dangerous reality.
There was also a scene description from the script where Joker disguises himself as a guard to break Harley out of prison. A version of this scene was included at the end of the film's theatrical cut, but in this version, instead of Harley embracing him with a hug, the Joker puts a gun in her face.
El Diablo Lives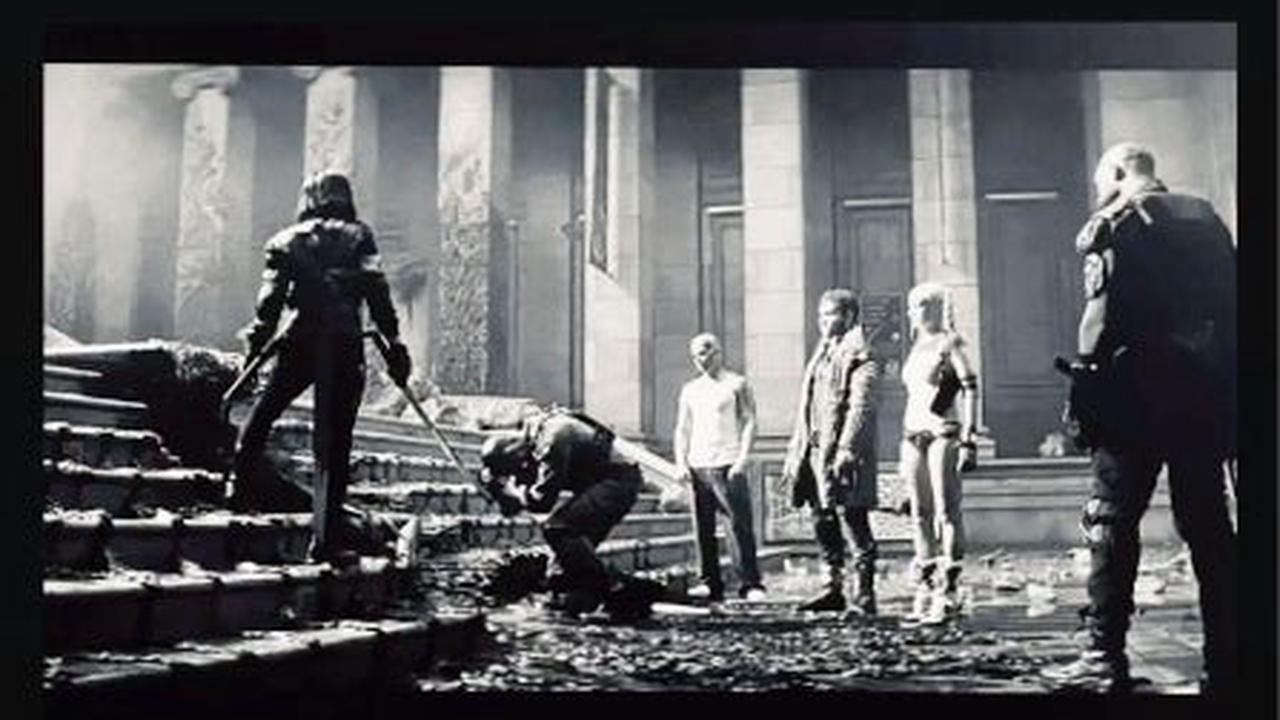 We've known for a while that El Diablo, played by Jay Hernandez, was supposed to survive in David Ayer's Suicide Squad. In a tweet from 2020, Ayer explained that the studio had overruled him in mandating Diablo to die. "The argument was because he killed his family, he had to die. It was either that or the backstory of his family would have been cut. Sometimes it's triage to protect against a worse outcome," he wrote. As we know from the theatrical cut, El Diablo accidentally killed his family by losing control of his pyrokinesis powers. But we never saw his redemption.
Yesterday, we got some indication as to what might be the final shot of Diablo in the film, showing the sense of peace and self-forgiveness he had managed to find by the end of the film.
A Possessed Katana
A sequence that was briefly featured in one of the film's trailers but missing from the film itself involved Enchantress using her dark magic to possess Katana played by Karen Fukuhara in the film's climactic third act. In some of the early trailers, we see shots of Katana's eyes dilate completely black, as well as her spinning around with a long neon-green cord attached to her body, leaving many to speculate what was happening. Now, we have a nearly complete script of that sequence in the Twitter thread below.
The above sequence shows the Squad working together to fight against some rather formidable magic of Enchantress which we never saw in the theatrical cut.
What Now?
The campaign to #ReleaseTheAyerCut continues on, currently trending again today with 225K tweets so far. David Ayer posted a tweet expressing his gratitude for the recent fan support, encouraging a continuance of positive engagement.
Given that the years-long social media campaign to #ReleaseTheSnyderCut eventually led Warner Bros. to let Zack Snyder finish his version of Justice League, there is a precedent for the studio to allow another of it's directors to have their cut of a film see the light of day. Furthermore, whereas Zack Snyder's Justice League cost the studio around 70 million to complete, this would likely be a less expensive investment. According to Ayer, his cut of the film "would be easy to complete," and "would be incredibly cathartic for him." Now that James Gunn's The Suicide Squad has been released, a release of David Ayer's Suicide Squad wouldn't overshadow its marketing either. It's in the hands of Warner Bros. now.
What do you think? Do you want to see David Ayer's cut of Suicide Squad? If so, which new sequence would you be most excited to see? Let us know in the comments below!