"Hellraiser" Antagonist Pinhead Joins the "Dead By Daylight" Roster
The Hell Priest himself is the latest killer to feature in Dead By Daylight.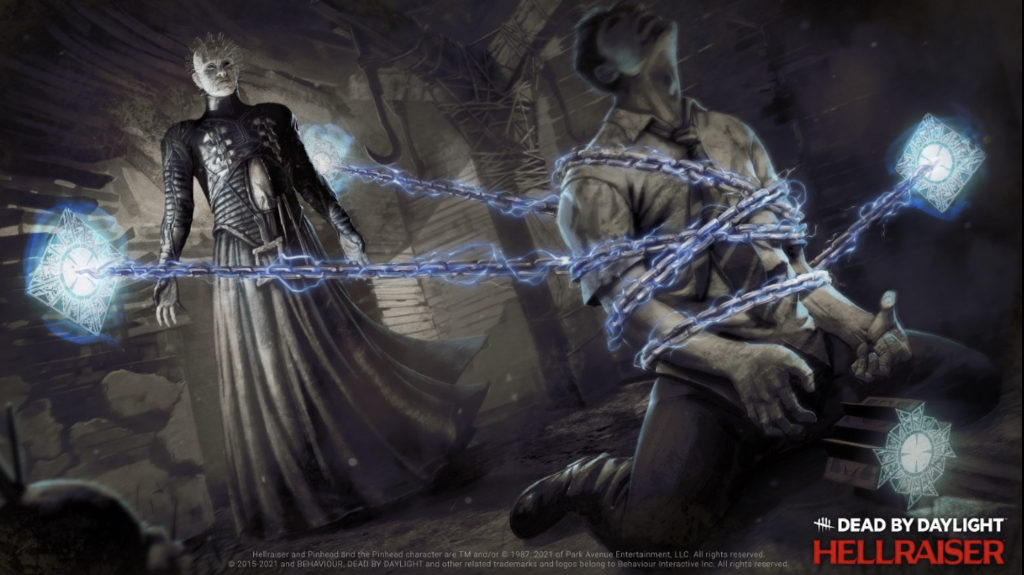 Pinhead was revealed as Dead By Daylight's next DLC character Tuesday, making him the latest killer in the game's already prolific cast of horror icons.
From the mind of the critically acclaimed English writer Clive Barker, the character made his unnamed debut in the the novella The Hellbound Heart. However, the Hell Priest is most easily identified from the Hellraiser film series, in which he is seen as the leader of the Cenobites—a group of demons who are "explorers in the further regions of experience. Demons to some. Angels to others," as stated by the demon in the series' first movie. While Barker himself did not approve, the Hell Priest was dubbed Pinhead by fans and the film production crew due to his appearance.
Nicknamed "The Cenobite" in Dead By Daylight, Pinhead was officially announced after several days of cryptic teases via Dead By Daylight's social media posts. The official Hellraiser DLC announcement trailer can be found below.
While he is not yet available on live servers, the Cenobite is available to play on the game's public test build for PC players. His power, Summons of Pain, allows him to control chains that slow down survivors when attached to them, disabling the ability to sprint. The Lament Configuration—the box often seen in the hands of the Hell Priest on screen—is also a feature of his power, as it will spawn random chains to "hunt" survivors throughout the match and can be interacted with to prevent the "chain hunt." Of course, Pinhead also comes with three unique perks of his own, like all other characters—Deadlock, Hex: Plaything, and Scourge Hook: Gift of Pain.
While most new killers are accompanied by at least one new survivor and possibly a new map, the Cenobite is the only new content included in the Hellraiser DLC. The last time a Dead By Daylight killer was released without a survivor or map was Ghostface in 2019. Other licensed characters released individually include Ash Williams from the Evil Dead franchise and Texas Chainsaw Massacre's Leatherface.
The DLC currently has no official release date. Pinhead will be accompanied by the game's 5.2.0 update; you can read the full patch notes here.