Zack Snyder Fan Q&A: Army of The Dead, Green Lantern and More
Zack Snyder answers questions at a fan Q&A in promotion of "Army of The Dead".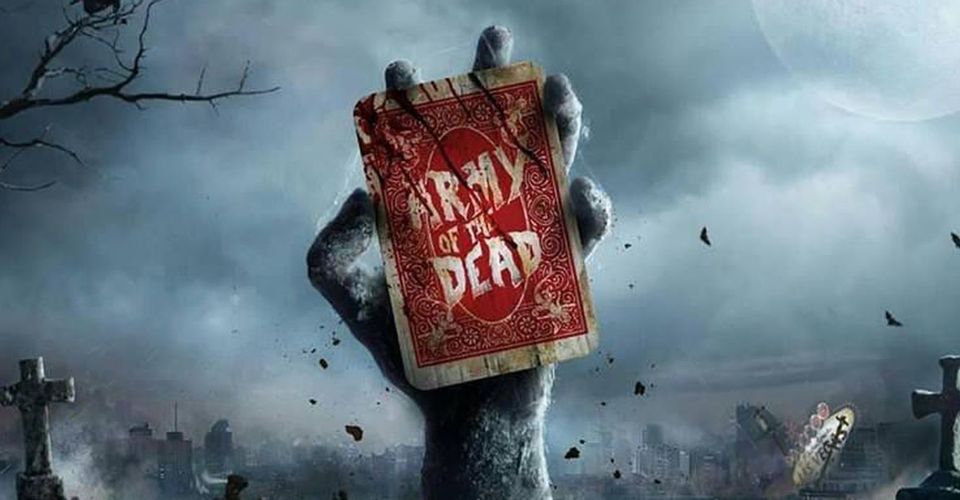 Recently, at a fan Q&A in promotion of Army of The Dead, director Zack Snyder, answered questions in regards to Army of The Dead, its greater universe and of course, Zack Snyder's Justice League.
In the first clip, Zack's wife and producing partner Deborah Snyder mentions that for future films, Zack will likely be his own Director of Photography, and confirms that he has an idea for the next Army of The Dead movie, alongside this, Debbie mentions the animated prequel series Army of The Dead: Lost Vegas.
Next, a fan mentioned that she noticed that some Alphas had metal beneath their skin, possibly inferring that they may be cyborgs – Zack confirmed this, stating that "yes, it is true that there are some cyborg zombies. There is one in particular that is shot, and his face sparks". Zack jokingly says "that's weird. What's going on there? That doesn't even make sense… or maybe it does make sense …", at which point, Debbie mentions something a few times, causing Zack to cut his sentence off, "Area 51… Area 51", to which Zack replies, "oh yeah, something like that, that's right – I think you're doing to have to watch the animated series to find out exactly what happens to them. That's what I would do!"
In the second clip, Zack mentions that he will be directing two episodes of the animated series, Army of The Dead: Lost Vegas, alongside showrunner Jay Oliva, who is also directing two episodes. Zack states there are others who are directing two episodes as well, giving 6 in total, and how they talk about it and work on it every day. Zack calls the series a labor of love.
The creator of the videos, HensenLit on Twitter asked Zack what his favorite animated show is, and before he could answer properly, Deborah confesses that Zack is watching "very inappropriate shows" with their 8 year old, which garners a laugh from the audience. Zack laughs stating, it's not that bad, and goes on to say that he is watching The Seven Deadly Sins, and jokingly says "apparently that's not appropriate for an 8 year old … Naruto, he can watch by himself, I've watched a few of those, but he loves them. Yeah, so I get yelled at, a little bit."
Another fan asked whether Army of The Dead would get a 4K blu-ray release, but it was not immediately clear as neither Zack, Debbie nor their co-workers in the back were sure. They said they would find that out but did confirm the title would remain on Netflix for a very long time, along with a confirmation from Debbie that the soundtrack from Tom Holkenborg (Junkie XL) would be released on vinyl.
The final clip shows Zack being asked if he had a clip of his Green Lantern, John Stewart, played by Wayne T. Carr, who was unfortunately not included in the final cut of Zack Snyder's Justice League. Zack stated that although he didn't have a clip, he did have a photo. As the audience excitedly paused with baited breath, Zack showed off this image: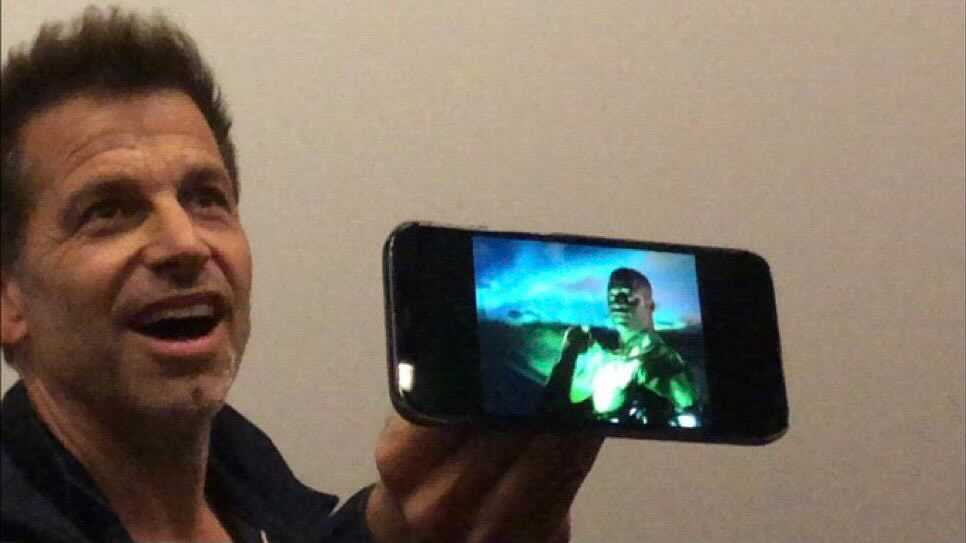 This is the first time we have seen the actor in the Green Lantern suit with the Power Ring on his finger, where CGI is being used to render the background and the floating energy construct of a Lantern above his chest. Previous to this, we have seen images Carr in a mocap suit on the set, in Zack's driveway, filming the ultimately cut scene.
The last fan question that is asked to Zack is whether he would be making any more original movies, as it has been 10 years since his last original movie, Sucker Punch. Zack says yes, the next few movies, for sure are orginal movies, Army of The Dead, and his next movie – which he can't talk about yet, although Debbie does state that the next movie is a different genre, saying "maybe sci-fi", Zack laughs, saying he would be more cryptic – with Debbie saying "maybe, I said maybe!", as the audience laughs.
Finally, Zack is asked how much fun he had making Army of The Dead, to which he responds that he has had loads of fun and that it shows in the film, that it was great working with that cast and being able to put in robot zombies, a zombie baby, and sexy zombies.
It is clear that Zack Snyder has enjoyed every moment of his time making Army of The Dead, from his glowing words about the film, to the actors who always have amazing things to say about the director, to the fans who Zack is always happy to interact with and drop tidbits of information to.
Army of The Dead is in US theatres now, and releases on Netflix on May 21st. You can watch Zack Snyder's Justice League on HBO Max or purchase the physical copy online.
Source: HansenLit on Twitter.