First Look Revealed for HBO Max Animated Series 'Aquaman: King of Atlantis'
We have gotten our first look at Aquaman: King of Atlantis.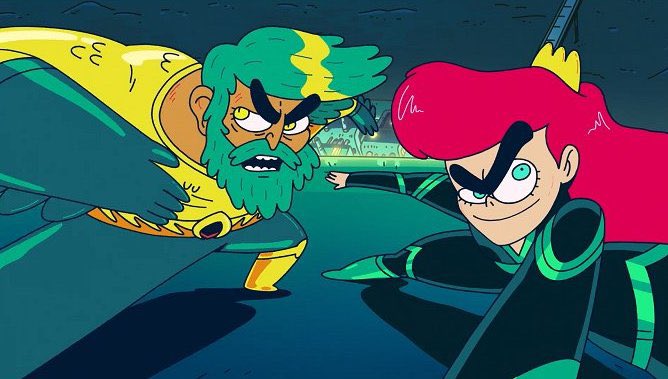 An Aquaman animated series has been in the works since 2020 for HBO Max, with James Wan as an executive producer and the creators behind Thundercats Roar Victor Courtright and Mary Halpern-Graser as showrunners.
It was announced to be a three-part miniseries that focuses on Arthur Curry's first few days on the throne, proving to Atlantis that he is worthy of the trident, with characters like Mera, Vulko, and Orm getting in the mix.
A first look image has been revealed at HBO Max's virtual Television Critics Association junket that took place on Wednesday, February 17. The image demonstrates the series' unique animation style that looks to be a cross between Fairly Oddparents and Teen Titans Go!
This animation style seemed to divide the internet, but it makes it intentions clear that this show is mostly aimed towards children. More images from the series have since found their way online.
It's looking like WarnerMedia is capitalizing on Aquaman's popularity, with an animated show that people of all ages can watch.
Sarah Aubrey, head of original content for HBO Max, is excited for this upcoming show.
"This DC property is a fan-favorite rich with well-known characters and dynamic storylines. On the heels of Warner Bros. Pictures' box office smash hit, we are certain 'Aquaman: King of Atlantis' will be an exciting addition to our already robust slate of kids and family programming."

Sarah Aubrey on adding this show to the expanding lineup of kids and family programming
As of right now, there is no release date attached to this show.