Set Photos And Videos From Jeremy Renner's 'Hawkeye' Disney+ Series Confirms Hailee Steinfeld as Kate Bishop
It appears that Oscar nominated actress Hailee Steinfeld has been officially confirmed to play Kate Bishop in the upcoming Hawkeye series.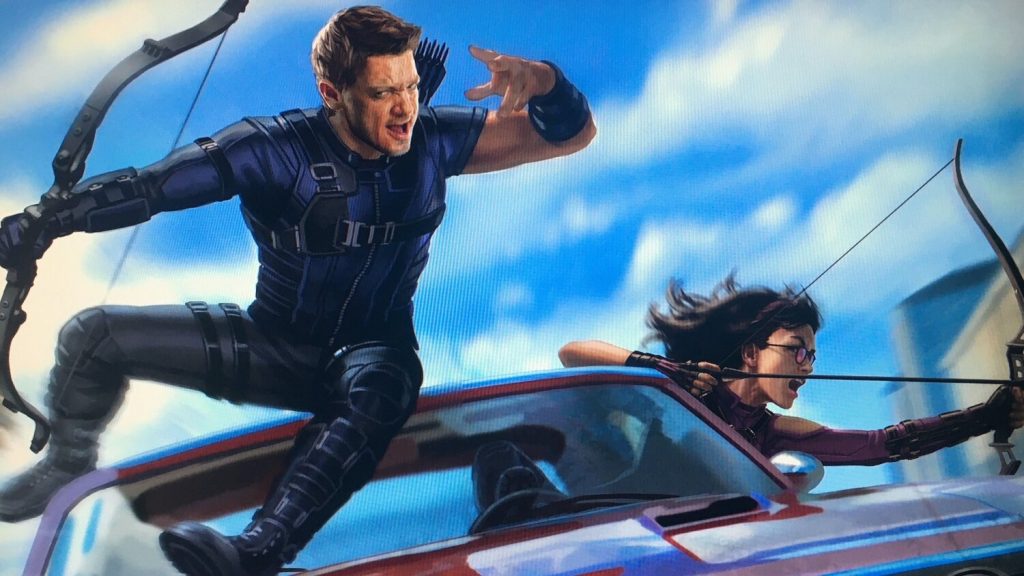 Marvel Studios' Disney+ Hawkeye series has officially commenced production in Brooklyn, New York earlier this week and with cameras currently rolling , fans can expect to find out some details about the series through set photos. One detail of the series that fans have been wondering about since the series inception is who would play Hawkeye's protégé, Kate Bishop. Oscar nominated actress Hailee Steinfeld was thought to be the favorite to play Kate Bishop in the Disney+ series but Steinfeld was quick to deny that report. Casting news has been relatively quiet since the Bishop rumors remained unconfirmed, but according to some new set photos, fans may get some confirmation as to who is co starring with Jeremy Renner's Clint Barton/Hawkeye.

According to set videos/photos from Murphy's Multiverse, Hailee Steinfeld will officially be playing Kate Bishop in the highly anticipated series. You can check out some high res photos (via Twitter User XRealm Matthews) of Renner and Steinfeld in costume from the New York down below.
In addition to these set photos, Jeremy Renner himself took to Twitter, continuing to feed the rumor frenzy that Steinfeld is in fact playing Kate Bishop. You can check out his tweet down below.
As fans may or may not know, Kate Bishop is a key member of the Young Avengers and takes over the Hawkeye mantle from Clint Barton in the comics. With the Young Avengers heavily rumoured to be making its way to the Marvel Cinematic Universe in the coming years, it remains to be seen whether Kate's role will expand within the larger MCU. In addition to officially confirming Steinfeld's Bishop, the set photos also seem to confirm another character from Hawkeye's comic book lore; Pizza Dog. You can check out the set photos down below (via Twitter User XRealm Matthews)
For the many who don't know, Pizza Dog is a character in the comics, first appearing when Clint Barton saves him. While the dog's tags reveal his name to be Arrow, Clint renames him Lucky. An issue devoted entirely to Lucky's point of view reveals that he calls himself Pizza Dog, simply because of his love of a New York slice of pizza. He was revealed to be a part of the Disney+ series via concept art from the Disney+ featurette called Marvel Studios: Expanding the Universe, that was released last month.
While official plot details on the series are still light, fans can expect to receive some official news surrounding the highly anticipated series in the near future. Marvel Studios' Hawkeye series will be set following the events of Avengers: Endgame, and it is widely expected to see Renner's Clint Barton hand over the Hawkeye mantle to Steinfeld's Kate Bishop. Marvel has also confirmed that the series will delve more into Clint's persona Ronin seen in Endgame. Mad Men writer Jonathan Igla will serve as the show-runner and head writer for the series, with Saturday Night Live's Rhys Thomas and filmmaking duo Bert & Bertie among the roster of directors. The series is expected to debut on Disney+ sometime in 2022, alongside MCU new comers She-Hulk and Oscar Isaac's Moonknight.
In the meantime you can check out the videos from the set of the Hawkeye via Murphy's Multiverse down below.
Are you guys excited about the casting of Hailee Steinfeld as the MCU's Kate Bishop? What role do you think Bishop will play in the larger MCU moving forward ? As always sound off in the comment section below and remember to tune in right here at The Cultured Nerd for the latest news surrounding Disney+'s upcoming Hawkeye series.