Katee Sackhoff on Bo-Katan In 'The Mandalorian' And The Process Of Bringing Her To Life
Sackhoff was recently interviewed by Variety and Deadline, expressing her excitement and the process of bringing her Star Wars character to life.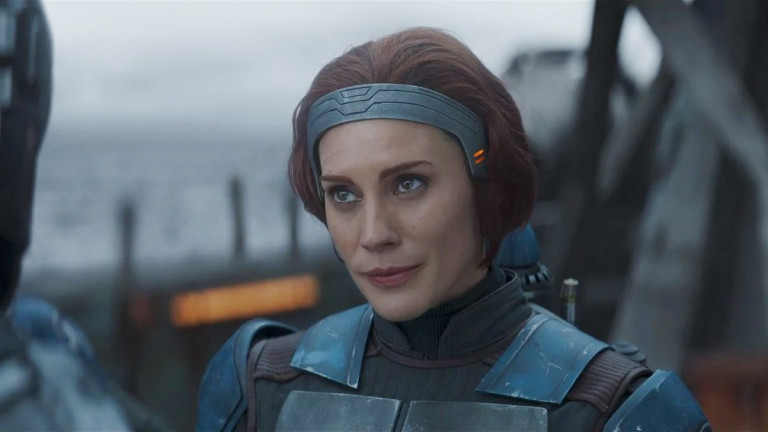 Star Wars fans who watched Clone Wars and Rebels were delighted to see Katee Sackhoff, the voice of Bo-Katan, actually play her role in live action in the second season of The Mandalorian.
Sackhoff was recently interviewed by Variety and Deadline, expressing her excitement and the process of bringing her Star Wars character to life.
The Mandalorian creator Jon Favreau approached Sackhoff to play the role in a meeting expressing his passion for Bo-Katan. She praises producer Dave Filoni and Favreau for giving her the opportunity and discusses how she kept her live-action appearance a secret.
"It was probably the hardest secret I've kept my entire life. Honestly it was quite surreal. When I got wind of "The Mandalorian" happening, I had always dreamed there might be a place for Bo-Katan there, but I never really thought it would happen. I truly thought this world was too big, and if she did exist they would probably recast her. So I've never been more touched that Dave [Filoni] and Jon [Favreau] thought I could do it."

Sackhoff on getting the opportunity to reprise her role in live action
Sackhoff's talks about how playing the character physically was a different process compared to just voicing her. She credits Bryce Dallas Howard, who directed her in the episode she appeared in, for contributing to her characterization.
"With the hair color, we know what she looks like in animation, but does that translate to live-action? Just because she has bright orange hair doesn't mean that's the natural look on a real person. We altered and darkened her hair a little bit, we made the eyebrows just a touch more subtle, but they're still there. I really wanted to make sure the fans recognized her and that she wasn't a jarring presence for them visually. I didn't want them to pick her apart, I wanted them to just enjoy the story with her in it."

Sackhoff on bringing Bo-Katan to life
One subject that was brought up was Bo-Katan's journey to reclaim the Darksaber. At some point between Rebels and The Mandalorian she loses the Darksaber and is searching for Moff Gideon to reclaim it. The dark saber can be seen as a symbol of the planet Mandalore's history.
"For Bo-Katan, the darksaber represents so much, there's so much lore about it, but at the same time, it's in her mind and based on history; it's the way to bring together the people of Mandalore and the way to rule and respect that is by earning it,"

Sackoff on the Dark Saber
In terms of Bo-Katan's flaws and struggles, Sackhoff goes into details about what the character is internally going through in the show.
"She's a warrior and she has struggled tremendously with being a leader. For her, I think there is a struggle and a story about who she becomes in peace, if that were to ever be accomplished and what kind of ruler she would be. She's never really, that we've seen, gotten that opportunity, and whether or not she's ready for that. Just because she thinks it's her rightful place, doesn't mean she's ready or equipped to rule Mandalore."

Sackhoff on Bo-Katan's struggle
When Sackhoff was pressed about details about her future in the role or that rumored Bo-Katan and Cara Dune spin-off, she remained quiet. She also apparently did not film any scenes with Rosario Dawson as Ahsoka or even knows if she's even playing her.
She did however say that she openly communicates with Favreau and Filoni regarding the Star Wars mythology and her character's role in it.
"From my experience with them and my experience in the industry, if you go and sit with a showrunner and ask questions, they'll give you answers. It may not be specific answers, and it may not be directly what's going to happen in the future. But if I go and sit down with Dave Filoni and we talk about the world of Star Wars and how it relates to Bo-Katan, he'll tell me anything I want to know. It's just a matter of asking the right questions and then seeing how it fits in a storyline. There are no guarantees moving forward for anyone in any series. Things change and you never know. My questions are never, 'What's my involvement in this?', rather it's 'Let's talk about Bo-Katan'."

Sackhoff on her conversations with Dave Filoni
The Mandalorian's second season will most likely have more surprises to come, especially with Ahsoka's highly anticipated live-action appearance. Where can this show go and how will it connect to the overall universe?
With Bo-Katan's appearance, it seems like more exciting things are to come with this fan favorite show.
Read Katee Sackhoff's full interviews on Deadline and Variety.