[Album Review] "BetterOffDEAD" by Flatbush Zombies
Flatbush Zombies' 2013 mixtape is one of the most essential pieces ever of its genre, if not Hip-Hop at large.
The Flatbush Zombies is a Brooklyn-based rap trio consisting of Meechy Darko, Erick Arc Elliott and Zombie Juice. All three members have been close friends since their childhood and their musical journey as a collective began in 2010. Prior to the formation of the musical outlet, Erick was also making music as a solo artist and Meech and Juice were always in his corner. They released their first mixtape, titled "D.R.U.G.S." in 2012 and "BetterOffDEAD" is their sophomore release. It was released on September 11, 2013.
Track List :
Amerikkkan Pie
Nephilim
Bliss
Minephuck
G Tearz
Death
Death 2
Regular and Complex
Thugnificense
Club Soda
LiveFromHell
Palm Trees
222
Drug Parade
TP4
GOD Blessed the DEAD
MRAZ
My Team, Supreme
The Results Are In
The lyrical themes explored in Flatbush Zombies' music cover a wide variety of topics. They range from racism to drug rap to psychedelic rap to gangster rap and so on. And thanks to that versatile rapping and Erick's tasteful production, BetterOffDEAD, despite its hour-long runtime, never feels exhausting or cumbersome. The explosive intro "Amerikkkan Pie" with its haunting vocal samples find the Zombies addressing topics such as racial inequality, poverty and terrorism. Erick continues working in these ethereal, chilling samples into his production on the song "Nephilim" and Meech and Juice's rapping on top of it does not fail to come through.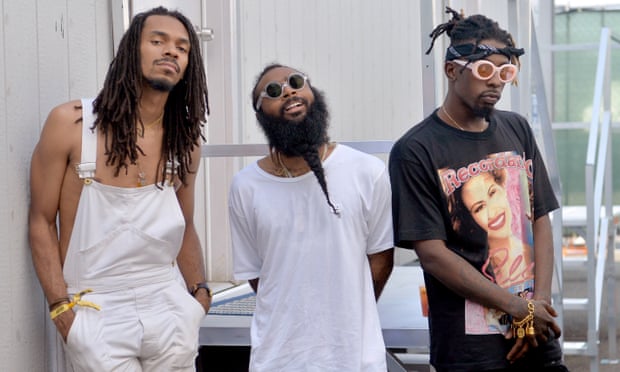 The song "Bliss" is a mind-melting banger where the f-word, in particular get repeated 133 times. The track is absolutely wild and belligerent and this uncompromising energy is echoed throughout the entire mixtape. The following track "Minephuck" which is a solo performance by Juice is equally aggressive and high-octane. The track "G Tearz" features a somewhat nostalgic instrumental with its wistful keys and faint vocal samples in the background. Amazing hook by Meechy Darko and both Erick and Juice's performances are also quality, Juice's rapping especially plays into the nostalgic theme.

"Death" and "Death 2" are some relative low points in the album. Production-wise, they further enhance the spacey, zoned-out aesthetic but it's the lack of a topical focus that makes them pale in comparison to some of its contemporary tracks. Thankfully, things kick into high gear immediately on "Regular and Complex". The production is watery and claustrophobic in a good way and Zombies all come through with stellar verses. Meechy Darko, in particular shines the most, Meech is without a doubt, the most aggressive and loudest of the three and his insane raspy voice and the quirky, eccentric, cartoonishly violent lyrics are perfect for a track like this.

"Thugnificense" is easily the most hazy, laid-back track on the album. The vocal layering in the hook of the song turns up the dreamlike, oblivious feeling to 11 and while the track needed a way better structure and a stronger verse, it still made for a decent breathing space in an otherwise loud and vociferous album. "Club Soda" with Action Bronson has one of the best instrumentals on the entire album, the sample of Jackie Moore's "With Your Love" gives the track a real oomph and the Zombies sounds great as per usual but Action Bronson's downright uninspired and boring feature did end up dogging the track entirely. Not only does he not operate on the same level of energy as the Zombies, his lyrical focus is also pretty much non-existent. He opens his verse iterating the same lines over and over again as if they're some sort of intro to a grand and epic verse but that didn't end up being the case either. And he also spent a lot of time creating this awkward imagery about an attractive girl who can't cook. This is easily the most unnecessary verse on the whole cut. "LiveFromHell" is the only song on the album not produced by Erick, producer Harry Fraud brings a significantly different sound to the album with the roaring guitar riffs and a heavy bassline laced throughout the beat. The track is really just pure fuel for the mosh-pits and it's great at being that.

"Palm Trees" is the trio's biggest hit to date and it's a high-flown stoner anthem from the sound to the lyrics and even the length, which is precisely 4 minutes and 20 seconds long. "Drug Parade" with Danny Brown is also another drug-centered extravaganza which doesn't work as well as it potentially could mainly due to the song's lack of a real structure. The streak of slightly underwhelming filler tracks continue with a few more songs but thankfully, the last 3 tracks do make up for all of that. "My Team, Supreme" with its foreboding, dark and mystical keys is easily one of the meanest songs the Zombies have ever put together. The closer "The Results are In" is also another quality track. Not much to say about it other than that it has some very good production, good rapping and that it's just an overall enjoyable track.

All in all, "BetterOffDEAD" is a significant milestone in the Zombies' catalogue. It's the mixtape where the Flatbush Zombies really came into their own artistically and throughout the years, it has been considered by many to be one of the best mixtapes ever made, a sentiment that I wholeheartedly agree with.

Rating : A-
"BetterOffDEAD" contains songs written by Action Bronson, Bridget Perez, Danny Brown, Erick the Architect, Harry Fraud, Meechy Darko, Obey City and Zombie Juice and production by Erick the Architect, Harry Fraud and Obey City. It is now available for physical purchase and for digital streaming.