Turrican made its return the other day during the Opening Night Show for Gamescom. Celebrating its 30th anniversary, Turrican is now coming to PlayStation 4 and Nintendo Switch.
The original team over at Factor 5 has teamed up with Strictly Limited Games and together they have developed two anthologies for Turrican. As you play through Turrican's rich history, you're going to have the chance to discover new information from all the extra content that will be coming to the game. The two anthologies for Turrican include:
Turrican Anthology Vol. 1
Turrican (Amiga)
Turrican 2 (Amiga)
Super Turrican (SNES)
Super Turrican Director's Cut (SNES)
Mega Turrican Score Attack (MD/GEN)
Turrican Anthology Vol. 2
Turrican 3 (Amiga)
Mega Turrican (MD/GEN)
Mega Turrican Director's Cut (MD/GEN)
Super Turrican 2 (SNES)
Super Turrican 1 Score Attack (SNES)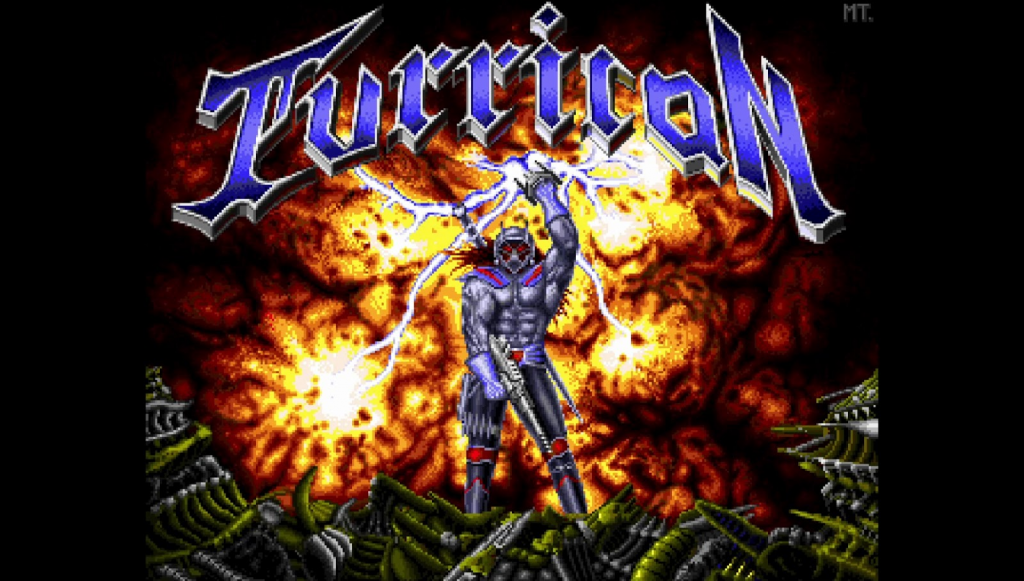 While you're exploring the game with its nonstop action, you'll notice you can choose from two legendary soundtracks to listen to: the games' original soundtrack or Chris Huelsbeck's new rearranged versions. To customize your experience even more, you are also given a wide selection of borders and filters to choose from.
Both the Nintendo Switch and PlayStation 4 editions of the game are priced at 34,99€. Gamers also have the chance to purchase two other editions of the game: the Turrican Collector's Edition (99,99€) and the Turrican Ultra Collector's Edition (199,99€). You can pre-order Turrican now over at the Strictly Limited Games Store. Per the description on the Strictly Limited Games Store, this is what comes with the Collector's and Ultra Collector's Editions:
The Collector's Edition:
Turrican Anthology Vol. 1 Game for Playstation 4 or Nintendo Switch
Turrican Anthology Vol. 2 Game for Playstation 4 or Nintendo Switch
Collector's box with magnetic latch
Turrican Documentary (BluRay)
Soundtrack
Art Book
Sticker Sheet
4 Acrylic Art Cards
2 Large reversible Posters
Enamel Pin
Signed Postcard (Print)
The Ultra Collector's Edition:
Turrican Anthology Vol. 1 Game for Nintendo Switch or PS4
Turrican Anthology Vol. 2 Game for Nintendo Switch or PS 4
Collector's box with magnetic latch
Turrican Amiga Outer Box
20 cm exclusive Turrican Figure
Turrican Documentary (BluRay)
4 CD Soundtracks
Art Book
Sticker Sheet
4 Acrylic Art Cards
Manual
4 Amiga Coaster
2 Large reversible Posters
Acrylic Diorama
Enamel Pin
Signed Postcard (Print)
Authentication Certificate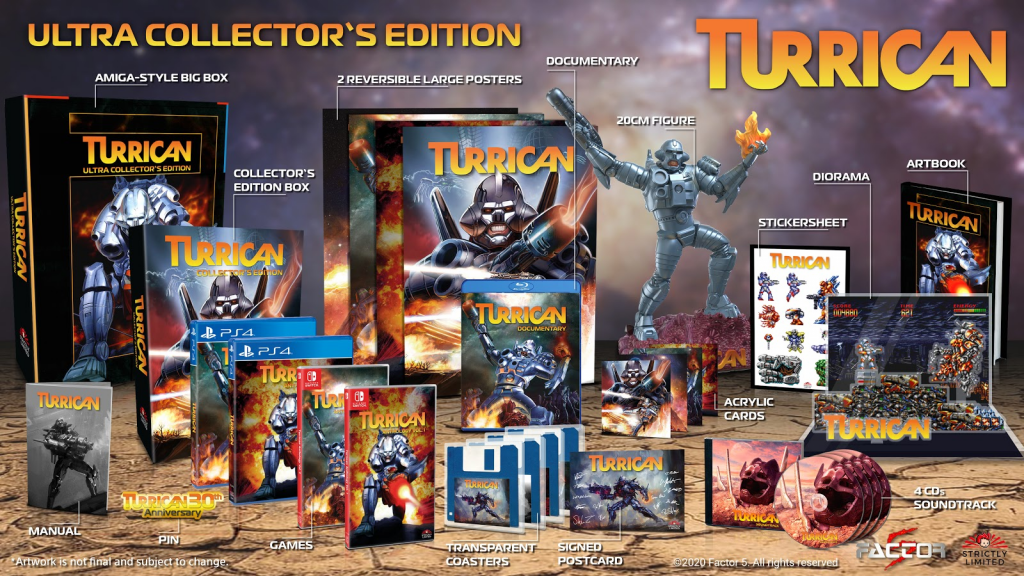 Below you can watch Turrican's official 30th Anniversary trailer: