Netflix Releases Teaser and Official Poster for "Enola Holmes," Sherlock Holmes Spin-off Starring Henry Cavill and Millie Bobby Brown
Netflix just dropped a teaser for the new detective film "Enola Holmes" starring Millie Bobby Brown and Henry Cavil. The film is based on the popular young adult books that center around Sherlock Holmes snarky but intelligently irritating younger sister Enola.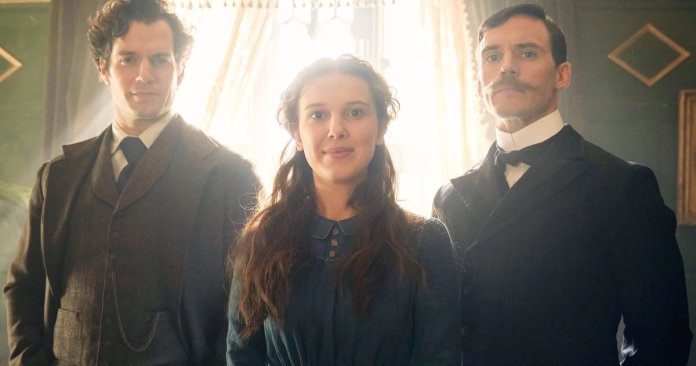 We are all aware of the iconic character that is Sherlock Holmes, but have you ever heard of his sassy, equally as smart, but undoubtably immature younger sister Enola? Netflix just dropped the first teaser trailer for Enola Holmes , a feature length film starring Millie Bobby Brown (Stranger Things, Godzilla: King of the Monsters) and Henry Cavil (Man of Steel, Mission Impossible: Fallout).
Originally introduced by Sir Auther Conan Doyle in 1887, the crime solving stories of detective Sherlock Holmes have been a staple in millions of mystery lovers bookshelves for well over a century. The stories were later turned into wildly popular movies, television series and even cartoons, with more projects and spin-offs in the works. With a world that loves Sherlock Holmes so much, why not introduce some more members of the family? Conan Doyle did just that when he introduced Mycroft Holmes in 1893, the older but equally as skilled brother to Sherlock. The character will be portrayed by Sam Claflin in the film.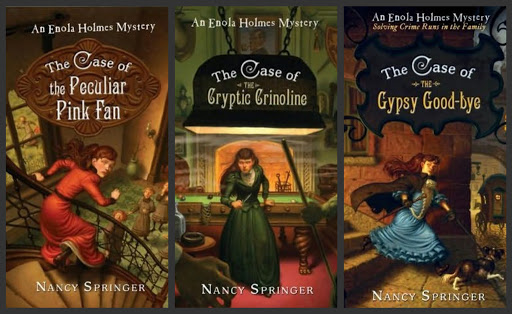 It wasn't until 2006, over 100 years after the creation of both Holmes brothers, that young-adult fiction writer Nancy Springer would publish the first of a series of books about the snarky younger sister to the already famous detective of his time.
The initial post by Netflix, however, came with a bit of a mystery itself. The caption read "alone loshme reeebtpms wnettyrhitd" which may just come off as pure gibberish. But since this is social media we're talking about and millions of people saw this post with just a couple hours, the code was cracked fairly quickly. Here is what the deciphered code actually means:
"alone loshme reeebtpms wnettyrhitd"

translates into

"enola holmes september twentythird"
The teaser opens with a variety of characters asking about Enola, who she is, and what she is up too. The punchline at the end of the teaser was Enola (Millie Bobby Brown) finally revealing herself and playfully saying "Tis I". This take on the character certainly seems to have a more light-hearted feel than past iterations.
Here is the official synopsis and poster for the upcoming Netflix film:
"When Enola Holmes-Sherlock's teen sister-discovers her mother missing, she sets off to find her, becoming a super-sleuth in her own right as she outwits her famous brother and unravels a dangerous conspiracy around a mysterious young Lord."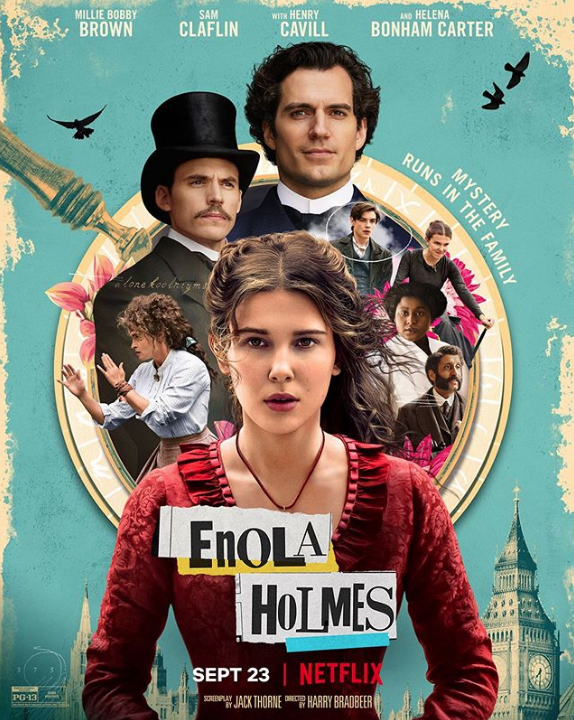 Enola Holmes will be similar to the recent films starring Robert Downey Jr. and Jude Law as in the story will be a period-piece and will not take place in modern day. Shows like BBC's Sherlock starring Benedict Cumberbatch and Martin Freeman and CBS's Elementary starring Jonny Lee Miller and Lucy Lui are both modern takes on the classic Sherlock Holmes character.
The film is directed by Harry Bradbeer (Fleabag, Killing Eve) and written by Jack Thorne (Wonder, The Aeronauts). The film was intended for a theatrical release under Warner Bros. before it was sold to Netflix in April when coronavirus concerns were at an all time high. Also starring in Enola Holmes are Helena Bonham Carter, Fiona Shaw, Frances de la Tour, Louis Partridge, Burn Gorman, Susan Wokoma, and Adeel Akhtar. We can likely expect a full-length trailer to drop 2-3 weeks before the film is available to stream on Netflix on September 23rd.
Are you excited for Enola Holmes? Do you like the comedic young-adult take they are going with? Let us know in the comments below!