Scott Pilgrim vs. The World became an instant cult classic and was critically acclaimed when it was released back on August 13, 2010. According to Water for People, on July 20th at 1:00 P.M. EST, there will be a "not-at-all-live" table read with the cast, crew, and the original writer of the classic comics of the same title.
The "Scott Pilgrim vs. The World Water Crisis" table read is reuniting a cast that has few rivals in regard to star power. While the cast would have been considered star-studded even a decade ago, now most of the cast's fame has multiplied exponentially since the theatrical release. The now household names of Chris Evans (Captain America), Mary Elizabeth Winstead (Huntress), Brie Larson (Captain Marvel), and Brandon Routh (The Atom) have all played superheroes in the years since Scott Pilgrim.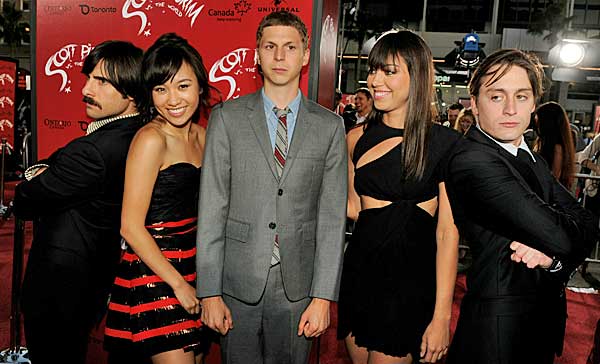 The superhero cast will be joined on the table read by stars Michael Cera, Aubrey Plaza, Ellen Wong, Kieran Culkin, Mark Webber, Johnny Simmons, Alison Pill, Satya Bhabha, Mae Whitman, and Jason Schwartzman. The undeniably star-studded cast will also be accompanied by the writer and director Edgar Wright, co-writer Michael Bacall, and even the original author and artist of the Scott Pilgrim graphic novel, Bryan Lee O'Malley, for this table read.  
While the majority of people are dealing with the lingering effects of the COVID-19 pandemic, there are people who are also facing the lack of access to clean water. Now, since the entertainment industry is at a standstill (much like the majority of the world), these stars are assembling to raise money for charity to help make that a thing of the past.
Water for People is a nonprofit international organization based in Denver, Colorado. The organization has teams all over the world including Bolivia, Guatemala, India, Rwanda, and Uganda. According to their mission statement:
"Our goal is to bring water, sanitation, and hygiene services to everyone, and to make sure those solutions last forever."
You can watch the table read and donate here.
Source: Slashfilm