[Limited Time] Apex Legends: System Override Event
Apex Legends introduces a brand new shield, new LTM, and much more unlockable skins in System Override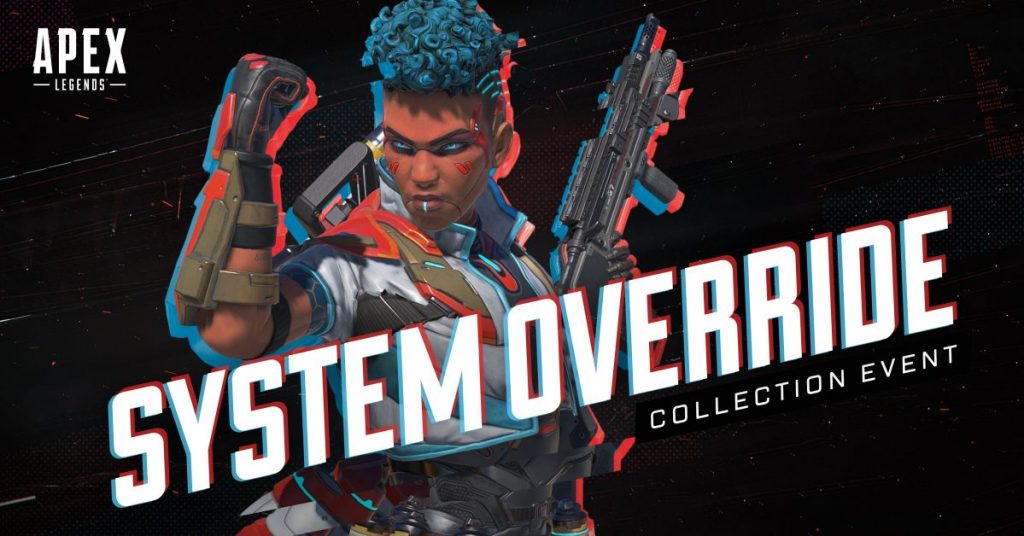 Season 4 of Apex Legends is alive well. Since the start of the season, we were "bamboozled" by a new character "Forge" that was actually just a target for the robotic assassin, and true new character reveal, Revenant. We got introduced to new map changes, creating new tactics. They even gave us a taste of a weekend at Kings Canyon. Now we get season 4's first Limited Time Mode in the System Override Collection Event that brings a new game mode, new skins, and a debuting a new piece of equipment – Evo Shield.
Limited Time Mode –

Deja Loot

– This mode is sure to be a fun, wild experiment for the developers over at Respawn Entertainment. You wont have to scurry around the map praying and hoping to find a Spitfire or a Peacekeeper. This mode will keep the loot EXACTLY where it is for the duration of the 2 week event. Thats right, if you find a spot that has a gold armor and a R-99, it'll be right there on your next drop. Sounds great right? It also sounds great for the Legend that also dropped there on their previous match. Get ready for some action! First week will take place in World's Edge while the second week is diving back to King's Canyon!
Exclusive Event Prize Track – Just like the Soirée Arcade Event at the end of season 3, System Override will have another prize track to unlock more rewards. Each challenge set is worth up to 1000 points that are refreshed daily. You can complete challenges in any mode.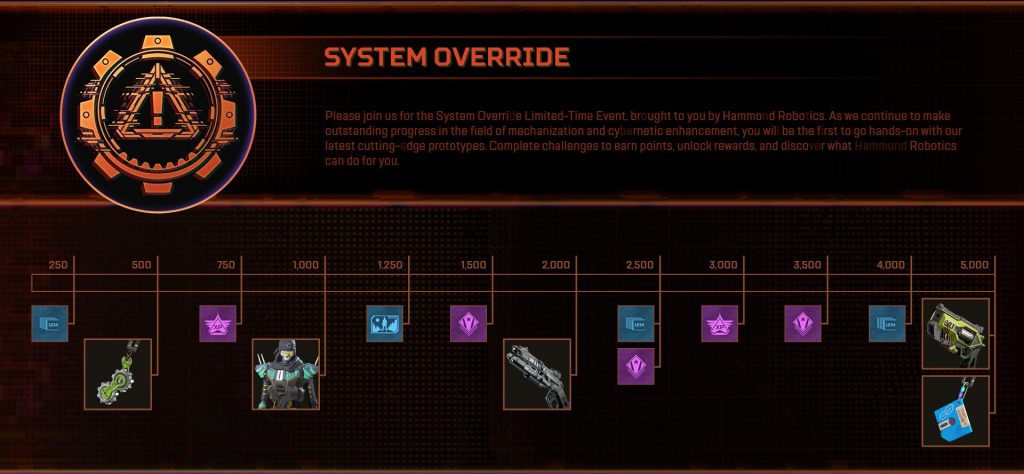 Event Cosmetics – Just like previous LTM in the past, you can unlock up to 24 System Override exclusive cosmetic skins that include Weapon Skins, Legend Skins, Legend Finishers, Banner Frames, Banner Poses, Banner Stat Trackers, Intro Quips, Kills Quips, Gun Charms or Crafting Metals.
Heirloom Collection – Some previous LTM allowed players that unlocked all 24 Event cosmetics to also gain certain Legend Heirlooms. (Wraiths Dagger, Bloodhound's Axe, Lifeline's Drumsticks, Pathfinders Boxing Gloves). Octane's Butterfly Knife Stim is next. But Apex is also changing how we can obtain Heirlooms that we missed out on. Heirloom Shards are new additions. The shards will have the same drop rate as the previous system, so that after 500 Apex Packs, you will have enough Heirloom Shards to obtain an Heirloom set from the Heirloom shop. And don't worry, your existing progress towards the 500 Apex Packs will carry over with the switch.
The most intriguing addition to System Override
Debut of New Equipment – EVO SHIELD – The Evo Shield will start off weaker than the white shield, but the more damage you do (to non-downed opponents), the more the shield increases its strength. The shield can even become stronger than the Epic shield! Progress also carries over from person to person, so look forward to some interesting late game scenarios.
Respawn is asking for feedback on the Evo Shield. It will be available during the LTM and possibly added to all modes going forward. For a more in-depth look at System Override, check out the Apex Blog.
The System Override Collection Event goes live Tuesday, March 3rd and runs for two weeks, ending on March 17th.