Destiny 2: Season of the Worthy Drops Trailer Reveals New Exotics, Game Modes, and Story
Destiny 2 Season of the Worthy launches in a week, get the scoop on what to look forward to!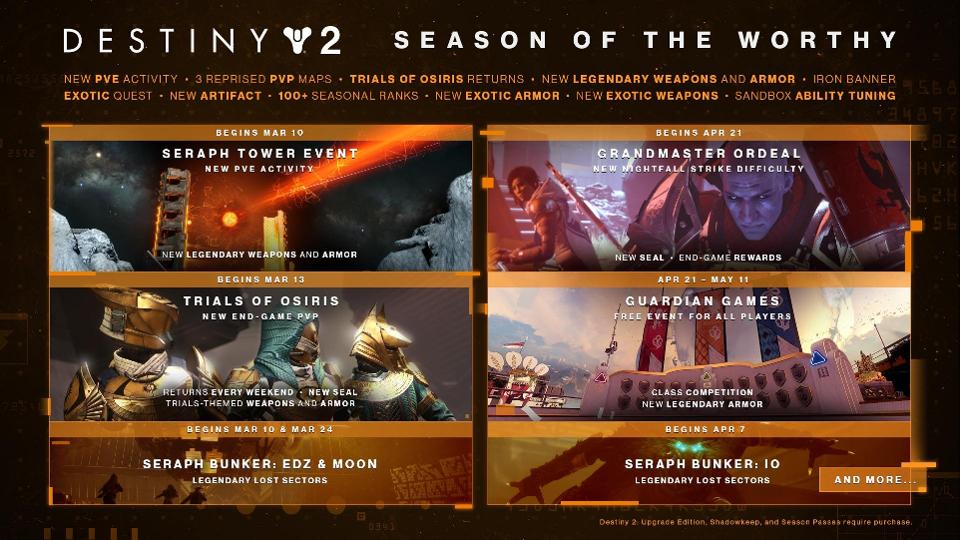 The new season of Destiny 2 is right around the corner, and Bungie recently released a ton of information on what's happening in its 10th season, Season of the Worthy. Guardians will be doing what they can to bring The Warmind Rasputin back to strength to defend the Last City from a giant spaceship, The Almighty.
"With the Sundial freed from the clutches of the Red Legion, one escaped Psion Flayer enacts a desperate ploy for revenge against the Last City. Guardians of the Light must set aside old differences to band together with unlikely allies and save the City from total destruction."

Via Bungie
The new storyline is just the beginning. Destiny 2 is also brining back the Oh-So-Popular Trials of Osiris. A 3v3 PVP weekly weekend event where power levels matter and a minimum power level of 960 is required. Exclusive loot drops and if you go "flawless", the reward will be most coveted!
Also noted on the Season of Worthy calendar is the "Grandmaster Ordeal" that seems to be a new difficulty level. Get your fireteam ready, this could be a doozy. This mode begins on April 21st, lots of time to prepare for the rush of enemies.
This new season will introduce its Battle Pass Exotic, Tommy's Matchbook, a brand new auto rifle. The other exotic weapon will be familiar to Destiny 1 alums, The Fourth Horsemen Shotgun makes its return.
Destiny 2: Season of the Worthy launches on March 10th and slowly releases new game modes, events, and more over the next few months. For a more in-depth look, you can visit Bungie.
As usual, its much easier to tackle any of these modes with a strong team. Drop your gamer tags below if you're looking for more to join your fireteam!