Apex Legends Season 4 – Assimilation LAUNCH
Highly Anticipated Season 4 of Apex Legends is here!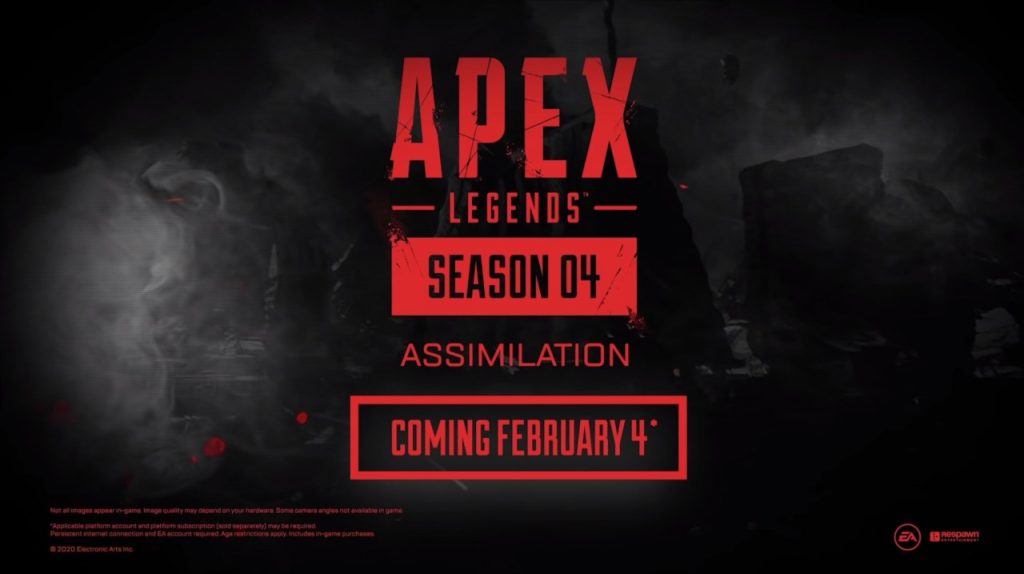 The highly anticipated season of Apex Legends is here. Respawn Entertainment hasn't come out to say exactly when the new season will be available to download/update, but going off of past releases we can assume between 10am-12pm PST Tuesday February 4th.
Revenant is by far the most anticipated part of Season 4, yet his abilities wont be confirmed until launch. From the gameplay trailer, we can see his super will allow other squad members to become "shadows". It looks very similar to being the shadow monsters from the Halloween special months ago. The trailer also shows Revenant launching some kind of grenade. Just a few more hours to find out exactly what he's capable of.
Besides the new character, the next big change is the map. As the story goes, Hammond Robotics placed a planet harvester in the middle of the map causing all kinds of changes. There will be weapon racks for those looking to get a quality gun. An updraft for those that miss a jump to cross the fissure (but it will come with a cost to health), capitol city split in two, and more. With these changes, players will have a new options to attack, defend, and use legends in different combinations to navigate the changes to be champions once again.
As always, the Battle Pass for season 4 will include more skins, crafting material, and more. Your ranked status will reset but this season Ranked Series 3 will be split in two halves this season (Worlds Edge and Kings Canyon).
The launch trailer gives us a little in-depth look at Revenant, once a man, now a stealthy, robotic, ninja assassin.
Haven't picked up Apex Legends yet? Unsure how the gameplay looks? Here's the gameplay trailer for Season 4 where you can see Revenant in action as well as some of the new map changes!
Available Tuesday, February 4th on Xbox One, PS4, and PC.