WandaVision: Complete Series Summary
WandaVision featured a lot of confusing topics such as magic and different realities, if you're confused read TCN's series summary here!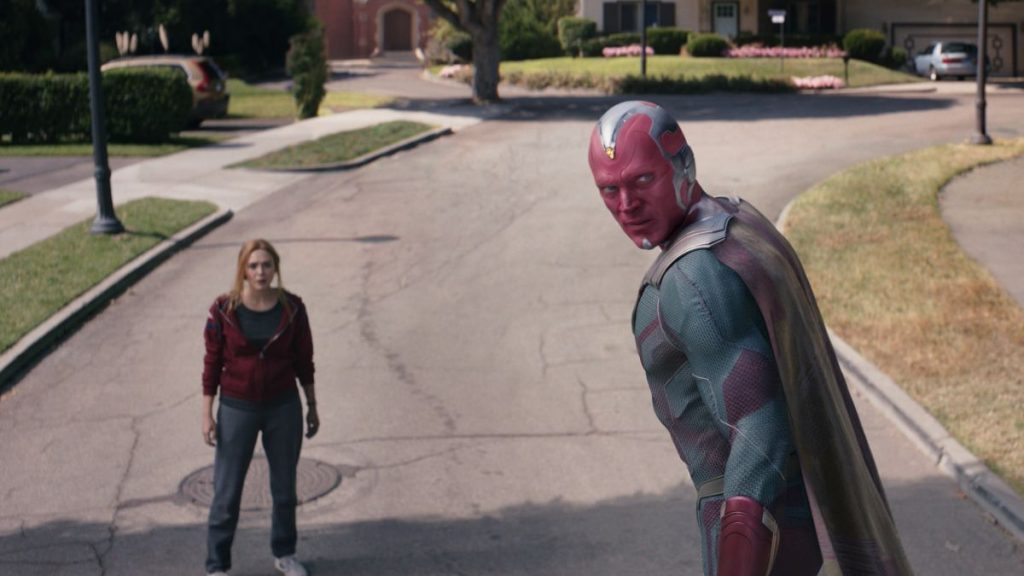 WandaVision featured a lot of confusing topics such as magic and different realities, if you're confused read TCN's series summary here!
If the abundance of magic and spookiness is confusing and doesn't interest you, don't worry, we got you covered. Here is our series recap for all who are confused or just don't have the motivation to watch.
Wanda Maximoff has created herself a reality in which Vision is alive and they are happily living together. The first two episodes explore their daily life within the family sitcoms, showcasing how happy she is. The first two episodes are fairly uneventful with just a few references to the outside world, where a S.W.O.R.D agent infiltrates Wanda's hex before she resets their reality.
Wanda becomes pregnant and as the reality becomes color, the show takes a 70s theme. Geraldine enters the false reality and befriends Wanda before we find out that she is Monica Rambeau. Rambeau as Geraldine helps deliver Wanda's children before confronting her about what happened in the reality, specifically about Ultron killing her brother Pietro. Wanda gets mad and throws her out of the hex.
Finally, the pieces begin to fit together as we get some background knowledge. Rambeau came back from the second snap, which occurred in Avengers Endgame, and her first assignment is with fan-favorite Jimmy Woo, trying to solve a missing person case before discovering it's a missing town. S.W.O.R.D then sets up camp around the hex before calling in Darcy Lewis, who picks up Wanda's broadcast of her perfect reality. Darcy and S.W.O.R.D notice Rambeau and notes that Wanda has everyone in the show cast as a character in Wanda's sitcom reality.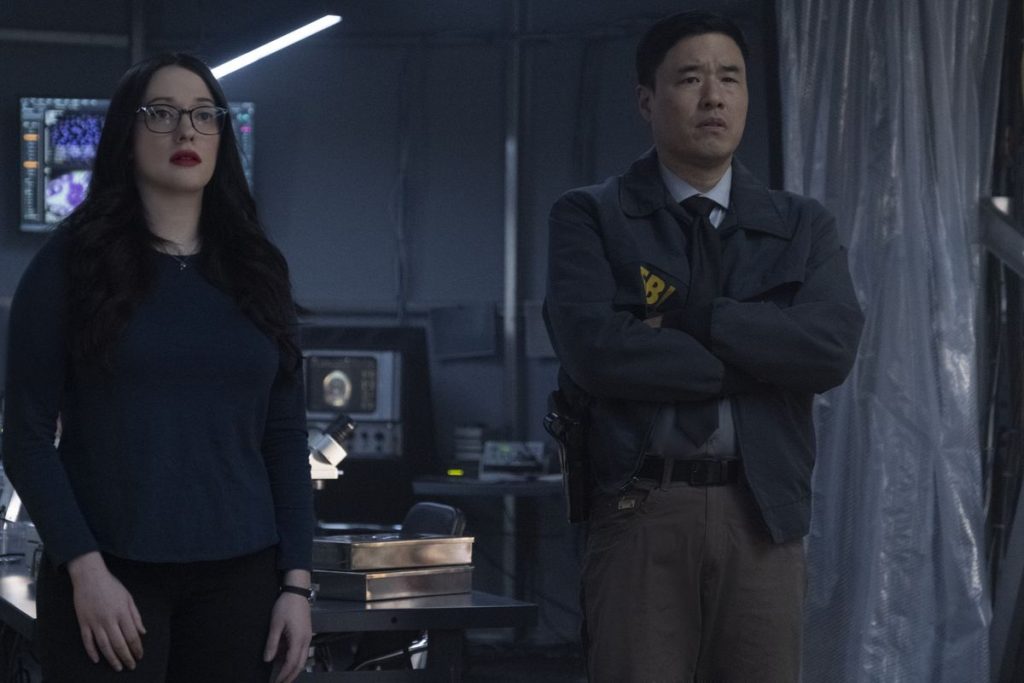 Vision begins to become suspicious of the reality, as he is able to receive an email from S.W.O.R.D that explains to him that Wanda is controlling their reality. This is confirmed when he breaks Norm's mind out of Wanda's spell. After Wanda's neighbor Agnes offers to look after her ten-year-old children, who aged themselves forward, we discover that S.W.O.R.D gets a drone through the hex and Director Tyler Hayward attempts to kill Wanda. She then exits the hex and tells Hayward to leave her created reality alone. Vision confronts Wanda about the suspicions he has of their reality but is interrupted when Pietro Maximoff suddenly appears. Pietro is not Aaron-Taylor Johnson, however, but Evan Peters, the actor who portrays Quicksilver in the Fox X-Men universe.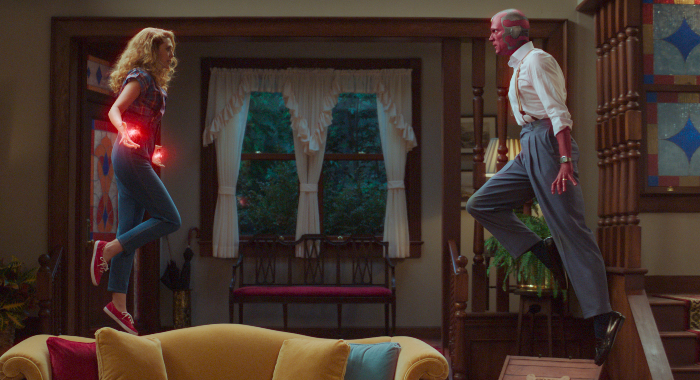 The following episode takes place in the early 2000s and Vision and Wanda are visually growing apart since he somewhat knows of this false reality. This episode really highlights that Wanda's control over the people on the outskirts of the town is minuscule. These people barely move and have nearly no function but were just unlucky to be in the town of Westview. Vision attempts to leave the hex but begins to disintegrate before their son Billy senses his father's pain and Wanda expands the hex containing her reality. It's also important to note that Hayward has now kicked Rambeau and Woo out of the operation because they disagree with his kill-Wanda approach.
Darcy is one of the people who gets sucked into the hex before Vision releases her from Wanda's spell. Darcy informs Vision on the extent of Wanda's control and what is happening outside of the reality. Vision proceeds to ride with Darcy to confront Wanda. But, Wanda and Vision are clearly having marital issues because Vision is not at the house at all, so she puts petty obstacles in Vision's way. Agnes offers to babysit Wanda's children once again as Rambeau and Woo meet up with loyal S.W.O.R.D friends that provide them with an advanced vehicle capable of entering the hex. The vehicle cannot enter before Monica Rambeau decides to just go through herself. Monica then confronts Wanda that she knows she isn't a villain before Agnes tells her to leave and guides Wanda back to her house. Wanda wonders about her children and discovers Agnes' lair before she reveals that she has been behind many of the town's unexplained events and her real identity is Agatha Harkness, the witch. Wanda cannot do anything because Agatha's lair has a spell that only allows her to use magic.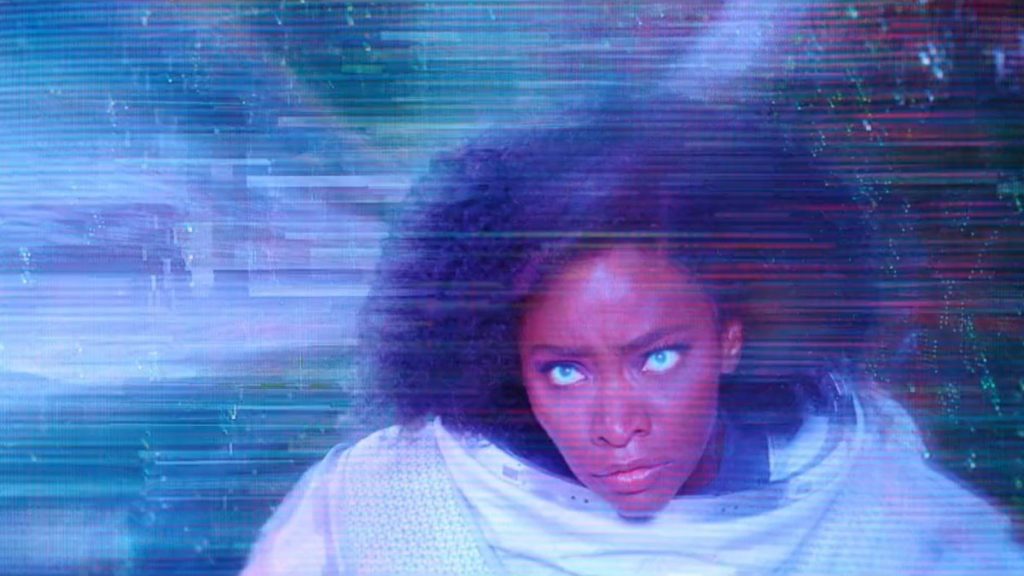 The following episode really peaks into all of the background knowledge prior to the show. We see memories of Wanda's childhood, being experimented on with the Infinity Stone, and her falling in love with Vision. We then find out that Wanda never stole Vision's body and that out of anguish created the false-reality within the hex. Agatha alludes to the fact that this is super powerful magic before calling her the Scarlet Witch.
The finale features Agatha attempting to take her 'chaos magic' from her. Wanda ends up releasing some of the townsfolk before realizing that she would lose Vision and her children and restores the hex. S.W.O.R.D agents enter the hex while it is briefly open and white Vision is now fighting her created Vision. Vision convinces white Vision that S.W.O.R.D is using him and opens his mind to all of their shared memories. White Vision leaves. After some more magic fighting, Agatha tries to finish Wanda but realizes that Wanda cast the spell that only allows her to use her magic within the hex. Wanda decides to control Agatha's mind and to make her into the nosey neighbor she was portraying. Wanda then lets her reality down before tucking her children in and saying goodbye to Vision.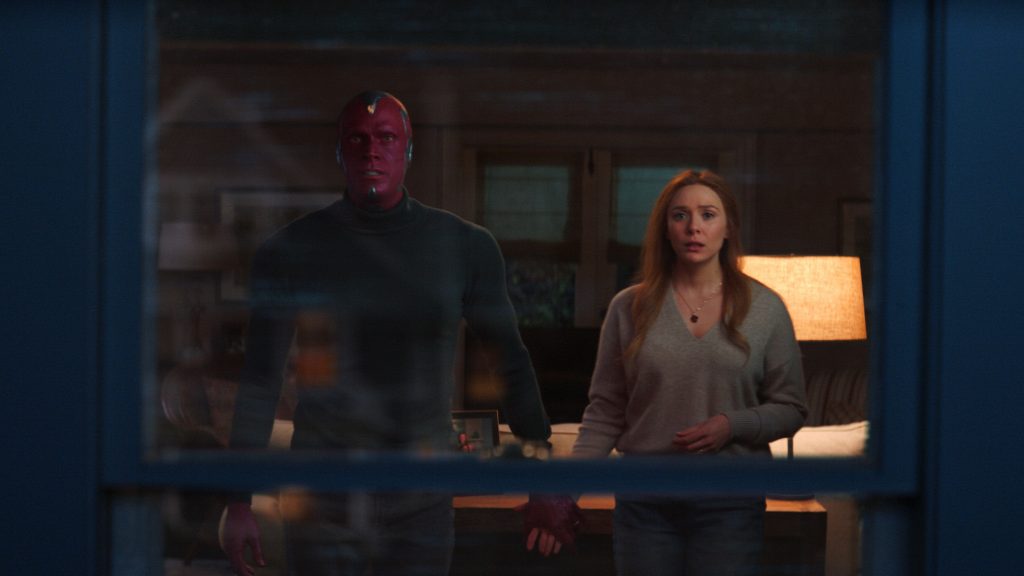 The mid-credits scene reveals that the S.W.O.R.D loyalist, Major Goodner is a Skrull and that a friend of Rambeau's mother wants to meet her, which is a hint to Nick Fury. Also, we see Wanda in a hidden cabin practicing her magic and reading 'The Darkhold', an ancient magic book of spells.
The show ends off there so we'll see what happens from here, most likely in Doctor Strange in the Multiverse of Madness.