Originally released on Steam in December 2015, the toy-themed shooter The Mean Greens: Plastic Warfare will now be added to the PlayStation 4's offerings. PlayStation announced the game will be available for digital download on August 5th.
Play as a green or tan army man in the game's various player-versus-player modes. You'll find yourself crouching behind toy blocks, maneuvering through a moving train, dodging through a foosball table, or bouncing around a bathtub, amongst other zany scenarios as you take your team to victory. All the maps are listed below:
Art Table Shuffle
Barnyard Ball
Bathtub Bash
Operation Birthday
Tabletop Wars
Toybox Assault
Fishtank Frenzy
Deep Freeze
Kitchen Run
Off the Rails
Live out your Toy Story dreams and battle your way to the top in the biggest ways, from the smallest perspective.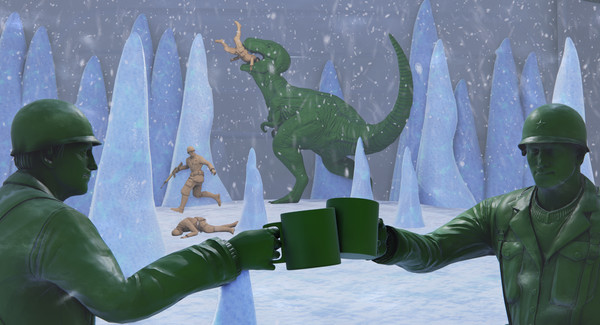 The Mean Greens: Plastic Warfare arrives on PlayStation 4 on August 5th.