A review of M. Night Shyamalan's 2019 film Glass starring Bruce Willis, Samuel L Jackson, James McAvoy, Anya Taylor-Joy and Sarah Paulson.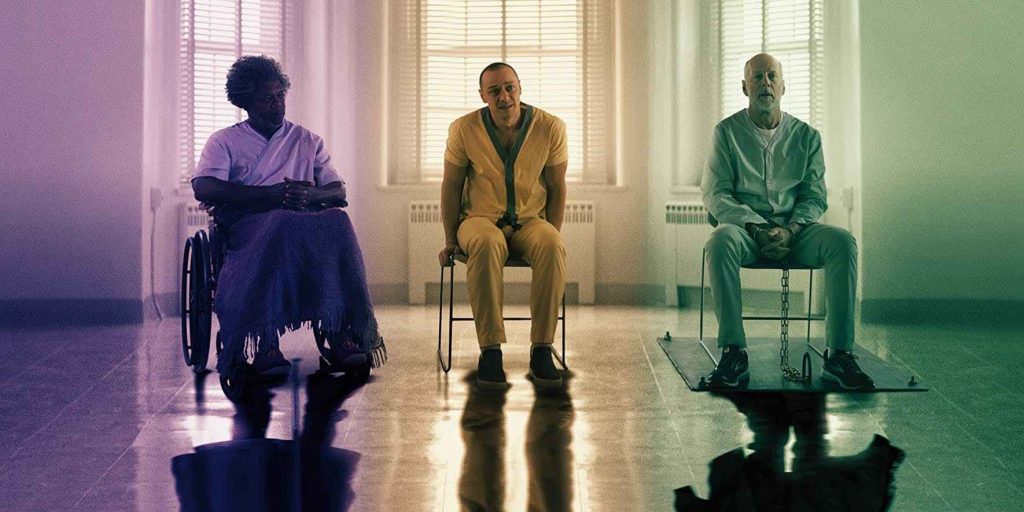 M. Night Shyamalan's latest film Glass (released in 2019) serves as both a sequel to the cult classic Unbreakable and the more recent fan-favorite Split. Starring Bruce Willis, Samuel L Jackson, and James McAvoy, Glass set out to combine the stories of The Overseer (Willis) and The Horde (McAvoy) as they are both manipulated by the archetypical "Evil Mastermind" Mr. Glass (Jackson).
Glass follows the three main characters as they become imprisoned in a mental facility where Dr. Ellie Staple intends to monitor and study them as she believes they suffer from extreme "illusions of grandeur" and don't actually possess superhuman abilities. Their respective rooms are outfitted with measures to subdue the strengths of both David Dunn (The Overseer) and The Horde, while Elijah Price has his mind dulled through their prescription drugs.
Cue: the supporting cast. Spencer Treat Clark, Anya Taylor-Joy, and Charlayne Woodard reprise their roles as Joseph Dunn, Casey Cooke, and Mrs. Price respectively. The three characters try desperately to reason with Dr. Staple and prove the superhuman abilities of the main characters. Meanwhile, Elijah Price (AKA Mr. Glass) is revealed to have been tricking the nursing staff and stages a breakout where he enlists The Horde to take down The Overseer resulting in a visually captivating climactic battle.
I personally believe that M. Night Shyamalan is well on his way to redeeming himself as a creative force after The Visit, and especially Split. This suspicion is only further proven in Glass. With beautiful cinematography and colour grading, the film is incredible. Shyamalan wrote, produced, and directed his latest feature, and it shows through its impeccable attention to detail and creative vision.
Beyond Glass's visual beauty lies a highly skilled cast. Samuel L Jackson delivers a subtly brilliant performance as the tortured genius Elijah Price, but nothing is as mesmerising as James McAvoy's hauntingly brilliant performance as The Horde as audiences watch the actor morph into a multitude of characters before their very eyes. Sarah Paulson deserves major credit as the newest addition to the cast for holding her own among the extreme talent displayed on screen, and while Casey Cooke wasn't as central of a character in Shyamalan's follow up to Split, Anya Taylor-Joy continues to provide unforgettable performances rich in understanding for her character.
While all the aforementioned factors contribute to an already amazing film, Shyamalan was able to include previously unseen footage from the original Unbreakable to help tie together the many threads that bind these characters together.
Glass firmly concludes the Unbreakable trilogy with care, providing satisfying closure for fans of its preceding films in an original, caring, and uniquely M. Night Shyamalan way.