"Hocus Pocus" Sequel in the Works for Disney+
"I've had to wait years for a virgin to light a candle!"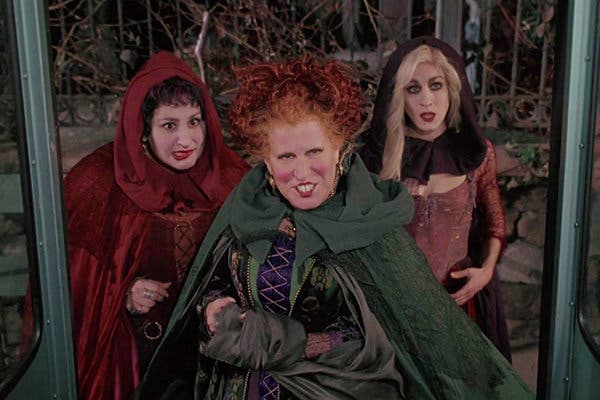 Comicbook.com's Patrick Cavanaugh is reporting that a sequel to the cult classic Hocus Pocus is in the works for Disney's upcoming streaming service, Disney+. With a treatment being drafted by Workaholics writer and co-producer Jen D'Angelo, it is reported that Disney hopes for the return of the original cast, including Bette Midler, Sarah Jessica Parker, and Kathy Najimy as the Sanderson Sisters. None are attached to the project at the moment.
As Cavanaugh points out, although Hocus Pocus was a box office dud upon opening in the summer of 1993, annual airings on cable networks Disney Channel and Freeform (formerly ABC Family) have helped cement the picture's status as a Halloween favorite. Indeed, Freeform will air the movie on ten separate occasions in the next six days alone! (October 25-October 31)
The move comes amid a flurry of unexpected and belated revivals of box office failures from Hollywood's past. From the announced Big Trouble in Little China sequel to the remake of Clue starring Ryan Reynolds, it seems as if Hollywood will do almost anything to avoid creating new and original content.
Disney+ launches November 12, 2019. For a list of Disney+ offerings, visit www.disneyplus.com.