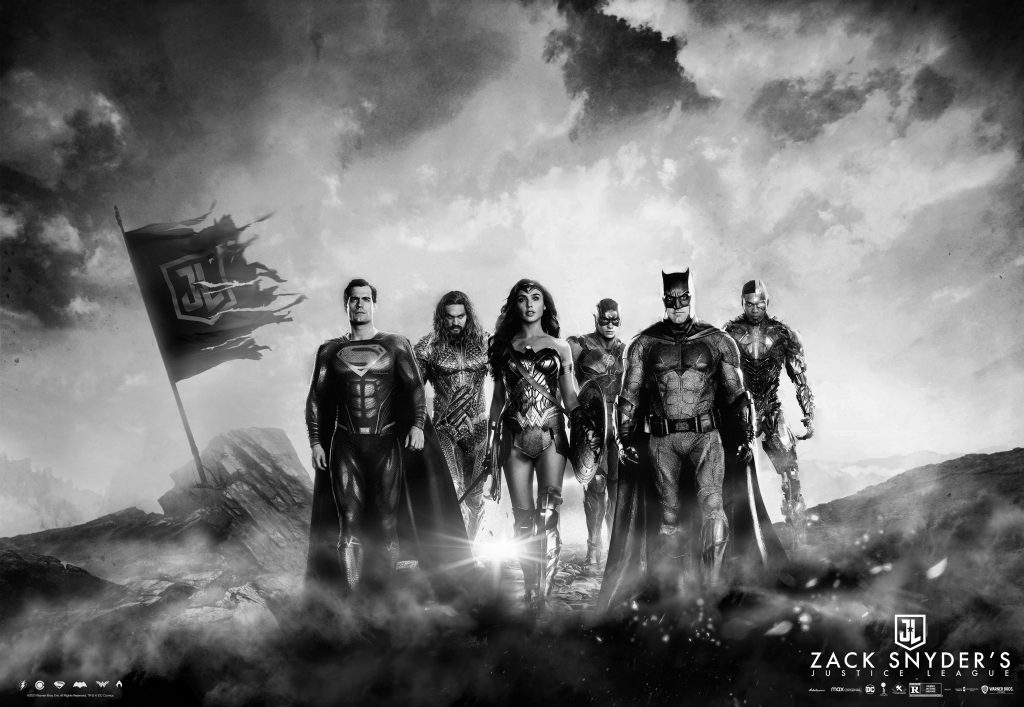 Just over a year ago, Zack Snyder announced a poster contest for his yet-to-be-announced SnyderCut that came with a coveted prize. Thousands upon thousands of entries poured in, but there was only one winner. On Zack's birthday, March 1st 2020, he announced his winner; Victor Ku, better known online as Mighty Pegasus. Here at TCN, we have had the honor of forming a friendship over the year and he agreed to answer a few questions to go along with his highly anticipated vlog for the grand release of Zack Snyder's Justice League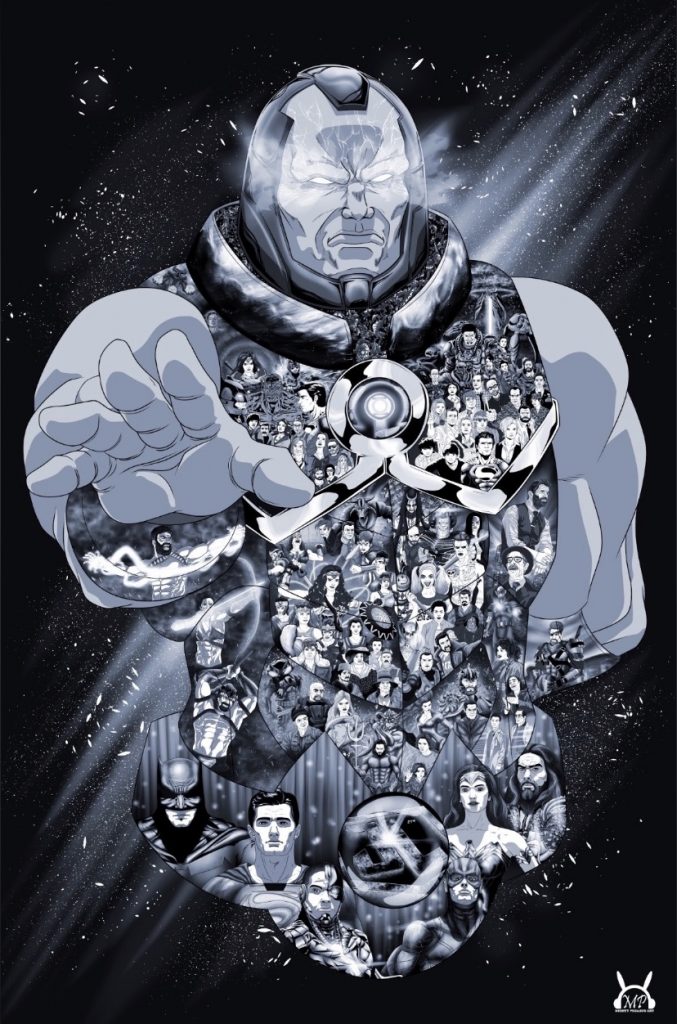 The Cultured Nerd: Starting with your winning poster, what was the overall idea and how you came about executing it? What was your inspiration?
Victor Ku: When I first started my Darkseid Project, I did not have all the ideas in my head yet. I knew wanted to somehow incorporate all of the Snyderverse characters. First, I made a list of all the characters in every movie I thought were true and connected to Zack's vision and then I started drawing. Not knowing exactly how I wanted it to be, but I wanted it to be big and epic! There are a couple artists that really inspired me to come up with the idea for it. The first is Christopher Cayco, he creates amazing artwork from amazing universes like Pokemon and Rick and Morty. The second is Ah Leung, I love how he incorporates a universe into one single character which is where I got the idea from for Darkseid's armor. The third artist is James Raiz who has just been such an inspiration since I started my journey. I took what inspired me from each of them and I just let it speak to me so that I could find my own way for the project.
TCN: Which part of this piece was most difficult? On the flip side, which part is your favorite?
VK: The most difficult part was not necessarily a specific part of it but it was the composition of it. Making sure I place each character in a way that emphasizes the rest of them because there is so much detail in all of them, its hard to get that right the first time. I'm not sure if I have a favorite part, I enjoyed the whole process!
TCN: How did you find out you won? Email? DM? Who was the first person you told that you won?
VK: I found out from all the fans and supporters from Twitter! And my wife was the first person I told, I just ran upstairs and screamed it like a crazy man!
TCN: I can only imagine! Good to tell the wife first and foremost! After the initial jolt of excitement, what was your reaction learning that you won?
VK: Initially, I just couldn't believe it! I took the first few minutes just reading every comment and retweet. Then I checked on Zack's Vero account to make sure it wasn't a prank! Then once I realized it was real then I told my wife and I started dancing in the basement. I had this weird mixed feeling where I was happy but still couldn't believe it and that it cant be possible because the others runner ups were so good!
---
TCN: That is a testament to not only your art, but how you interpreted Zack's vision! Speaking of the other artists involved, what words of encouragement would you give to fellow artists for their work or being involved in competitions?
VK: I would say draw what you love and do it your way! Especially if it's for a competition, you want to draw your best but you want to make sure you love drawing it, otherwise your art will express itself as just another generic mainstream art for clicks.
TCN: So now you've won the contest, you have been awarded the "clapper" but you have to travel to LA now. Compare the months leading up to your trip to the night before you left Minneapolis for LA, what was that like?
VK: From the Fan Art winner announcement in March through May 20th for ZSJL announcement during the MoS live commentary, it felt very surreal. I was waiting for the slate and I had many live stream interviews going on and I was very happy! Then after that I just started training. I was not in the best shape and it may sound weird but I just wanted to look my best for the big day if I were to meet Zack and the cast. Once I found out when I would be flying to CA, everything was a rush, I did things last minute because of it was such short notice but I made it work.
TCN: I'm sure I would do the same! Look good feel good right? So now you made it on set, what was it like to be around these actors in full costumes? Must've been a sight to behold!
VK: Sadly, I was not able to meet all of them due to their scheduled, I was told Ben Affleck was scheduled for that Thursday of the week I got on set but I was only there for 3 days and didn't get to meet him. But I can tell you I watched Richard Cetrone donning the suit and it was glorious! Richard is a giant and he is a Batman of his own! Richard was there to read lines for the interaction with The Joker. He is a fantastic actor himself!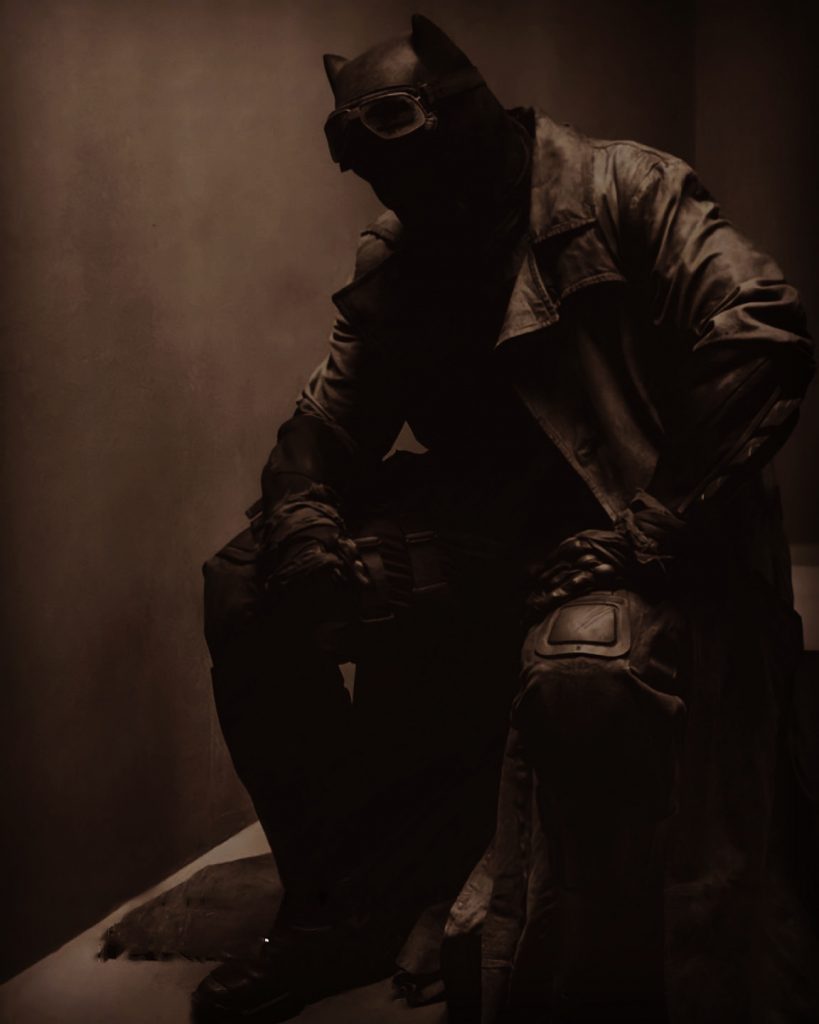 I was so fortunate to meet Jared Leto as The Joker and that was so unexpected! Jared was such a gentleman, I only got to see him perform and interact with the crew on set because the Covid rules were very strict. Everyone not in the actual shooting set had to stay behind and watch the feed from the camera to the tablets we were provided.

And then, probably the best surprise I got was on the last day when I met Ray Fisher! I promised on twitter that the first person I would hug is Ray Fisher but I couldn't also because of Covid protocols… that really made me sad but I was so happy I got to talk to him! We talked for maybe 5 min only because I had to rush to the airport. I wish the circumstances were different so that I could have done more but im very happy with it.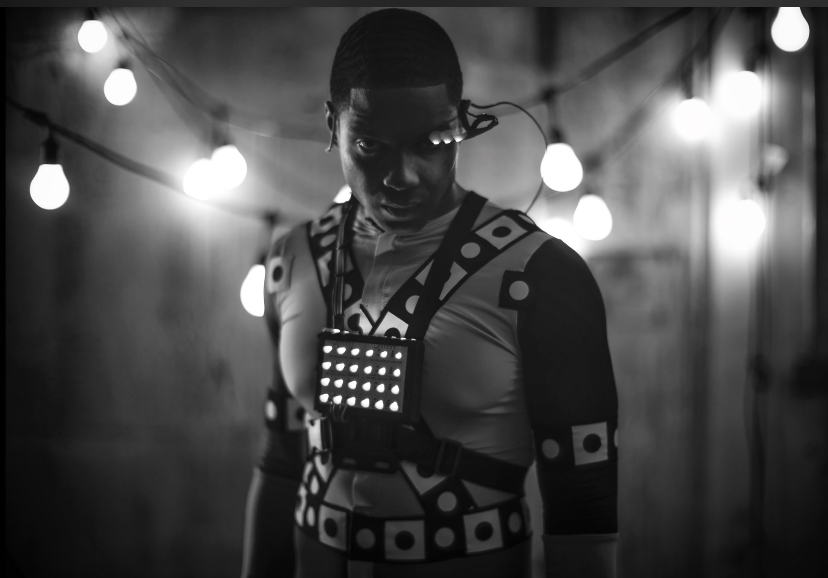 ---
TCN: Who was your favorite cast member to see on set?
VK: Well, it's tough, because they were all so amazing! Jared's acting was so amazing! I wished you all could have seen all the different takes he did for Zack, I kept wondering which one they would choose and I also can tell you now after watching the movie that there were more lines that Joker said that were not in the Epilogue's scene. One line specifically after the famous " .. we live in a society.." ; that actual full line and conversation was even more poignant!

And for Ray Fisher, I wish they had me stayed longer to experience his performance behind the scenes, but just meeting him was more than enough!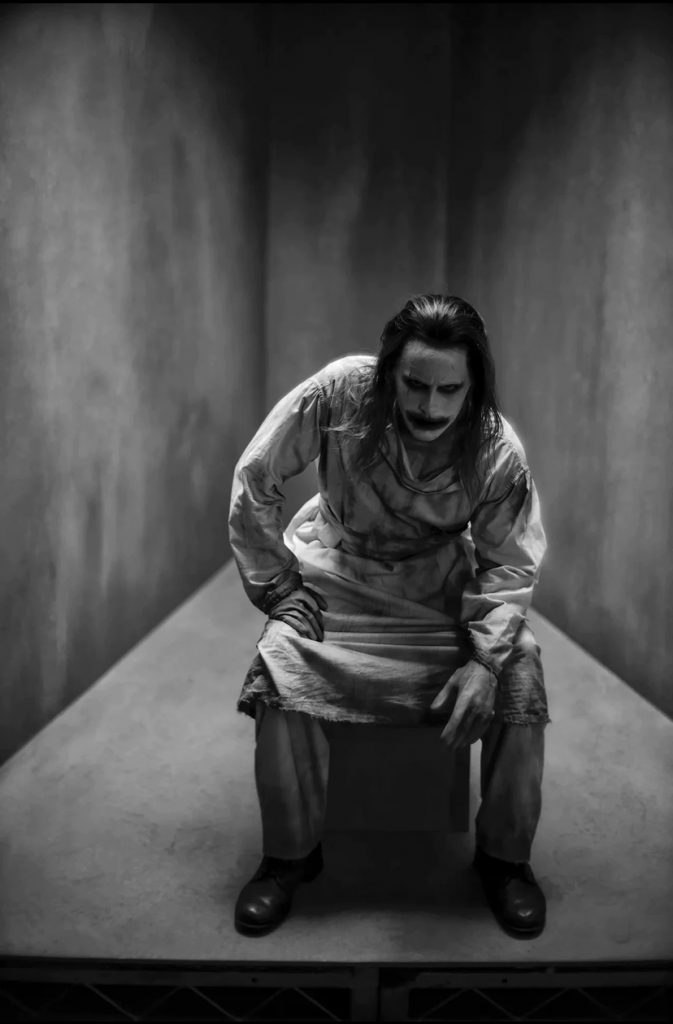 ---
TCN: You mentioned the slate earlier, I've always called it the "clapper", is that on display or in a safe locked away?
VK: It is absolutely on display for everyone to see in my basement Art Studio! I keep it locked in a glass case with protective foam so that nothing can damage it!
TCN: You have the "clapper" in one hand, but if you were allowed to take home a prop from set, what would you choose?
VK: I already did! Actually it was given to me! Zack and Debbie gave me the Joker's card that he gives to Batman as a truce! I wish I could have had it signed by Jared but every time he had a free moment he was also busy fixing makeup back in his trailer or he would be gone on lunch and always moving so I didn't want to interfere with the set's schedule. There was no rest for Jared but he had so much non stop energy!
TCN: What a gift! Put that with your slate! And speaking of 'non stop energy', if you could guess, did you get the feeling that everyone on set would like the Snyderverse to continue?
VK: I'm not sure about the Snyderverse but Zack and Debbie were surrounded by people they trust like Damon Caro and Misha Bukowski! I got to talk to them also very briefly and they love what they do with Zack so I have no doubts they were there to help him finish his vision, how much of the vision, I'm not sure. But if I had to guess I bet they would all come back together in a heart beat to work with Zack in future films.
TCN: How difficult has it been not being able to talk to people about your experience on set?
VK: Now that had to be the hardest thing I have ever done! I kept everything secret since October and I had to avoid many posts and livestream requests on purpose because there were too many questions that would spoil everything so I just decided to avoid them all. Most of the time I would just comment with an emoji and let it be, it was fun that way and I did not say anything.
TCN: Were you able to capture everything you wanted to with your vlog?
VK: No, sadly again, the BTS rules were very strict so I could not record anything from the set but I can tell you that they had a BTS camera man going around the whole time so whatever I saw you all will soon! The most important part that I was able to record is in my vlog and that's the best part of it!
TCN: At least you still had the chance to vlog! By chance did Zack give you any camera/filming pointers while you vlogged?
VK: No, we mainly talked about the moment, he showed a couple storyboard that no one has seen yet and he took some photos of me and the slate and we even recorded a short fun message with my poster and the slate from the set that I hope we all get to see soon!
TCN: Unseen storyboards! Now you have to keep another secret until it's released! What was it like being able to see Zack Snyder direct a scene of additional photography?
VK: It was inspiring, Zack did everything from camera man to directing and photographing. It was like what everyone always hears, from other actors and crew members who has worked with him; Zack really is just an amazing human being and it did not feel like they were working, but more like creating a memorable time together.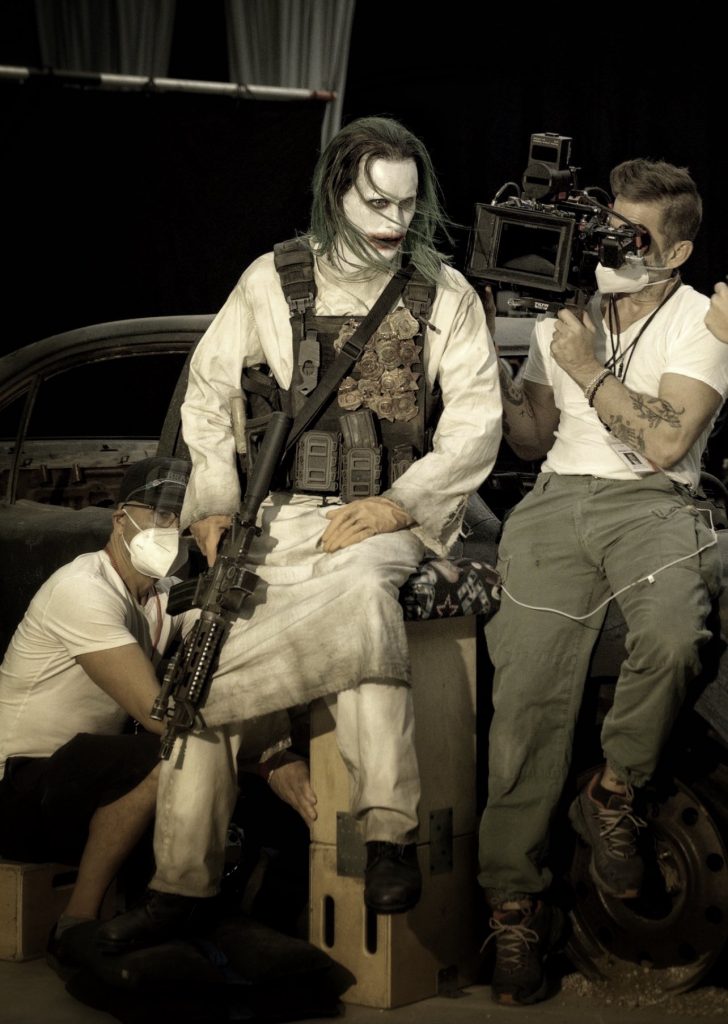 ---
TCN: In your first interview with TCN, we asked you if your Darkseid artwork would be adapted for use as marketing for the Snyder Cut – While the studios didn't use it, you claimed some ad space in LA. How did that come about?
VK: Well, I messaged Zack about it and I asked him what he thought and he told me "That's awesome". So I created the banner and the poster ad but I did not ask if he wanted to use it for advertising, this was a birthday gift from me to him. This was very personal and I wanted to show him how much I appreciated everything he's done for me. So, basically they did not use it for advertising on their end and I'm totally fine with it because the fans and people like Ray Porter are the ones I also did it for. The fans have been hyping up the movie themselves for years and they didn't need my art to do that.
TCN: Finally, what would you like to say to the fans around the world about what ZSJL means to you?
VK: It started as a fight for creative integrity then evolved to fighting the good fight for the AFSP.
This movie is an inspiration, a light to follow for those in the dark, a reminder that family is what matters and to fully express yourself honestly.

Thank you TCN!
---
No Victor, thank you! Inspiring artists and fans alike all around the world. Your poster encapsulated all parts of the Snyderverse that we have seen….so far.
We hope everyone takes the time to watch the Mighty Pegasus Vlog
And of course, we hope everyone enjoys and relishes the victory today that is…
Zack Snyder's Justice League